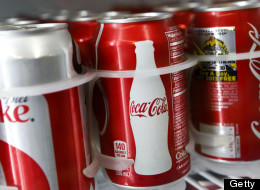 What are you hot and bothered about on this fine summer day? The unrelenting heat? Anthony Weiner having the balls to keep running while texting?  That Congress can't seem to get anything done? That young women (at least many Ivy League ones) are too busy and too career oriented to have emotional relationships and prefer casual sex ("Upsetting in so many ways," said my best friend. "Awesome in so many ways," said my son.)
Sure, I'm hot and bothered by all of that, and more. But it was the diet soda news that made me break out in a hot flash last week. You may not understand if you are one of those "I don't drink carbonated beverages" kind of gals, and that's ok... stop reading and go make yourself a smoothie. But if you have a case of Diet Coke in your basement that you hide from the kids, if you've ever had a Diet Coke for breakfast, if you've ever yelled at your spouse for buying decaffeinated instead of caffeinated (really, what's the point?), then read on.
Growing up, Diet Coke was my family's milk. Unlike any other family that I have ever known, our family had a built-in soda fountain in our kitchen (and unfortunately even that did not make me particularly popular.) The soda "gun" was equally  convenient to the water that came out of the faucet (for my young readers--that is how we used to get our drinking water), and much more convenient than the milk that was stored in the refrigerator. The "gun" in our kitchen sink gave us soda at will. Diet Coke was always a push button away. Excellent parenting, Mom and Dad.
So it is no surprise that in my adulthood, I love (indeed, crave) a Diet Coke every so often, and that I listened to the latest health news about diet soda with as much interest as I listened to the demise of the Twinkie.
According to the latest study from Purdue University, it turns out that diet soda is not the health food we thought it was. It won't dissolve the Big Mac you eat with it.  It is not part of a nutritious breakfast. It may give you heart disease, diabetes and strokes, and worst of all... it could be making you FAT. Et tu, DC? I'm just getting over the news about the movie theatre popcorn.
But with the DC news, I can't help but be a little skeptical.
Didn't we already know that diet soda was full of a bunch of artificial crap that was bad for you? It was not terribly surprising to me that a woman who drank nothing but two liters of diet soda a day since she was 15 (maybe her parents had a soda fountain in their kitchen) had low potassium levels and a heart condition that cleared up when she stopped drinking diet soda.
So the only real news here is our beloved diet soda may be making us fat, which indeed is huge and upsetting and falls neatly into the "nothing is as it seems and everything is bad for you" world that we live in. Apparently, the artificial sweeteners in diet soda screw with your body's normal response to sugar, somehow throwing off your body's ability to know how many calories you have eaten, resulting in... a craving for more caloric sweets. And I guess that explains my constant candy cravings.
So, from now on I vow to only drink alcoholic beverages when I go out with my friends, and when I do indulge in a Diet Coke, I will have to wash it down with a brownie to avoid blood sugar confusion. Problem solved.
Read more on Better After 50:
Burned Out and Over-Scheduled?
Survival For Menopausal Wild Women
Not So Modern Family
Take Care Of That Vagina
Earlier on Huff/Post50:
Six Things You Should Never Eat (And What To Eat Instead)
Eggs, meat and cheese on a bun, sounds simple enough, right? If you buy your breakfast sandwiches at a fast food chain like Dunkin' Donuts or McDonalds, the cheese is often processed, and the meat often greasy, which can leave you feeling drowsy and lethargic by lunch. Moreover, according to Dr. Todd Anderson of the Heart and Stroke Foundation of Canada, "just one day of eating a fat-laden breakfast sandwich ... and 'your blood vessels become unhappy.'"

Many midlifers neglect to eat well simply because they are always on the go, according to Bonnie Taub-Dix. While it is easy to grab a breakfast sandwich or muffin when in a rush, these items are high in fat and calories. A quick, easy and healthy replacement is toast with almond butter.

Chunks of cheese often seem like a great addition to a boring salad. However, you will have to add more than just a few pieces to get that savory taste, overtaking the health benefits of eating a salad.

You can get the consistent taste of cheese throughout your salad while using less when you trade out chunks of cheese for shredded cheese.

While cereal bars are tasty and low in calories, they are often low in protein, leaving one hungry and de-energized.

Protein bars are a quick, easy and convenient way to keep yourself energized and full throughout the day. Bonnie Taub-Dix suggests keeping protein bars in the glove compartment of your car so you can stay healthy, even while on-the-go.

Mayonnaise contains a high amount of fats and oils, and just one teaspoon can contain about 90 calories (that's about 4.5 percent of your daily recommended caloric intake!).

Horseradish sauce has "the same creamy taste of mayonnaise, hardly any calories," according to Bonnie Taub-Dix. If you're looking to cut extra fat out of your diet, you can use a mayonnaise substitute like horseradish sauce, or dilute mayo with a less fatty condiment, like mustard.

Dinner is often our least healthy meal of the day, as many choose to eat out, or whip something together last minute, according to Bonnie Taub-Dix. An easy way to avoid the dangers of dinnertime is by cutting back on white pasta consumption. White pasta lacks fiber, vitamins and minerals. Thankfully, there are healthy, satiating white pasta alternatives.

Whole wheat pasta is much more natural than its white pasta counterpart. It is rich in fiber, which helps control cholesterol and blood sugar, and vitamin B, which helps promote a healthy nervous system and energy metabolism.

There is no doubt that ice cream sundaes are extremely tasty, but they are also very high in sugar, fat and lack nutrients.

A healthy desert alternative to ice cream is yogurt with warm fruit. Yogurt is high in protein and calcium, which can prevent osteoporosis, while fruit has a great natural sugar taste, and is full of anti-oxidants, vitamin C and fiber.