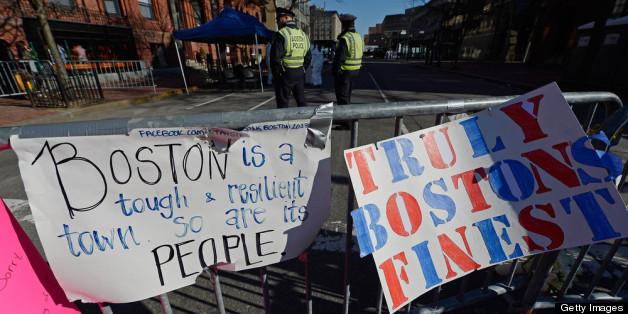 The senseless act of violence against innocent people in Boston last week once again leaves us mourning the loss of lives, worrying about the injured and asking hard questions -- Why? What will happen next? What about our children?
I jump every time the phone rings. Both my kids live in the Boston area. One has been in lockdown twice this week... phone lines down, afraid to go outside. And like so many, I'm finding the heartbreaking stories and images of the bombings at the Boston Marathon difficult to view and comprehend. Yet, who can look away?
What about the children? How do we explain such unimaginable tragedy to children? How do they process an event that we could not have imagined happening in our wildest dreams? How do we help kids cope?
"It's very difficult. The first thing you do is check in with your own emotions. Because you can guarantee whatever you're feeling, your kids are feeling it as well," saysDr. Janet Taylor, community psychiatrist, Clinical Instructor of Psychiatry at Harlem Hospital.
One of the most valuable lessons I learned as a teacher after 911 was that children develop a deep sense of empathy when they are given the tools to cope with difficult circumstances.
There may not be one prescribed road map to reassure children that they are safe, but here are five wonderful resources leading the way:
1. National Association of School Psychologists: "A National Tragedy: Helping Children Cope"
2. American Psychological Association: "Helping Your Kids Manage Stress In The Aftermath"

3. Boston Mamas: "Five Certainties Following The Boston Marathon Bombings"
4. Parents: "Boston Marathon Explosions: Be In Control of What Your Child Will Hear and See"
5. Boston.com: "After the Boston Marathon Explosions, What Parents Should Do"
Whether it's bombings, oil spills, fiery toxic explosions or gun violence, we can be sure of one thing: our kids live in a difficult world right now. While they may not experience physical injuries from such events, emotional wounds can run deep. Let's take this horrific tragedy and encourage our kids to deepen their feelings of empathy... and please give your kids a hug.