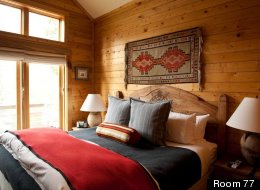 For some celebs, being a movie star or rock star simply isn't enough -- so they tacked hotelier onto their resumes.
Here are a few celebrity-owned hotels that we think are worth the hype.
What celebrity would you like to see open a hotel?
Top Celebrity-Owned Hotels
It's surprising to discover that Robert De Niro owns a hotel, but perhaps not as surprising as the fact that it's a serene refuge away from the noise and chaos of the city. Yup, you read that right: we're happy to report that the style wasn't influenced by "Goodfellas" or "Taxi Driver." Much like De Niro's choice in roles, The Greenwich Hotel is quite eclectic, drawing inspiration from a medley of cultural influences and eras. There are 88 room and suites -- no two which are alike -- that have first-rate amenities, such as flatscreen TVs, complimentary Wi-Fi and iPod docking stations. If you've done your part to ensure New York holds claim to the moniker the "City That Never Sleeps," rejuvenate with a Drunken Lotus massage at Shibui Spa, or unwind by the indoor pool, which is housed in an imported Japanese farmhouse. Pretty Zen for an actor known for his ruthless roles.

Clint Eastwood plays a macho man in pretty much every film he's in, and we like it that way. However, the Mission Ranch in Carmel allows us to steal a glimpse of the softer side of this film juggernaut. One of the first dairies in California, the historic Mission Ranch harkens back to a simpler time thanks to its pastoral charm and rich history. Eastwood rescued the resort from the hands of condo developers and renovated the entire property to provide guests with the quintessential getaway. Its 31 rooms, spread out across 10 buildings, come standard with complimentary Wi-Fi, plush bathrobes and free continental breakfast -- and some even have whirlpool tubs and gas fireplaces. As if your lodging experience couldn't get any better, toss in the picturesque views of Carmel River Beach, Point Lobos and the Pacific Ocean. Life is pretty good with Clint Eastwood calling the shots.

The success from playing the Sundance Kid in 1969's "Butch Cassidy and the Sundance Kid" not only rocket-shipped Robert Redford's acting career but also allowed him to parlay his financial prosperity into the world of environmental conservativism, artisitc experimentation and hospitality. Sundance Resort, aptly named for Redford's character, is a far cry from the conventional Utah ski resort, which can be seen in every detail, from the certified organic bath amenities to the daily art workshops that encourage you to let loose and express your creative side. Guests have a variety of different dining options to choose from, each with a distinct ambiance and style, but only the Foundry Grill has views of the 12,000-foot Mount Timpanogos. So if you have the desire to escape from it all and take in great views, Sundance Resort is the perfect place to run away to -- just remember that they don't harbor outlaws.

Whether you love or hate Bono, you can't argue with the fact that the man is omnipresent -- he's even made his way into the world of hotels. He and bandmate The Edge, along with a handful of Irish investors, purchased The Clarence in 1992, injecting new life into this Irish boutique hotel. Located on the River Liffey, The Clarence exudes the simplicity and charm of Irish hospitality, without sacrificing comfort or convenience. There are 49 guest rooms and suites to choose from, each outfitted in captivating color palettes of royal blues, crimsons, amethysts, golds and chocolates. While every room is unique in its own right, the common thread is the enviable amenities that are in every room, including oak furniture, Egyptian cotton linens, flatscreen TVs, private bars and Wi-Fi. One of the crown jewels of The Clarence is Octagon Bar, the place where Bono and The Edge fell head over heels with the hotel and decided to buy it. Be sure to try the Apple Strudel Martini -- it's a decadent way to channel your inner rock star.
Follow Room 77 on Twitter: www.twitter.com/Room_77