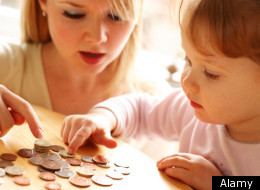 From the moment your kids are born, the kiddie-perfecting-complex is urging you to spend, spend, spend. You're worried that without the right gadget, clothes, and lessons your little wonders will be behind the eight ball. Right? Relax. From cradle to college, we've shopped the world, made the meals, balanced the books, mastered the technology, and charted the courses to give you the goods on finding what your kids need without losing your shirt ... or your sanity.
Don't get brainwashed into believing that all things related to having a baby in the house need to be made especially for a baby. This is a modern marketing phenomenon with one goal: to sell you products that will ultimately bust your budget. Just say no to most of the products designed for baby that are not safety related: you do not need a special changing table, diaper bag or hooded towel in order to accommodate the needs of an infant. Any flat safe surface will work to change a squirmy little bundle. Any big bag will hold all the excessive baby paraphernalia. And, any soft clean towel will dry up little precious.

Teach your kids that Tom Brady or Justin Bieber or Snooki (what is the world coming to?) endorsing a product is not a good reason to buy it. Ask them what is it that makes a quarterback or a singer or a... whatever -- a fashion god. The goal? For them to be mindful about why they want something and to understand the difference between needs and wants. Point out the pricing up-charge between a basic black tee shirt and a celebrity endorsed one, and if they insist their life will be incomplete without Under Armour gear, then ask them to kick in from their allowance to cover the cost difference. Oh, and while we're on the topic, no pimping baby. Unless a designer brand is paying you to stroll around with your little cutie wearing a shirt with an alligator lounging on it -- take a pass and save your money.

With childhood obesity nearing epidemic proportions, it's time to get the processed junk out of your grocery cart. It's also time to quit fast-food meals on the fly. Eating well is good for them and easy on your wallet. You just need to be smart about what, where, and when you buy. Whole grains, legumes, fruits and veggies should be the backbone of a smart diet. Stay flexible (yes, we know that's hard) and take advantage of seasonal bounty and local specials. Markets break down their goods by departments, and the seafood guys need to come up with weekly deals just like their sisters running the grocery aisles, meat counters, produce stands, and dairy cases. Buy in bulk at warehouse clubs or food coops. Support a local farmer and join a CSA. Plant your own garden. Use the whole thing: the entire beet (root and greens); the whole chicken (butcher them yourself it's less expensive); take leftovers for lunch.

While money gives you control over your life, it should not be used to control. Kids should have their own discretionary money starting at a young age. It will help them learn to make choices, and to be responsible for the choices they make. It will give them a feeling of mastery, and they'll be better prepared to manage their own finances when they grow up. Give them a set amount each week, no slacking, but don't tie it to chores. When they are out earning on their own -- baby-sitting, lawn mowing, dog walking -- renegotiate allowance terms. No pay for play. Kids should not get financial rewards for performance. Period. Whether they're team captain or bench warmer, in the corps de ballet or prima ballerina, they should do things because they love them, not because they're getting a cash bonus.

We know it's hard. There are no boundaries anymore, no peace. The ding alerting you to a text, the beep signaling an e-mail, the tweet announcing a, well, tweet -- it could be a kid in need, your boss with a crisis, or confirmation of Saturday-night plans. As in all things you are their first and most important role model. You need to control your digital drive. This is the first step. Then you need to set rules for the kiddies. Post them in a prominent place and be consistent in enforcing them. Remember, multitasking is not getting them ready for the real world, and may be compromising their ability to apply learned information in abstract ways. Contrary to what some politicians seem to be saying, the more education the more money they'll earn. You do want them to be able to afford to move out of the house one day, right?

Wait. Relax. Breathe. Before you head off to sign your kids up for music, math and mambo boot camp, remember the smart mom balances unstructured play and organized activities. She doesn't outsource all the responsibility for enriching her kids' lives. It's good for them and good for your budget. And, when you do sign them up for activities you need to think about what's driving you to drive them. A smart mom knows that games, lessons, programs and camps are all ways to broaden their interests, learn new skill sets, experience different ways of learning, stay in shape -- and most of all -- have fun!
Rosalyn Hoffman is the author of the brand-new book, "Smart Mama Smart Money: Raising Happy Healthy Kids Without the Bank," that Publisher's Weekly called the "must-read" guide to frugal parenting.
Join more than 115,000 fans of Rosalyn Hoffman on Facebook.
Follow Rosalyn Hoffman on Twitter: www.twitter.com/BitchesonBudget