I woke up at 4 AM, picked out this gorgeous Elise Overland green snakeskin suede dress and Giuseppe Zanotti cutout booties and headed to the studio for my first morning show appearance. Actually, it was my first live TV interview ever. I never get nervous, but I was bloody nervous for this so I wanted to make sure I had enough time beforehand to speak with the producers and go over everything.
I was so full of adrenaline that segment flew by in no time at all.
After the segment, I went downtown to have breakfast with my agent at this little Italian place in SoHo on Lafayette & Spring. I forget the name, but I had the tastiest baked eggs with mozzarella, spinach and tomato sauce with a croissant and an oj & coffee.
I made a quick stop by the agency to say 'hi' to everyone, then it was off to the Victoria's Secret store for the press event. I got hair & makeup touch-ups then changed into my 'I Love My Body' tee with a pair of Blue London Pencil Jeans from Victoria's Secret and a pair of nude Prada slingbacks. I'd never done a formal in-store press day before (it was a day of firsts for me!) and I couldn't believe the amount of press that showed up! The fact that the interviews weren't live definitely took some pressure off. I did a quick photo op with Ale (Alessandra Ambrosio) with life-sized cutouts of ourselves. I loved mine so much I'm having it sent to my apartment.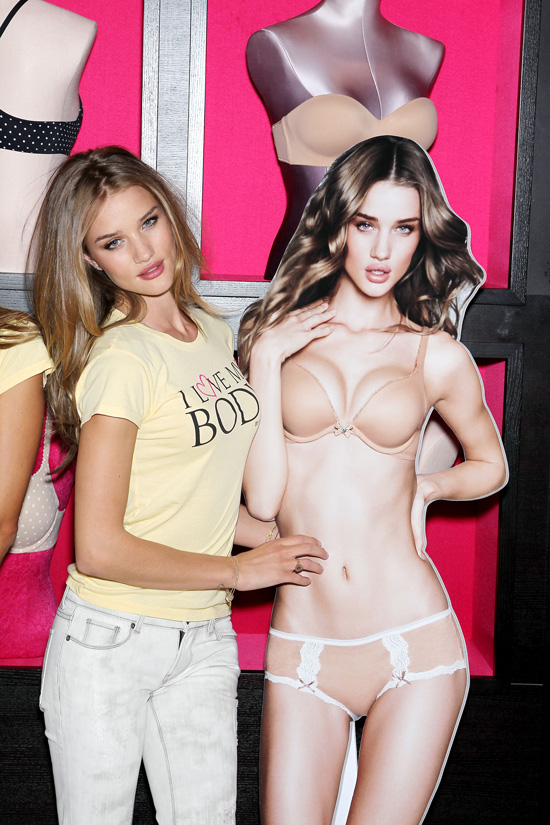 I had another wardrobe change into these amazing Les Chiffonaires metallic silver suede skinny pants paired with a black tank and a chunky mirrored Matthew Williamson necklace for my next set of interviews. This was my favorite outfit of the day because it really reflected my personality. Next we had a few more interviews followed by a much needed coffee break. Feeling the cappuccino start to kick in, it was off to Equinox for a workout segment with EXTRA. Their on air correspondent AJ was hysterical as we got a bit competitive with the Brazilian butt lifts. It was harder than it sounds, but it was good to get a little workout in during the day.
I ended the day back at the store for a blogger event and an autograph signing with fans to celebrate the launch of the new Body By Victoria campaign that I'm in. It's really touching to meet all the fans that support you and I felt honored by how many people come out to see us. Everyone was very sweet.
It was a long day but I had a lot of fun. Now off to Paris for the shows...see you in Europe!
SUBSCRIBE TO & FOLLOW LIFESTYLE
We're basically your best friend… with better taste. Learn more