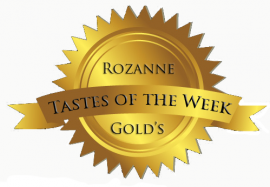 It's not every day that I have an article in the Wall Street Journal, but over the weekend, "Jazzing Up the Bird," made its way onto the Off Duty pages. Its very subtitle: "A chef who's cooked thousands of chickens dishes on three of the best techniques," tells the whole story. That chef would be me, and the story was inspired by a recently discovered sepia photo of my mother as a young girl, holding a dead chicken upside down. I suggest you read the story for some unique tastes of your own this week. They include "Almost Confit" Chicken (be sure that the pan you use holds the chicken snugly, with no spaces in between); Naked Roast Chicken, and Velvet Chicken. One reader commented: "Made the velvet chicken last night. So simple, and it was the bomb! Tonight, I'm cooking another chicken in the broth from last night and will use the enriched broth and the new chicken to make egg-lemon soup. Thanks for this." And thank you for that!
Jack o' Lantern leftovers: We never got to carve our pumpkin this Halloween and so a faceless orb has been staring at me for the last two weeks. Small to medium in size, about 3 pounds, including a long graceful stem -- I vowed to treat it with respect and serve it forth for dinner. A radically simple recipe ensued: Cut a 3 pound, very round pumpkin in quarters. Place in a small paella pan or baking dish, upside down (the seeds and membrane are easier to remove after it's cooked.) Place 1 inch of water in pan and bake at 400 degrees until soft, about 45 minutes. Turn over, cover and bake until very tender. Remove seeds and membranes. Drizzle with good olive oil and a liberal sprinkling of ras el hanout (a Moroccan spice blend) and kosher salt. Drain water; place pumpkin in pan and bake until slightly caramelized. You might enjoy my Pumpkin Soup with Celery & Crispy Sage (below) -- just in case you, too, have a leftover pumpkin.
The sweet aromatics of ras el hanout (available in Middle Eastern markets and spice shops) are intoxicating. Meaning "top of the shop" in Arabic, each mixture is unique but generally combines more than one dozen spices (and sometimes up to 100!). The predominant perfume comes from cardamom, clove, cinnamon, chili, coriander, cumin, nutmeg, and turmeric. It is wonderful rubbed on lamb or chicken or simply sprinkled on tomato soup to take it in an exotic direction. Lending its playful aroma, and taste, to the nutty quality of the pumpkin, it is a spice mixture that has earned a place in my pantry and in my heart. You might consider using it in some of your Thanksgiving recipes -- very "on trend."
Perhaps as I get older, I covet reservations at my friends' tables, even more than at the newest restaurant. And so, the other night, we were lucky enough to be invited to the home of neighborhood friends Jerry Adler and Beth Lebowitz. They are the perfect couple in many remarkable ways and also in the kitchen where Jerry is cook to Beth's pastry chef. This amazing meal began with homemade ricotta gnocchi -- I was knocked out by their lightness -- with a heady sauce of porcini, prosciutto and tomato paste (also homemade!). It was followed by a luscious pork shoulder (baked for 18 hours and inspired, perhaps, by a recipe in Radically Simple); tiny roasted brussels sprouts, lovely carrots with capers, and golden, crispy roasted potatoes. A voluptuous onion sauce accompanied the pork which was already generously flavored with coriander seed and garlic. The skin on top of the pork got so crispy that we shared it like a peace pipe and nodded with the crunching brittle sounds of happiness. A wonderful pear clafouti and good strong coffee followed. A brisk, and needed, walk home. The gnocchi dish, inspired by a recipe from California chef and author, Biba Caggiano, is a taste I will remember for weeks, and years, to come.
Other tastes this week included the joys of a two-course $4 lunch on the streets of New York -- two hot dogs with sauerkraut, onions, and mustard and, a soft-serve ice cream cone. And some of the wonderful root vegetables in my local farmer's market, including kabocha squash.
You might want to start your own "week of tastes" with this seasonally appropriate soup -- made with that leftover pumpkin or kabocha, calabaza or butternut squash.

Pumpkin Soup with Celery & Crispy Sage
Adapted from Radically Simple, this soup has an air of the West Indies about it, with its earthy flavors of ginger, scotch bonnet, pepper, celery, thyme and sage (often found in "jerk" recipes.) Butternut or calabaza squash can be substituted for the pumpkin.
3-1/2 pound piece of pumpkin
6 tablespoons olive oil
2 cups finely chopped onions
1 cup finely chopped celery, plus leaves for garnish
2 tablespoons finely chopped peeled fresh ginger
1/2 small scotch bonnet pepper, finely minced
1 teaspoon dried thyme leaves
20 medium-large fresh sage leaves
1 tablespoon dark brown sugar
Preheat the oven to 400 degrees. Remove seeds and membrane from pumpkin. Place in a roasting pan. Drizzle with 1 tablespoon of the oil. Pour 1 inch water into the pan and bake 1-1/2 hours until very soft. Scoop out the flesh. Heat 3 tablespoons of the oil in a 4-quart pot. Add the onions, celery, ginger, minced pepper, thyme, 2 sage leaves, and 1 teaspoon salt. Cook 15 minutes over medium heat. Add the sugar and 4 cups water. Bring to a boil, reduce the heat, and add the squash. Cover and cook 15 minutes. In batches, puree the soup in a food processor until very smooth. Fry the remaining sage leaves in a small pan in 2 tablespoons hot oil until crispy. Drain on paper towels and sprinkle with salt. Serve the soup hot with the fried sage leaves and celery leaves. Serves 6
Rozanne Gold, award-winning chef and author of "Eat Fresh Food: Awesome Recipes for Teen Chefs"; "Healthy 1-2-3," and "Radically Simple."
This Blogger's Books and Other Items from...
FOLLOW HUFFPOST