As I noted in my previous column, the issue of illegal guns and the violence they bring to the streets of New York City remains one of my top priorities as an elected official. I have seen too many of our neighbors, our friends, and our loved ones lose their lives to a thug's bullet for no other reason than being in the wrong place at the wrong time.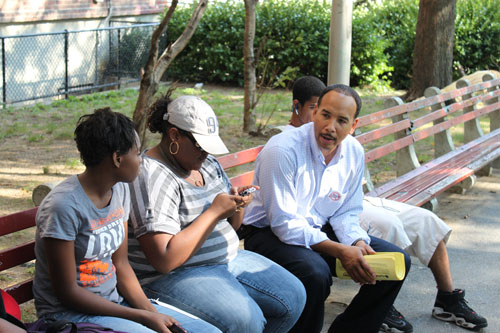 The fight against gun violence, however, must be about more than just words--about more than a column on a website. While local elected officials cannot change federal gun laws, we can hit the streets to talk to people directly about guns and the violence they see in their neighborhoods. On Saturday, September 25, we did just that when I joined with dozens of clergy members, elected officials and community leaders to launch the "Peace in Our Streets" initiative, a joint venture of my office, the Bronx Clergy Task Force, New Yorkers Against Gun Violence and many other groups dedicated to taking guns off of our streets and stopping the violence.
After coming together at the Greater Faith Temple in the Wakefield section of the northeast Bronx, a room we were able to use thanks to the generosity of Pastor Michel White-Haynes, our group split up into several smaller groups. We then walked the streets, speaking to Bronx residents about the need to take guns off of our streets and giving them information, in both English and Spanish, on how they could do just that.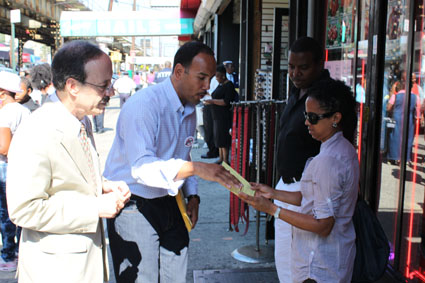 For my part, I led a small group of volunteers down White Plains Road, along with Congressman Eliot Engel, to meet with Bronxites firsthand and talk to them about crime in their communities. Everyone we spoke to was receptive to our message and understands the need for greater community involvement in getting illegal guns off of our streets.
Later, I led another group of volunteers through the Gun Hill Houses, where I spoke with tenants about the safety issues in their development and ways to fight crime within it. Everywhere I went the message from the community was the same: it is time for us to do more to combat gun violence in our own communities. It is time for Bronxites to come together and stand up for their neighborhoods.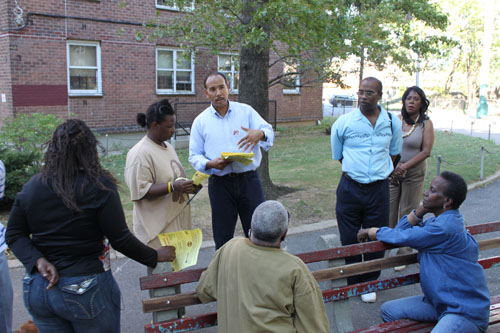 More about this past weekend's event can be found here and here. Building on Saturday's success, my office will be leading another group of volunteers into the streets of Highbridge on Saturday, October 9, at the Mt. Hermon Baptist Church, 1170 Nelson Avenue, at 1 p.m. Those interested in participating should contact my office at (718) 590-3500 or email us for more details.
Illegal guns are a major problem in the Bronx, and we can always use more help. Please join us. All are welcome.
SUBSCRIBE TO & FOLLOW THE MORNING EMAIL
Start your workday the right way with the news that matters most. Learn more