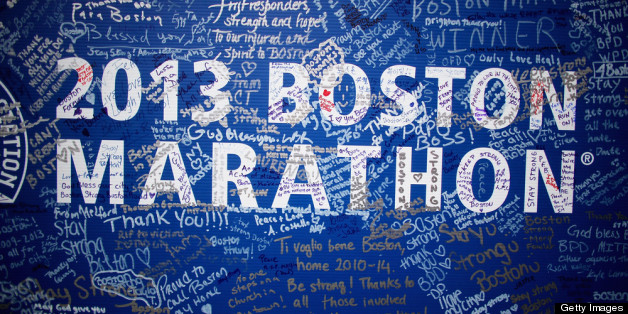 As a member of the Needham High School cross-country team, I spent every fall of my teenage years running in towns all over the Greater Boston Area -- Framingham, Natick, Wellesley, Newton, Brookline and of course, my home town of Needham. I fell in love with this sport in the same New England towns that make up the legendary Boston Marathon. And last Monday, when the unthinkable happened to the thousands gathered to celebrate the sport I adore in the home I treasure, I was reminded of my love for both.
When I was about 16-years-old, my brother asked me, "Why do you like running?" I blathered some nonsense about it being a metaphor for life -- as if a teenager knows anything about life, never mind what would make a good metaphor for it. The truth was, I accidentally fell into it through a chance encounter and never had the good sense to quit.
I was 13-years-old and running down the halls of Pollard Middle School, once again late for math class. As I got to the door, I prepared my plan to sneak in and take my seat undetected. My covert operation went bust when a voice called out behind me, "Hey you, stop!" I turned around and saw the face of our impeccably fit gym teacher, Mr. Gonsalves. I thought I was busted for sure, and my chest filled with that crippling kind of panic that comes three times a day in middle school. "Come over here." I slunk over and awaited my punishment. "You've got the frame of a long distance runner. You should try out for the cross-country team when you get to high school next year."
I'd never been an athlete of any description, and to have someone who made fitness his profession tell me that I was born for a sport filled me with pride -- before I even took my first stride in a race. And we all knew that Mr. Gonsalves was more than just a runner. It was in whispered tones that we used to marvel at his highest accomplishment: "Did you know that Mr. Gonsalves runs the Boston Marathon?" It was an achievement beyond comprehension for us -- so extreme that we daren't talk of it too loudly, lest we dilute its unspeakable magic.
So a year later, I took Mr. Gonsalves' advice and joined the cross-country team. Born to run or not, this was serious business. Our first run was over seven miles -- I hadn't run more than two miles in my life, and I finished the run weak-kneed and blister-footed. But there was something rewarding in the shared misery of a long run. The team would gleefully congratulate each other as we charged up the hill in front of the high school, and I loved the camaraderie that comes from knowing the same aches and pains of your teammates.
After high school, I drifted from running a bit as my focus turned elsewhere. But a few years ago, a good friend asked me if I wanted to run the half-marathon held in my new home, Brooklyn. I eagerly signed up to jump off the starting line with thousands of other runners. And like a lapsed Catholic coming back to the Church, I found myself settling right back in to the comforts of the routine -- the pre-race jitters, the sound of the starting gun, the sweat-soaked feeling of accomplishment as you cross the finish line. I was hooked, and over the next three years, I participated in five half-marathons including the one in Boston -- once again running through the beloved hills of my home state.
But as much as I loved half-marathons, something niggled me about them: the word "half." It was as if the races were baiting me to run the longer version of themselves. They were goading me into signing up for an event that twenty years earlier seemed completely impossible to me--the same race that gave Mr. Gonsalves mysterious powers. I couldn't resist, and as I now lived in London I signed up for the Paris Marathon.
Two weeks ago, I lined up on the Champs-Élysées with 40,000 other runners and took the steps to begin my first marathon. A few hours later, I completed the race. And while it may be sacrilege in the running community to say this: I didn't like it. The first 15 miles or so were amazing. The feeling of community that I love from running in groups was present in abundance. But at 16 miles my body began to break down. And the final six miles that everyone warns you about were more difficult than I ever expected. As I crossed the finish line, I didn't feel a rush of exhilaration as I became a marathoner. Instead, I experienced confusion and found myself asking, "What the hell was the point of that?" I limped to join my wife for a beer, and swore off marathons forever -- uneasy about my disappointment with the race. It was a reaction I had never heard a runner describe before, and I worried that my spirit was a calloused one. I just didn't see the point of the agony.
A week later the bombs went off in Boston.
My heart was ripped across the ocean, and suddenly I was back on the dirt paths of my home. I learned to love the sport of running on the streets of Boston, and now lunatics had attacked them both. Like everyone, I was shocked and confused. I lived in New York for ten years before moving to London, and I had grown used to the constant expectation that someone would strike the city in which I lived. But Boston? During the marathon? The cognitive dissonance was deafening.
The next week was a mix of rage and confusion, and when I thought I couldn't watch a minute more of the news coming from my home town, I longed to strap on my sneakers and head out the door -- as if I could somehow outrun the horrors of what my mind now knew to be happening back home. But an injury from the week before kept me from getting back on the road, and the emotions of this unthinkable week pent-up without an outlet. So when the London Marathon sounded its starting gun this morning, I knew exactly where I wanted to be -- on the sidelines cheering.
I stood at mile 23 and watched runner after runner force themselves through the hardest part of a grueling race. And when I saw that every one of them was wearing a black ribbon in honor of the city of Boston, I found the release I had been longing for in a run. And I finally saw the point of the agony of mile 23.
I suddenly remembered the ramblings of a young teenager blathering to his brother -- and maybe in his innocence he had stumbled upon something. Some runs teach us to love where we're from. Some runs help us to rediscover who we are. Some runs are a lot of fun. Some runs push us to our limits and aren't any fun at all. And on a horrifying Monday in April, one run was terrorized by monsters who knocked runners and their loved ones off their feet, leaving them bruised, scarred and worse.
But even after this catastrophic day, we stand again. We lift up those who can't lift themselves. We mourn those we've lost. And we keep running forward together.
SUBSCRIBE TO & FOLLOW MUST READS
The internet's best stories, and interviews with the people who tell them. Learn more