The chicken dance always gets people moving.
At my bar-mitzvah, it brought young and old to the dance floor flapping their arms and shaking their rears. At the annual celebration of the Blackfeet tribe in Northern Montana, it does the same thing, with a little more style and a lot more significance.
The celebration, like those held at reservations across the country, is a time for tribal members to honor their heritage and the rituals that have been passed down to them. The songs, dances, clothes, food and games that make the tribe unique are showcased throughout several days of festivities every year.
As I drove up to this year's celebration, I could hear rhythmic chants and booming drum beats on the horizon, mixed ethereally with the rolling thunder above. The grey solace of the plains was a stark contrast to the color and energy that greeted me as I walked into the arena.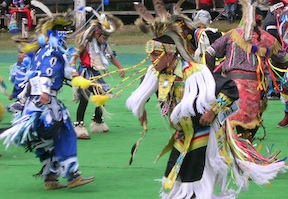 style="float: right; margin:10px">
Dancers wearing brightly colored outfits adorned with everything from feathers and beads to plastic tape were performing the chicken dance, a sacred Blackfeet dance that mimics a mating Prairie Chicken. Surrounding the dancers in four groups were drummers and chanters that kept the beat going. The chicken dance came to a close, but was quickly followed by the youth grass dance competition, and a showdown between the four drumming groups.
Between the dance-offs, drum-offs and costume contests, visitors can find an array of food and wares offered at concession stands. As I sifted between lines for funnel cakes and frybread, I watched an elderly man in an ornate headdress polish off a Frito pie with a big smile on his face. Thinking about the histories that wove together to create such an innocent moment, I couldn't help but smile too.
Whether you go to get a glimpse of an unfamiliar culture, or to simply enjoy the jubilant atmosphere, Native American celebrations offer an exciting day trip no more than a few hours from home for many Americans. The majority of celebrations occur during the summer and are free and open to the public.
Here are few tips to plan your own trip:
2. Contact a tribe's chamber of commerce, and ask for details about their annual celebrations that are open to the public.
3. Research the tribe's culture before you go, so you will have context for some of the dances and rituals that you see.
4. Remember to be thoughtful about picture taking, and respect that many celebrations explicitly forbid alcohol and commercial tobacco.
5. If the dance is open to the audience, don't hesitate to shake your tail feather -- it's part of the fun.
SUBSCRIBE TO & FOLLOW LIFESTYLE
HuffPost Lifestyle is a daily newsletter that will make you happier and healthier — one email at a time. Learn more