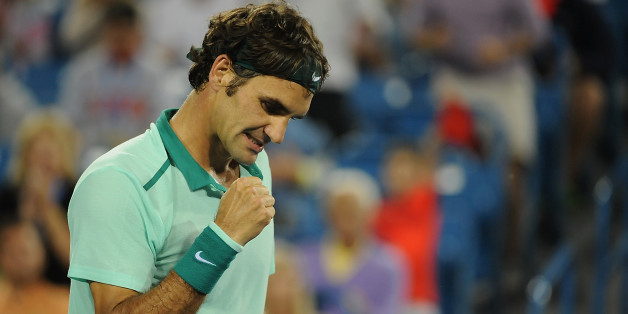 I've been watching tennis for a long time and I've never seen the tennis crowd unanimously submit unyielding adulation to a player in quite the way we do for Roger Federer. I actually feel like he can divide by 0 sometimes when he hits shots that don't seem to exist. With Wimbledon shortly upon us I think the question needs to be asked: Is Roger Federer the most interesting man in the world in real life?
Clearly, some of the praise is warranted. If all tennis players had a LinkedIn profile he'd rank in the top 1 percent of all tennis-related searches. No one has won more. Pieces have been written comparing his on-court prowess to a religious experience. And it's not uncommon to see people with "Roger is God" signs and flags throughout tennis arenas worldwide. Others have been written about his amazing forehand and his Swiss-like diplomacy on delicate issues like equal-prize money for the women's game and his friend Tiger Woods' "extra-curricular" activities. He's the only athlete that doesn't seem to know what it feels like to play an away game in a hostile environment. Seas of fans swarm him wherever he plays from Toronto to Turkey.
He's the kind of guy you'd really hate to grow up next door to....but can't. Could you imagine what that would be like for you and your parents? They may be throwing a little party celebrating you just getting your college degree after 12 years in school. At the same time you pull into the driveway for the party Federer is just coming back to town on his private jet with his grand-slam trophies and jacket full of Rolexes which he gets paid to wear. A feat he'd somehow make look modest in comparison to your bash.
Then, fast-forward a few years later, and you'd be having guests over to meet your new baby. And out comes team Federer, four kids and two perfect sets of boys and girls. All delivered at the perfect times in tennis' never-ending schedule to keep his streak of consecutive grand slam appearances in-tact. Yup, not only did he and his wife have four children in two pregnancies, he had a 50/50 split on gender and DVR'd the delivery as to not mess up his professional life. Which I might add is as one of the world's greatest athletes.
The good thing is, like the rest of us, fatherhood has slowed him down. He's after all dropped to being the #2 player in the world now after what feels like a gazillion years at No. 1. Naturally, since Federer is only the second-best in the world at his job now, critics have justly suggested that he's washed up and it's time for him to quit. I think that's fair. I probably wouldn't look for a raise or ride the wave if I was the world's second best anything. I'd pack it in too and save myself the embarrassment. What would you do if you found out tomorrow you were the world's second-best thumb-wrestler? I know I'd quit my day job.
Like the most interesting man in the world from the Dos Equis commercials Federer seems to have awkward moments just to see what they feel like. Remember that time he told the French fans to shut-up? I actually think the fans all apologized for oohing and aahing and kept quiet for the rest of the match. I personally watched the highlights on YouTube later in the day and even I found myself thinking "my bad, sorry Roger." I'm pretty sure if any other athlete told paying fans to shut up they'd probably be serenaded with a wide variety of four-letter words. What about the time after he won the Australian Open and said the secret behind his continued success was that he was "extremely talented?" Instead of being grilled by it as arrogant we all just laughed it off. What other person on the planet gets away with that?
Only time will tell whether Federer will win another Wimbledon or not. Either way, he'll definitely get the most cheers regardless of whatever he does, good or bad. He may stroll out to Centre Court in a cardigan (again), or shoes that say how many times he's won (in case he or anyone else forgets), or a tutu for all we know and it will mostly be praised everywhere. The fact that only he can get away with all of this clearly makes him the most interesting man in the world in real life.
SUBSCRIBE TO & FOLLOW THE MORNING EMAIL
The Morning Email helps you start your workday with everything you need to know: breaking news, entertainment and a dash of fun. Learn more