I know you can feel it. As a matter of fact, you can feel it from 37,000 feet up. Your heart's beating, your palms are sweating, your mind is racing. "What are we gonna do first?" Once that A 320 touches ground at Louis Armstrong International, you are no longer you. You are in New Orleans. Anything is possible, and no one knows this like Galactic. Galactic is New Orleans.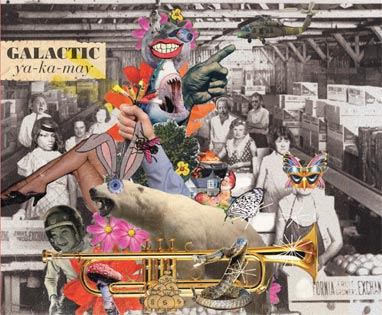 On February 9th, prepare to be "bounced" like you've never been "bounced" before. Prepare for some new possibilites. Galactic, known worldwide for their special blend of New Orleans funk, R&B, hip-hop and soul, adds some special ingredients to their serving of "Ya-Ka-May," the band's 6th studio release, and an album that breaks new ground in the Crescent City.
This is NOT your grandparents' New Orleans record, though the special guests will make your grandparents shout "Hoo-Na-Nay!"
New Orleans' legends Allen Toussaint and Irma Thomas, along with some of the greatest musicians the city has to offer--John Boutte, Walter "Wolfman" Washington, Trombone Shorty, Corey Henry & Big Chief Bo Dollis-- join Stanton Moore, Ben Ellman, Rich Vogel, Robert Mercurio, and Jeff Raines for "Ya-Ka-May," not the noodle soup you may have sucked down at Jazz Fest, but the new record which takes everything you love about New Orleans music and turns it on its ass!
Fasten your seatbelts and take a first look.
When you're done, head over to BURNING WOOD and listen to "Heart Of Steel," featuring the Queen Of New Orleans Soul, Miss Irma Thomas.