It's official -- DJs are the new rockstars. For the first time ever, electronic music headlined and sold-out Madison Square Garden, a feat that has never been accomplished by some of the pioneers of the genre, people like Chemical Brothers, Paul Oakenfold, Tiesto, Daft Punk and others.
Yet, thanks to all of those artists, the road was paved for Swedish House Mafia to come in and headline. From Miami to Ibiza to L.A. to London to New York, Swedish House Mafia has spent its time together playing the hottest clubs and festivals for years but now the time is theirs and seizing a moment like this is not only amazing, but also a benchmark in the genre's history.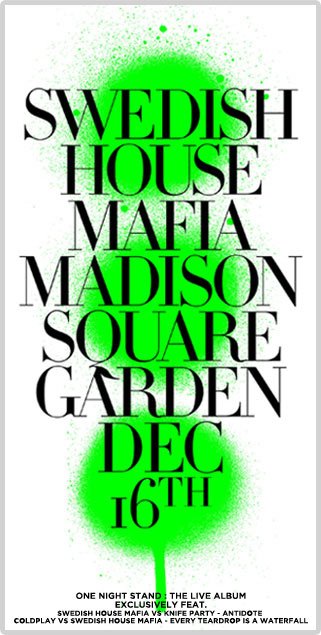 Swedish House Mafia is a supergroup one can say is comprised of three respected producers and DJs -- Axwell, Steve Angello, Sebastian Ingrosso, the trio started working together in 2007 and now, just a few years later, thanks in part to their non-stop touring schedule, remixes and popular production, they headlined the world's arguably most famous arena.
Starting their set just before 11 p.m., a giant screen in front of their stage projected images of the history of the arena leading up to the moment their beats would reign supreme. With explosions, pyrotechnics and loud sirens -- that screen hit the floor to unveil the superstar DJs hard at work in their massive booth.
In a sight that had to be seen and difficult to describe, Swedish House Mafia single-handedly turned Madison Square Garden into "Club MSG." There were moments where you had to remember where you were. With tens of thousands of people waving their arms, fist pumping and dancing around -- it was the biggest party to ever hit New York City, and somewhat awe-inspiring that an entire room of that many people were moving in unison to the same sound.
With massive screens and fireworks, Swedish House Mafia upped the ante considering the room they were in, having effects that could never work in a club. As confetti, smoke and streamers were blasted into the crowd, the audience just got wilder. As the trio showcased pulse-pounding remixes of Adele, REM, Coldplay, special guests Tinie Tempah and John Martin arrived on stage to surprise the crowd and made this gig one for the history books.
Swedish House Mafia's two-hour set was enough to give fans a taste of their new status, but the boys were not done yet as they would go uptown after their massive night to perform again at Roseland Ballroom. With electronica acts headlining major festivals like Coachella and Lollapalooza and their own festivals like Creamfields, Ultra, Electric Daisy and Electric Zoo and now Madison Square Garden -- this is the new rock 'n' roll and we are only seeing the tip of the iceberg.
Opening was New York DJ and Fools Gold record label owner -- A-Trak; the perfect warm-up for such a hot night. A-Track, decked out in a tuxedo looking like James Bond spun from his booth a great set of remixes from Kanye, Adele, Jay-Z, Daft Punk and enough fan favorites to have the arena move.
With his set that looked like a giant letter "A," and enough sub-bass to make your jugular rattle in your throat, A-Trak had a smile from ear to ear as the hometown boy who made it to the big house. By the end of his near hour and a half set, A-Trak took to old-school methods and began scratching on his vinyl decks, a nice touch to a truly epic set.
CORRECTION: This post originally misidentified the show's special guests. Tinie Tempah and John Martin made cameo appearances at the Swedish House Mafia show.

SUBSCRIBE TO & FOLLOW THE MORNING EMAIL
The Morning Email helps you start your workday with everything you need to know: breaking news, entertainment and a dash of fun. Learn more