Selection Sunday has come and gone and the 65 team field is finally complete for the 2009 NCAA Men's Division I Basketball Championship. Now, the best part can begin -- the bracket contests. Whether it's a cheap five dollar pool with friends, an office-wide battle royale with co-workers or just an opportunity for bragging rights, filling out a March Madness bracket has became a national staple. People of all ages throw on their thinking caps and attempt to fill in the blanks on the road to the Final Four.
The most exciting part about March Madness is that there are no guarantees. While the tournament was founded in 1939, last season was the first time that all No. 1 seeds won their respective regions. So if you're one of those people that goes chalk every game, try and mix things up. Root for the underdog. Pick your alma mater to knock off Goliath. Expect the unexpected.
Today, I've clacked away at my keyboard for three hours in an attempt to give my perspective on this year's dance. While I'm not making any guarantees or "locking" anything, I'm using my experience covering and playing basketball to predict what might happen over the next 18 days. Analyzing March Madness is about crunching numbers, dissecting matchups and most importantly, going with your gut. I'm confident in my selections (ask me how I feel in two weeks) and I've spent far too much time playing out these games in my head.
Maybe you'll reference this article while sitting down at the kitchen table, coffee cup in hand, filling out your bracket sheet ... or maybe you'll break out in hysterics and laugh in my face. Either way, best of luck to all and enjoy the Madness.
**Download Sam's cheat sheet for all you need to know about every team in the field.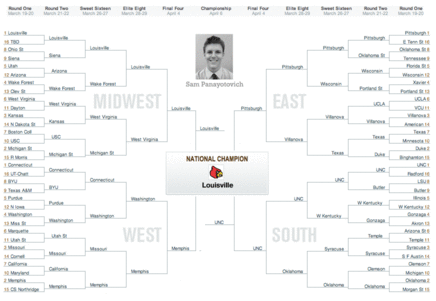 (Click to enlarge)
Opening Round
"Ring the bell you pansy."
Midwest Region
#1 Louisville over #16 Morehead State
The locals pronounce it "LUVVLLL."
#9 Siena over #8 Ohio State
As you'll find out throughout the course of this write-up, I'm not a fan of the Big Ten in the tournament. The inside-outside combination of Kenny Hasbrouck and Edwin Ubiles is enough to give the young Buckeyes a serious wake up call.
#12 Arizona over #5 Utah
Vegas lists the Wildcats as a two point favorite for a reason. Loaded with a roster full of NBA talent including Chase Budinger and top five draft pick Jordan Hill, 'Zona has the athleticism and strength in the paint to fend off surging Utah. Hard to believe this is a literal upset.
#4 Wake Forest over #13 Cleveland State
Love the Vikings and they honestly should have beat Butler three times, but the celebration should come to an end after an impressive Horizon League tournament victory. Wake could win this one running away with their athleticism alone, but they need to take care of the ball in transition. Turning the ball over against the Vikes could be costly. Still, I think there's too much Teague for Cle. State as the Deacs roll on.
#6 West Virginia over #11 Dayton
As the Mountaineers showed against Pitt last week, they are one of the best teams in the country at swarming for loose balls and crashing the boards. WVU played great basketball down the stretch and DeSean Butler and sharpshooter Alex Ruoff are primed for a deep run.
#3 Kansas over #14 North Dakota State
Hard to believe that KU loses it's top five scorers and claims a No. 3 seed the next year. It's unbelievable how great of a job Bill Self has done in Lawrence this season. See ya' Bisons. Rock Chalk Jayhawk.
#10 USC over #7 Boston College
Upset special as the Trojans come into the tourney very hot having won four consecutive games including the Pac-10 championship game. Juniors Taj Gibson and Dwight Lewis are still sour from last year's early exit and DeMar DeRozan is a star in the making.
#2 Michigan State over #15 Robert Morris
"I'm Spartacus!"
West Region
#1 Connecticut over #16 Chattanooga
Stephen McDowell can make it rain, but unless he hits 15 threes, the Huskies will win their first postseason game in three years. Hallelujah!
#8 BYU over #9 Texas A&M
Versatility killed the cat and with three players averaging 15 points per game -- Lee Cummard, Jim Fredette and Jonathan Tavernari -- the Cougars have too many options for the Aggies. Dave Rose is one hell of a coach as well.
#5 Purdue over #12 Northern Iowa
Congrats Purdue, you're the only five seed that advances in my eyes. Enjoy it while it lasts.
#4 Washington over #13 Mississippi State
Let's get serious. The Pac-10 regular season champs against the Bulldogs, who are only in the tournament because they ran the table in the unbelievably weak SEC. Huskies take this one as this squad is destined for a deep run.
#11 Utah State over #6 Marquette
The Eagles have dropped five of their last six since Dominic James went down for the season. Marquette seems to have lost the heart and soul of their team and Utah State is surging at just the right time. Gary Wilkinson runs wild down low and the Aggies move on.
#3 Missouri over #14 Cornell
Mizzou wins despite Cornell having a much higher team IQ. Har har.
#7 California over #10 Maryland
Greivis Vasquez can flat out shoot the rock. Unfortunately for the Terps, Cal has two even better guards in Jerome Randle and Patrick Christopher. The Bears are second in the nation in three-point percentage and Theo Robertson can lay a hurtin' down low. Bombs away.
#2 Memphis over #15 Cal State Northridge
Victory margin over or under 30? You be the judge.
East Region
#1 Pittsburgh over #16 East Tennessee State
Pitt in a nail biter...
#8 Oklahoma State over #9 Tennessee
The Volunteer State falls short again as the Cowboys are still reeling from their upset of Oklahoma in the Big 12 tournament. OSU hits an incredible 9.3 three-pointers per game and Tennessee has never been known for their defensive prowess.
#12 Wisconsin over #5 Florida State
I was shocked at how well Florida State played in the ACC tournament, knocking off North Carolina before falling just shy of the prize against Duke. Still, the Seminoles should have lost to Georgia Tech and Toney Douglas is the only player that averages more than nine points. Wisconsin wins this one behind their hard-nosed defense.
#13 Portland State over #4 Xavier
Jeremiah Dominguez, remember the name. The senior point guard has a sweet stroke from outside and he leads the way for a Portland State ballclub that shoots 42 percent from long range. Xavier has lost two of their last four and has struggled away from home. All the makings of an upset.
#6 UCLA over #11 VCU
I'm not drinking the VCU Kool-Aid. Sure, Eric Maynor is a stud, but for all intents and purposes, VCU is a one-man show. UCLA has the experience having made the Final Four in two of the last three years and this senior class is the winningest in Bruins history. Do you really think Ben Howland's boys drop their first game? Didn't think so.
#3 Villanova over #14 American
It's a little unpatriotic to pick against American, but come on. 'Nova rolls.
#7 Texas over #10 Minnesota
The Horns have looked impressive since Dog Balbay took over the point guard position. Dexter Pittman is finally playing up to his potential (and size) and then there's always A.J. Abrams and Damion James. Too much firepower for Tubby's Gophers to handle.
#2 Duke over #15 Binghamton
Last year, Belmont took Duke down to the wire in this very scenario. Don't count on the Dukies falling flat in the opener two years in a row. The Coach K stare is something these guys never want to experience again.
South Region
#1 North Carolina over #16 Radford
Ty Lawson or not, the Heels steamroll Radford. Thanks for playing.
#9 Butler over #8 LSU
Semi-upset as I've got ties to the Butler program and can't pick against a hard-nosed defensive ball club that protects the basketball and shoots at a high clip. LSU is athletic, but their bloated record in the weak SEC doesn't do it for me. Watch out for Gordon Hayward folks, the Brownsburg native can flat out stroke it from downtown.
#12 Western Kentucky over #5 Illinois
Not having Chester Frazier is the worst nightmare for Illinois, who struggled all year at closing out close games. They blew it against Clemson, Penn State (twice) and Michigan State up in East Lansing. Something tells me the Hilltoppers have something up their sleeves. WKU wins it behind their hot shooting.
#4 Gonzaga over #13 Akron
I was going to pick Akron just for kicks, but then I re-watched the WCC championship game wherein the Zags pounded St. Mary's by 25 points. I changed my mind immediately.
#11 Temple over #6 Arizona State
In a battle of one-man wrecking crews, ASU's James Harden fails to find his stroke as Christmas comes early for the Owls. Diontae is a pure scorer and he's been white hot on Temple's five game winning streak, which included their surge to the A-10 crown.
#3 Syracuse over #14 Stephen F. Austin
'Cuse could have played 16 overtimes last week and they'd still be able to beat the Lumberjacks. Johnny Flynn is playing the best basketball of his young career. If the Orange stay well-rested, they could make a push for Detroit.
#7 Clemson over #10 Michigan
Last year I picked the Tigers to the Elite Eight and they were eliminated the first day. Hmmm. I guess I never learn. The experience of Trevor Booker and K.C. Rivers reigns supreme over the younger DeShawn Sims and Manny Harris. The Wolverines will be something in a year or two, but it's just not their time.
#2 Oklahoma over #15 Morgan State
Boomer Sooner.
--
Second Round
"Does the slipper really fit?"
Midwest Region
#1 Louisville over #8 Siena
The Cardinals better not sleep on Siena because they're athletic as hell and upset fourth seeded Vanderbilt last year. The Saints also return their top three scorers from last year's squad. However, I'm still siding with Louisville's press defense and the quickness of Terrence Williams and Andre McGee to put it out of reach in the end.
#4 Wake Forest over #12 Arizona
I'm not sure that Zona has the athleticism or the depth to hang with Wake Forest. James Teague, Al-Farouq Aminu and James Johnson are worlds ahead of the Arizona triumvirate and I haven't even started talking about Chas McFarland and Harvey Hale. Plus it's fun to say Demon Deacons.
#6 West Virginia over #3 Kansas
Inexperience plays a huge factor as the much younger Jayhawks team doesn't have what it takes to cut down WVU. I'm skeptical of the Morris twins and Mario Little and don't think that Sherron Collins and Cole Aldrich can win this one by themselves. The Mountaineers are rolling and Alex Ruoff is a special player.
#2 Michigan State over #10 USC
In a matchup between two similar teams with similar styles of play, I'm taking the Spartans solely because of Kalin Lucas. I honestly think Lucas is the third best point guard in college basketball, and his ability to make things happen off the dribble and sink free throws in crunch time will send Sparty to the Sweet 16.
West Region
#1 Connecticut over #8 BYU
BYU is going to make this a ballgame. The Cougars do a great job of spreading the floor and getting looks from downtown. Drawing Hasheem Thabeet away from the basket is a must for BYU and if they can accomplish that, it'll be a nail biter. Still, Jeff Adrien and Sticks Robinson will prove to be too much down low and the Huskies will live to see another day.
#4 Washington over #5 Purdue
With the guards and hybrids canceling each other out, this one comes down to Jon Brockman against JaJuan Johnson. I'll take the stronger and more physical Brockman any day of the week as the Huskies pound the ball down low and use their ability to attack the rim to prevail over the Boilermakers.
#3 Missouri over #11 Utah State
The Tigers only lost six games all season long. That's nuts. Where the hell was I hiding? Seriously though, DeMarre Carroll and Leo Lyons are too good a 1-2 punch to fail Mike Anderson and Co. and with the Tigers on a hot streak that including a Big 12 conference tournament title, I'll end the Cinderella Story here.
#2 Memphis over # 7 California
Fast fact: Memphis is 24-0 since Tyreke Evans took over the point guard position in December. The freshman phenom rarely makes mistakes and he's pioneering a potent Tigers attack that can run with any team in the nation. This is exactly the style that Cal wants to play, however, Memphis is quicker and better in transition defense. Calipari reaches the Sweet 16 once again.
East Region
#1 Pittsburgh over #8 Oklahoma State
DeJuan Blair runs wild as the Cowboys' four guard attack won't be able to handle the 6'7" beast in the paint. James Anderson can shoot the rock, but with Sam Young and Levance Fields chipping away for Pitt, the Panthers are ready to ride the three-headed monster all the way to Detroit.
#12 Wisconsin over #13 Portland State
Hammering home the point that strong defensive teams always have a shot, Bo Ryan's tenacious defense -- one that allows less than 56 points per game -- will give the Portland State shooters headaches all night long. Not bad for a Big Ten team that realistically shouldn't have made the tourney.
#3 Villanova over #6 UCLA
Playing in front of the home fans in Philadelphia, 'Nova has an extreme advantage. It doesn't hurt that UCLA hasn't had a true post presence since Kevin Love graduated either. Scottie Reynolds and Dante Cunningham are no strangers to deep tournament runs and under the direction of Jay Wright, I like the Wildcats to move on.
#7 Texas over #2 Duke
I hate picking against Duke because the Blue Devils seem to always win when I doubt them, but the lack of a post presence really hurts them. Containing both Dexter Pittman and Damion James is no easy task and point guard A.J. Abrams is world's ahead of freshman Elliot Williams in experience and composure. Hook 'em Horns.
South Region
#1 North Carolina over #9 Butler
Butler is a nice story and all, but North Carolina when healthy is the best team in the country. Ty Lawson will be fine, Hansbrough will get his 20 points and the Tarheels move even closer to their ultimate goal -- a national championship.
#12 Western Kentucky over #4 Gonzaga
The Hilltoppers are white hot having won 9 of their last 11 games including the Sun Belt championship. A.J. Slaughter and Orlando Mendez-Valdez are two great upperclass guards that make smart decisions with the basketball and have the capability of coming off screens and knocking down big shots. Gonzaga gets caught up in a look-ahead scenario as the clock fails to strike midnight on W. Kentucky.
#3 Syracuse over #11 Temple
The Christmas metaphors are nice, but if you think Temple can reach the Sweet 16, you're a little screwed up in the head. Johnny Flynn, Paul Harris and Eric Devendorf prove to be too much to handle for the mid-major Owls as America continues to fall in love with the Orange. The question is, how much energy do they have left?
#2 Oklahoma over #7 Clemson
Blake Griffin has had a few weeks to recover from his concussion and the last minute loss to Oklahoma State. Simply put, Griffin is a winner and a strenuous competitor that will do anything in his power to win. Along with sharpshooter Willie Warren and Austin Johnson, one of the most underrated point guards in the country, the Sooners send Clemson packing.
--
Sweet Sixteen
"Where dreams become reality."
Midwest Region
#1 Louisville over #4 Wake Forest
Wake Forest guards, meet Louisville's press defense. With the way the Deacs big men love to run the floor in transition, this could be a very long day for Dino Gaudio's squad. Wake is very young and often makes dumb decisions on the fast break, which will turn into quick buckets for the Cardinals. The Terrence Williams showcase continues as Louisville reaches the regional final.
#6 West Virginia over #2 Michigan State
Proving that the Big East is indeed the best conference in basketball, the athletic Mountaineers show relentless ability to crash the boards and push the ball in transition. Devin Ebanks could have a field day against the softer Goran Suton and with Alex Ruoff holding Kalin Lucas in check, WVU could pull off the upset.
West Region
#4 Washington over #1 Connecticut
You heard it here first, Washington is for real. Jon Brockman plays a very physical game in the paint, something that Thabeet has struggled with all year long. If Washington's guards can attack the basket and draw open looks for their shooters on the perimeter, they'll win this game. The key to beating UConn is driving at Thabeet, not opting for fadeaways and turnarounds. Washington has the personnel to make this happen and I'm counting on it.
#2 Memphis over #3 Missouri
Talk about a tough call. I think it comes down to the wire and the experience of Antonio Anderson, Robert Dozier and Shawn Taggart will prevail for the Tigers, who were two botched free throws away from winning the national title. And for those that think freshman point guards can't lead the way in March, Derrick Rose still thinks otherwise.
East Region
#1 Pittsburgh over #12 Wisconsin
The clock strikes midnight on Wisconsin as the Badgers simply don't have the offensive artillery to hang with Pitt. Young, Blair and Fields continue to prove that tough, blue collar basketball is here to stay and the physical Panthers move one step closer to the Final Four.
#3 Villanova over #7 Texas
You never really know which Villanova squad is going to show up, although I think Scottie Reynolds is determined to give it his all and throw his body all over the court in an attempt to reach the Final Four. Dante Cunningham will need to shut down Damion James and the 'Nova role players need to play one hell of a game, but it's definitely possible. Rick Barnes coached teams have struggled to make it past the Sweet 16 in recent years and this season is no different.
South Region
#1 North Carolina over #12 Western Kentucky
The undersized Hilltoppers finally meet their match in North Carolina as Tyler Hansbrough and Deon Thompson are able to overpower their defenders and convert easy buckets all night long. The penetrations opens up the floodgates for Wayne Ellington and Danny Green on the perimeter. This one could get ugly.
#2 Oklahoma over #3 Syracuse
After taking Madison Square Garden by storm and playing seven overtimes in two nights, the Orange simply have nothing left in the tank against Oklahoma. The Griffins physicality wears down the 'Cuse frontcourt and Warren and Johnson's perimeter play halts the magical Orange run. The marquee matchup of Griffin and Psycho T will finally take place.
--
Elite Eight
"Separating the men from the boys."
Midwest Region
#1 Louisville over #6 West Virginia
In an extremely physical game in which fouls are taking place left and right, I think Louisville squeaks by in the end thanks to big plays from Williams and Earl Clark. Louisville won the Big East regular season crown and conference tournament for a reason. Pitino guides yet another team to the Final Four and the white suit is Detroit-bound.
West Region
#2 Memphis over #4 Washington
The Tigers' combination of size, speed and strength along with the halftime adjustments by John Calipari should be enough to push Memphis over the top. Washington's guards haven't seen a team with this much quickness all season long and as you saw last season, Memphis knows how to utilize their strengths down the stretch.
East Region
#1 Pittsburgh over #3 Villanova
Two of the hottest teams in the Big East square off for a chance to play in the Final Four. Hmmm. Seeing that the conference season was filled with rough, physical play, it's hard to shy away from Pitt. DeJuan Blair is a man on a mission and Levance Fields is so close to Detroit he can taste it.
South Region
#1 North Carolina over #2 Oklahoma
In a matchup that's highlighted by two of the most dominant big men in college basketball, this one will come down to the supporting cast. I'll take the experience and determination of Lawson, Green and Ellington over Willie Warren, Tony Crocker and Austin Johnson. Roy Williams lives for the big game and this team has had reservations made for Detroit since last April. UNC takes care of business as we witness the last collegiate game for Blake Griffin.
--
Final Four
"Heroes get remembered, but legends never die."
#1 Louisville over #2 Memphis
In a game that's as equally matched as I've ever seen, Louisville/Memphis combines quickness, athleticism and strength all in one for a shot at a national title. The teams are eerily similar and even the head coaches look alike. Still, there's one thing Louisville has that Memphis doesn't -- the ability to post up. Tigers' big men Robert Dozier and Shawn Taggart prefer to shoot 15-footers and turnarounds rather than bang down low, something that Samardo Samuels and Earl Clark are very comfortable doing. If Memphis isn't hitting their jumpers, they're going to struggle. And since they're going up against the best defensive team in the tournament, I like the Cardinals odds to prevail.
#1 North Carolina over #1 Pittsburgh
Tyler Hansbrough must be licking his chops. The NCAA's all-time leading free-throw shooter gets to compete against DeJuan Blair in a matchup that NBA scouts will be drooling over. Luckily for Hansbrough, Blair tends to get slap happy when he gets beat in the paint and Psycho T is renowned for drawing contact and getting to the line. If Blair stays out of foul trouble, there's no way I could possibly predict a winner. However, in the national spotlight with a shot at the title on the line, I expect the experienced senior to outlast the young sophomore. A well-rested and healthy Ty Lawson only sweetens the pot. North Carolina was the odds on favorite in the pre-season and they'll get their shot at bringing home yet another banner.
--
The National Championship
"One shining moment."
#1 Louisville over #1 North Carolina
After surviving an extremely physical contest against Pittsburgh in which Tyler Hansbrough and Co. gave it everything they had, it'll be very hard for the Heels to play up their full potential for two consecutive games. I think Carolina's guards will try and run in the first half and UNC might even head into the locker room with the lead. However, just as they did against Syracuse, the Cardinals will come out firing in the second half. Louisville has won 20 of 22 games, they won the regular season and conference tournament titles in the best conference in basketball, and they play the style of defense that wins championships. They are the most versatile team in the country and with the poise and leadership of seniors Terrence Williams and Andre McGee, I think the white suit gets doused in bubbly as Rick Pitino brings a championship home to the 'Ville.
SUBSCRIBE TO & FOLLOW THE MORNING EMAIL
Start your workday the right way with the news that matters most. Learn more