I am writing to you today with a sense of urgency and want to ask you to take action in order to help save the life of an important scholar.
Haleh Esfandiari, the director of the Middle East Program at the Woodrow Wilson International Center for Scholars, was arrested in Tehran on May 8 and incarcerated in the Evin Prison, and on May 29, she was formally charged with espionage and "endangering national security through propaganda against the system." She is an Iranian-American national.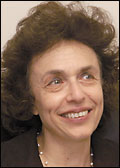 Haleh Esfandiari
Photo from The Woodrow Wilson International Center for Scholars
According to The Woodrow Wilson Center, the organization, Haleh's family, colleagues, former students, and many organizations, are continuing efforts to bring attention to Dr. Esfandiari's unjustified arrest.
Over the years since the 1979 revolution, the Iranian regime has arrested thousands of scholars, students, activists and intellectuals and prosecuted them on false and phony charges because in reality, these individuals promoted the kind of civic discourse that can help democracy flourish in Iran. Dr. Esfandiari is one of those individuals.
But there is also a consistent pattern in these arrests. In the vast majority of cases, whenever the arrests of well-known citizens from the Western countries are well-publicized by Western media and the American government, Iran refrains from hurting the arrested individuals out of the fear of retribution.
You can help Esfandiari by demanding your Senators to publicly call for the release of this American citizen, ask them to not stop talking about Esfandiari until she is released and tell them to demand that the White House break the silence on this arrest and ask the Iranian government for the release of Dr. Esfandiari. We will not get our respect in the world back if we quietly sit by and allow our citizens to be falsely charged and imprisoned by rogue regimes such as that of President Ahmadinejad.
Go here to to find the contact information of your Senator. And if you choose to write a letter to your representative, senator or President Bush, please copy and paste the copy of your letter bellow this post or send a copy of your letter to saveesfandiari[at]samsedaei.com . In addition, please forward the link to this post to your friends and family so that they can take action too. Copies of the letters will be compiled and forwarded to The Woodrow Wilson Center and Haleh's family.
This action will take about 10 minutes of your time. But not doing so can keep Dr. Esfanidari's arrest and her current condition off the front page of newspapers and lead to a tragic outcome that we may be able to prevent.
I sincerely thank you for your action and sense of responsibility on this matter.
Follow Sam Sedaei on Twitter: www.twitter.com/SamSedaei