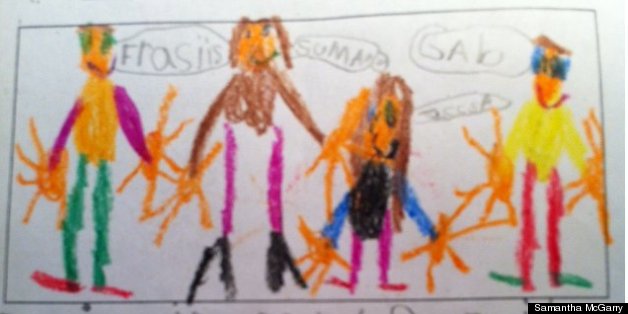 Recently, one of those excellent snarky ecards doing the rounds caught my eye. It joked that a mother's brain was like having hundreds of tabs open in Chrome. For those of you who don't speak technology, it basically inferred that we have always a gazillion thoughts running in parallel at the same time. This pretty much sums me up on any given day.
Except that, right now, it's happening in overdrive. Because, in less than seven days, I leave for Europe for a week. By myself. All alone. Yup, you read that right. Seven full days of glorious Me Time.
You'd think I'd be basking in glorious anticipation but, instead, I'm a hot mess of raging emotions, all boiling over in my head at once. Like this:
Anxiety:
There's so much to organize before I go! How will my household run without me there to micro-manage the laundry, the dishwasher and the groceries? What if they run out of milk and Cheerios and clean socks? Will my husband know which day library books go back to school, which days they need their sneakers or swimsuits? Will he get them to their play dates, birthday parties, karate classes and to bed on time? Who will remember to feed the cat and dog? (Note to self: Buy more cat litter. And Cheerios.)
Disappointment:
I thought I'd be better prepared than I am. Other than handling all the logistics involved with ensuring my family is taken care of while I'm away, I'd also wanted to treat myself to some new clothes and accessories for this trip but, between work, family and home, I've had no time. I also wanted to be at least five pound lighter and have ripped abs too, but that ain't happening either. Maybe I can squeeze in a mani/pedi before I leave?
Glee:
OMG. I'll be able to read in peace and quiet, pee by myself, wake up when I want to, stay in bed if I want to, shop where and when I want, socialize. I'm giddy with excitement. It's like Life Before Kids.
Terror:
What if something happens to my family while I'm away? What if something happens to me while I'm away?
Insecurity:
Will my friends back in Europe still like me? Do I look older? Am I fatter and vastly different from when I last saw them many years ago? Will we all still get along or has time changed us all? Will they judge my adopted American lifestyle? Will I judge my adopted American lifestyle? Will I want to stay in my beloved France that I miss? What if I don't want to come back?
Self-righteousness:
I deserve this. I need this. I've earned this. After all, I do so much for everyone else.
Guilt:
Surely, I shouldn't be feeling so happy about being away from my family? This means I'm a bad person, right? Am I being selfish, saddling my poor husband with all the responsibility and duties of solo parenting for seven long days and nights? Will my kids hate me for leaving them for so long, bereft of my hugs? What if they cry out for me in the night and I'm not there? Will my kids miss me? Will my husband miss me?
So many thoughts and emotions swirling; it's exhausting and I haven't even thought about packing yet!
The good news is that I really don't need to worry about my family while I'm away. My husband is more than able to take care of the kids and handle every boo boo, negotiation, play date and overflowing hamper -- fortunately, he's an all-in parenting partner.
The disappointment, fear, insecurity and guilt? I just have to give myself a good talking to, I guess. It is what it is. I am who I am. I wear my age and my motherhood and my choices with pride. What will be will be, no matter how much planning or worry.
The glee? Bring It On!
Samantha McGarry is a working Mom, juggling family, career and domesticity one crazy day at a time - with a smile on her face. She blogs at Keeping the Glass Half Full.