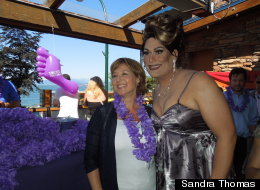 Hundreds of thousands of spectators took in the annual Vancouver Pride Parade Aug. 5 on a spectacularly sunny day.
This year's event saw several milestones, including a visit from the premier of British Columbia Christy Clark and, for the first time ever, participation from the Vancouver Canucks professional hockey team.
Transgender beauty queen Jenna Talackova took part in the parade as a grand marshal.
Talackova made international headlines earlier this year when she fought to participate in the Miss Universe Canada Pageant. Talackova was initially refused the right to participate because she wasn't born female. But seriously, have you seen this woman? I had the opportunity to check her out up close and personal during the VIP Pride party hosted by Barefoot Wine & Bubbly and she is ridiculously gorgeous. Speaking of Barefoot, I find it inspiring a company based in California takes such interest in supporting Pride society's across North America.
Parade MC Joan-E wowed the crowd in a flowing gown with an elegant up-do, while as usual, there wasn't a dry eye on the parade route as pink-clad members of PFLAG, Parents, Families and Friends of Lesbians and Gays, marched along. It was the same for the memorial float organized by the Vancouver Pride Society. Of course many of the city's politicians took part in the parade, as did the Vancouver Police Department, including Chief Jim Chu, and Vancouver Fire and Rescue.
British Columbia Premier Christy Clark shares a hug with Vancouver 2012 Pride Parade MC Joan-E.

Transsexual Jenna Talackova was named one of this year's parade marshals. Jenna received the honour for her fight for rights for transsexuals after competing for the title of Miss Universe Canada.

Long-time activist Bill Monroe was named as one of this year's Pride Parade marshals for his work with the LGBT community. Monroe took to the streets dressed as Queen Elizabeth in a horse-drawn carriage.

Gay activist David Holtzman was this year's posthumous grand marshal. David died unexpectedly last year.

For the first time ever, members of the Vancouver Canucks hockey team marched in the Vancouver Pride Parade. Manny Malhotra and Jason Garrison were joined by Canucks mascot Fin and Patrick Burke, founder of the You Can Play Project. Malhotra also march with Vancouver's gay hockey team the Cutting Edges.

The gang from Celebrities Night Club in Vancouver partying on their float during the annual Pride Parade.

Barefoot Wine Ambassador Randy Arnold strikes a pose. Randy has been involved with Pride societies across North America on behalf of Barefoot, which is as known for its community commitment as it is for its wine.

The newly ordained Vancouver Chapter of the Sisters of Perpetual Indulgence march in the Vancouver Pride Parade.

Marchers in the 2012 Vancouver Pride Parade offer an alternative to oil tankers off the West Coast of British Columbia.

Mr. Red Ribbon walks the parade route Sunday at the annual Vancouver Pride Parade.

Fashion photographer Josh McVeity and celebrity columnist Fred Lee celebrate Vancouver Pride 2012 at the VIP party held Aug. 5 at the Boathouse Restaurant at English Bay, which was hosted by Barefoot Wine & Bubbly.

Whatever Floats Your Boat was the theme of this lifestyle-inspired float in the 2012 Vancouver Pride Parade Sunday.
Follow Sandra Thomas on Twitter: www.twitter.com/sthomas10