There I was, sand in my toes, saltwater in my hair, sitting at a round picnic table just steps from the beach. As took a bite of a fish taco with mango slaw, I heard hammering. Lots and lots of hammering. Yet I had an appetite for appreciation, and so I opened wide with a smile.
The midday sun shone as workers in Levi's and orange hardhats laid panels of wood to erect a new boardwalk, eager to replace the one washed ashore by the Atlantic it had been in front of just nine months earlier.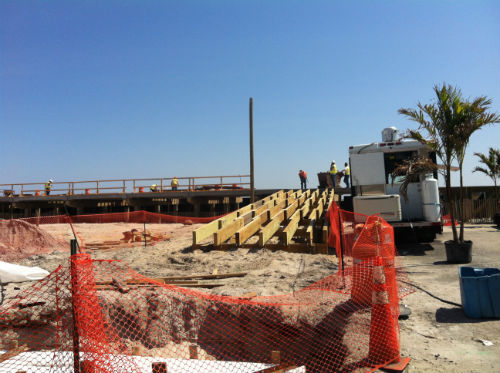 As if on cue, John Lennon's Imagine came on the speaker attached to one of five food trucks congregating on this beachside corner to help liven up a neighborhood that had incurred so much damage.
"Imagine there's no heaven
It's easy if you try
No hell below us
Above us only sky
Imagine all the people
Living for today..."
If I had been sitting in this very spot a year prior--during a heavenly meal break from a heavenly beach break--I'd have considered it hell with all the banging. I'd have tasted nothing but destruction and scowled. I'd have been aggravated by its disruption to my perfect beach day and my perfect fish tacos with perfect mango slaw. I'd have thought: This isn't quiet enough. This isn't pretty enough. This just isn't Enough.
But that was before a Superstorm called Sandy came barreling into the eastern seaboard hitting so many of the communities close to where I grew up in suburban Long Island.
It was also before I had visited the similarly shattered town of Vernazza, nestled in Italy's Cinque Terre, where cobblestone roads had been busted, temporary wire fences had been erected, and very few stores or restaurants were open, if not abandoned.
This was before a thick layer of dust coated my sunglasses in both places, making it impossible for me to see the beauty beyond the wreckage.
This was B.A.T.S.--Before All The S--t.
The month was July, the year 2012, and the country Italy. I had just finished a 7-day yoga retreat among the cypress trees, bumblebees and sprawling, straw-filled hills of Tuscany where I manifested patience--patience for success, patience for love--and the ability to be satisfied and at peace with the present moment.
And yet I couldn't quiet the mind's multi-sided conversation with itself, which was doubting my decision to stay four days in a clearly deprived town. As I incredulously wheeled my suitcase up to somewhere that seemed like nowhere in search of my hotel, I continued to be astonished by what I saw: hanging electrical wires, crumbled doorways, uneven alleyways, windowless storefronts and empty outdoor patios.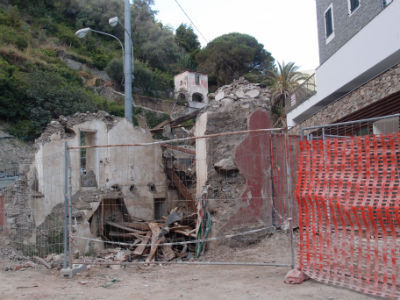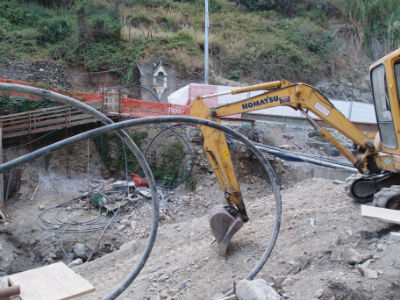 What's happened here? I wondered. This is the place so many people raved about? This is where I chose for my final four days of relaxation before returning to Reality?
After dropping my bags in a clean, but character-less room in a building whose elevator didn't work, I retraced my steps along the short main drag of Via Roma, which eventually opened up to the harbor, providing a sensational view of the aqua Ligurian Sea.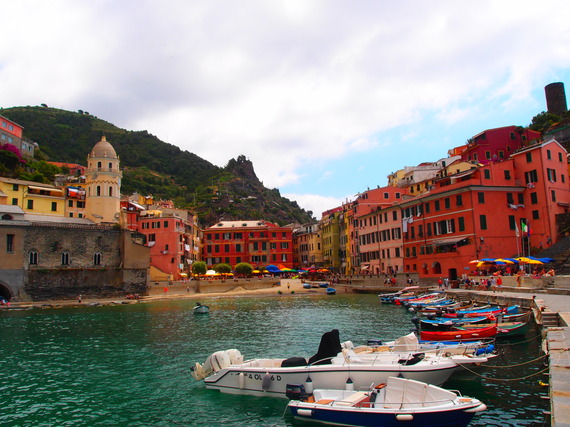 There it is. There's the splendor I pictured.
I left the disorder behind me meandered into the small piazza for my first Cinque Terre meal. I settled in at a small table and ordered the local specialty: acciughe. Magically fishlicious! Then I let my curious nature lead me into the town's carugas (streets) from which there are tons of cameres (rooms) to rent.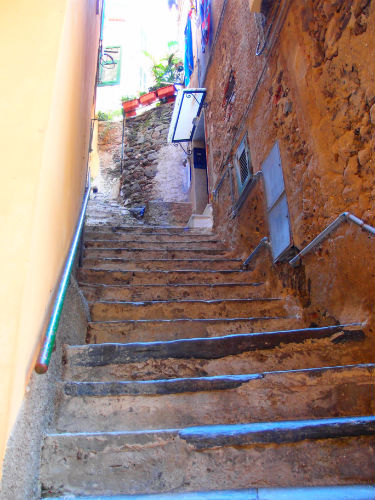 I peeked inside windows, trying not to be too envious of the quaint and charming surroundings as opposed to the lackluster charm of my room that was located way up a deserted, dust-filled road.
Look at all these steps! I thought. At least I didn't have to carry my bag all the way up here. THAT would've sucked. My hotel is fine. It's Enough.
For dinner that evening, I decided to take the train to Monterosso--the northern most of the five Cinque Terre towns, best known as the "beach resort."
And lo, upon arriving, the mind-chatter of doubt returned:
Maybe I should've stayed here. There's so much more to do--it's lively and closer to the beach. Plus, there's no construction!
But I took a deep breath and tried to recall the patience while indulging in a plate of lemon-drenched succulent shellfish--prawns, octopus, mussels--that were so fresh it was easy to imagine them being caught 10 minutes prior.
Following a bit of a train debacle caused by my inability to properly convert the 24-hour clock, I made it back to Vernazza by midnight.
About six hours later, I awoke to hammering.
Oh no, I thought. Not on my vacation. And to think what I'm paying for this room! Please. Make. It. Stop.
I grabbed two pillows and stuck my head between them to banish the noise and banish the doubt.
I awoke two hours later still pondering the idea of changing rooms, and maybe even towns. But instead, I remembered the patience and prepared for my big hike through the five towns of Cinque Terre, a World Heritage National Park.
I took the train to Riomaggiore and began there, first soaking in the pastel-colored buildings and grand cliffs by the harbor.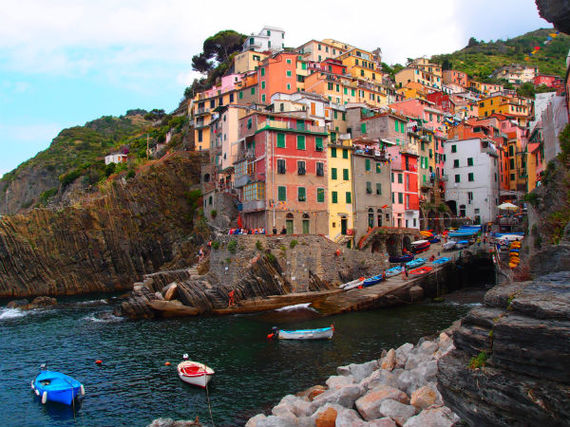 This town is cute, too. I thought to myself. No construction here...
But I kept on.
The relatively easy vineyard walk from there to Manarola, high above the shore, kept my smile as wide as the sea to my left.
I took my time walking, listening to the spirited sounds of Graffiti6. White butterflies followed me at my back, feral cats slumbered on aluminum rooftops and my sneakers squished ripe plums that had so clearly fallen just recently from the trees.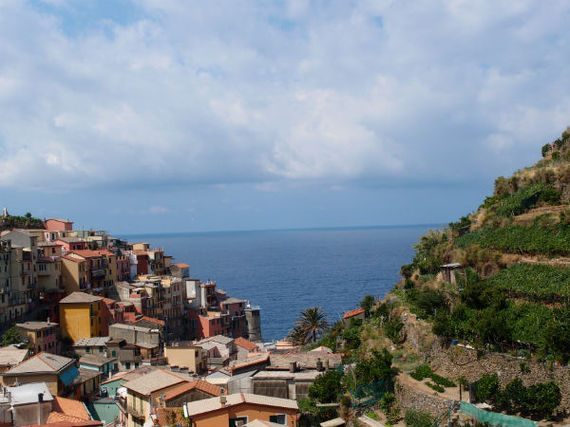 After ascending the 365 steps to Corniglia, where I indulged in drinking sweet white wine from a glass, bong-like apparatus called a pirun, I continued on the trail, eventually making my way into Vernazza.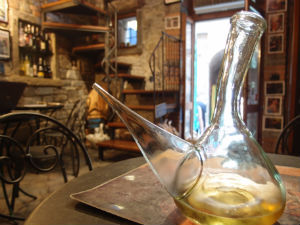 As I descended via the carugas, stepping in and out of the water's sightlines, my respect for it grew. Yes, there was still some questionable construction, but the untouched nooks and crannies with blooming flower boxes superseded the unsightliness.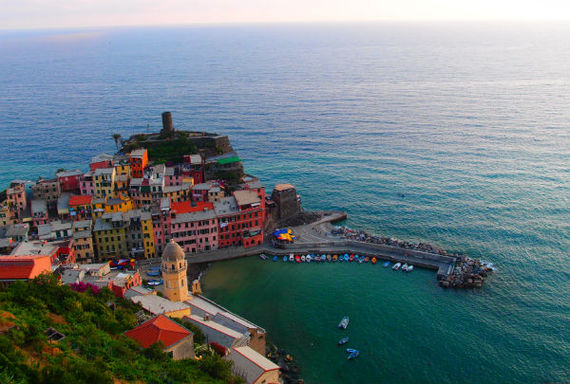 About seven hours after I had first left my room that morning, I reached the breakwater, unlaced my sneakers, and waded right into the clear sea.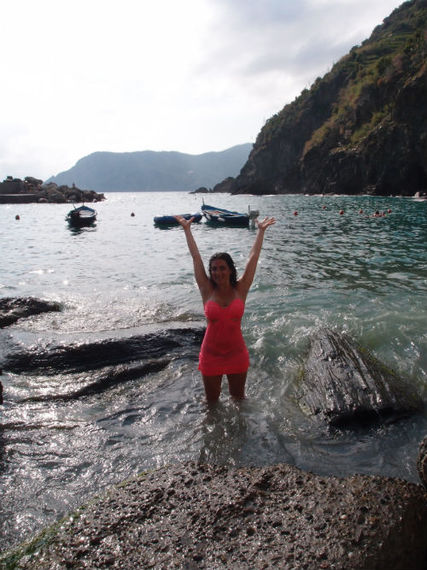 It was invigorating, and Enough.
For dinner that evening, I stayed in Vernazza and ate mortadella cheese stuffed mussels in marinara sauce while sitting outside at a table that faced the sea and the setting sun.
I returned to my air-conditioned room early, yet satisfied. I scooched down into the cool sheets, opened up my laptop, connected to the free WiFi and Googled "Vernazza" and "construction" to see if there was something more to the uncharacteristic state of town.
What I found was astonishing, humbling and altogether terrifying.
Just eight months prior, on Oct. 25, 2011, this small Italian community, population 500, had been hit by a massive flood, tornado and landslide, killing three people and causing 100 million Euro in damage.
I saw photos of the "charming, quaint and picturesque" town that once was; that I had been expecting to find and heard so much about, and then I saw the 14-feet of mud that washed away every fork, every wine glass, every homemade knick-knack for sale in this tourist-reliant community.
This was no ordinary renovation. They were literally rebuilding from the ground up.
That night, I lie waiting for the hammering, but it did not come. Still, I could not sleep.
Early the next morning, my last day in town, I descended along the path the landslide took that fateful day: from the top of Vernazza where I was staying, to the beautiful breakwater below. I saw the hanging wires and miscellaneous nails and cinder blocks as hope instead of havoc.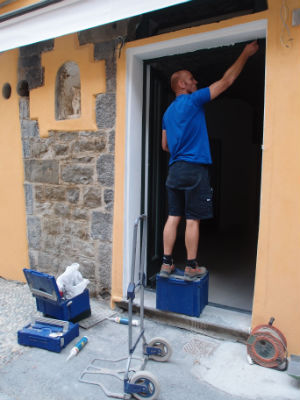 Just days ago, there was a bare wooden platform outside an unopened restaurant; and now, it supported tables and chairs with paying customers, no doubt eager to devour whatever fresh catch of the day was being marinated, grilled and served for lunch.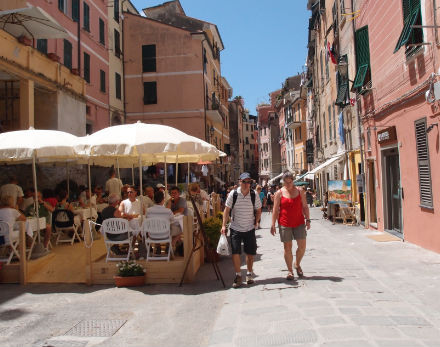 How foolish and ashamed I felt for ignoring what lie clear in front of me those past few days; for judging the town for its imperfections when it had practically been washed away completely; for not asking more questions and for considering something else; something better. What could be better than survival? Than witnessing a community coming together? What could be better than, in some small way, being a part of that?
Upon returning to my room to get my bag, I stopped in at the Il Pirata delle 5 Terre restaurant, which I learned had only reopened six days prior to my arriving. Mossimo, the friendly Sicilian owner, greeted me as if he didn't have a care in the world. Not a care like replacing an oven, or an espresso machine. Or repainting the walls and installing a new light fixture. Or figuring out how to change the 27-character-password to his WiFi.
You never would've known what had happened there.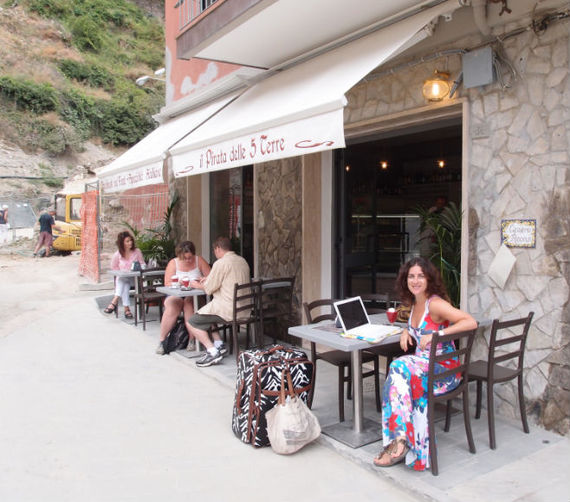 In Vernazza, the churchbells still rang on the half-hour. The tide still came and went. The acciughes were still caught and soaked in lemon. The ricotta pastries were still baked and dusted with white powdered sugar. The trains carrying unsuspecting visitors still arrived and departed, and the knick-knacks were made once again for them to bring home as a reminder of their stay.
I sat there drinking a macchiato and watching Mossimo meet every new customer as if they might be his last. The closer I looked at the view in front of me--the bulldozers, the busted concrete, the temporary wire fences--the more beauty I saw.
And so a year later, as I ate my fish tacos and mango slaw amid the hammering and the massive sand dunes blocking what might ordinarily be an idyllic view of the ocean in Long Beach, Long Island, I could only smile. Because in the aftermath of devastation, those food trucks operated by local business had come together to serve up what's often right in front of us: a scrumptious dose of Enough.