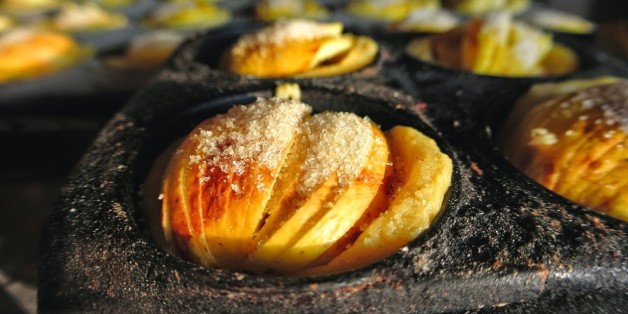 My favorite moment at the
Boulangerie
happened one evening after the night shift. We had spent five hours baking and 10 wooden crates stood before us, brimming with hot loaves of bread. That night there had been six of us in the bakery, four more than usual, so the work finished quickly and occasionally one of us would have to stand around idly, with nothing to do, watching as the others made themselves useful.
Whenever it was my time to be idle I stood by the oven, which is warm and comforting when the oven doors are closed, but fiery and scary once the doors open and loaves come flying out, weighed down by their scorching-hot baking trays. The old-timer bakers love to hear new bakers squeal at the heat of the oven. "Oh! It's hot!" we usually say. Then they say, "Well, yeah, it's an oven, it's hot." Then they laugh. I never really got the joke, but I guess my sense of humor deteriorates when I'm afraid of having my hand burned off.
So as I stood by the oven, watching our last loaves come out, two of the bakers announced it was time to prepare
les
tartines
. "
Les tartines!"
I thought to myself, in my best French accent. I had no idea what a tartine was. My understanding of the word came from my father's stories about his summers in France, when he would wake up to a hardened baguette that would be made delicious by toasting it, smearing it in jam, and dipping it into a bowl of hot chocolate.
But we weren't going to make those tartines. Instead, I got to pick a loaf of bread and watched as it was sliced into tranches thick enough to hold a pile of toppings. Next came the tomato sauce, in drips and splatters, then sliced zucchini and scallions with a smattering of garlic. After that, the sardines-- whole filets gingerly stacked atop the bread. And finally, the cheese. All local, all made from goat's milk, and all temptingly soft. As soon as the cheese came out I knew it was time to be proactive and I moved away from the warmth of the oven and cut generous slabs of cheese to top our tartines. This is a tartine:
Open-faced sandwiches are a specialty enjoyed by the bakers of Boulangerie Les Copains, but it was not unusual to find us enjoying other products sold by the co-op. Like, for example, the petites brioches de fantaisie. That translates to "fantastical little brioches." The fantasy part comes from the apples, poppy seeds, raisins, and walnuts piled up inside. That, and a dash of cinnamon.
I once ate a petite brioche fresh out of the oven with a glass of fresh country milk. Deepa, my friend who was with me on our baking adventure, has a thing for fresh country milk, and insisted we try out the combination. As you can see, the doughy little nobs are asking to be pulled apart, stretchy and airy with just enough crust to hold it all together. So as we tore into the petites morsels, accompanied by a big gulp of milk, Deepa and I went into a headspin of deliciousness, from which we were aroused only by the threat of a certain sneaking cat.
On rainy afternoons we would often bake little pizzas and apple tartelettes for the market. Rainy afternoons are common in Normandy, so we found ourselves baking pizzas and tartelettes fairly frequently. My favorite part came last: shaking a bit of herbes de Provence on the pizza, while Deepa spooned coarse brown sugar across the scored apples.
Those were our days in Normandy. Days of farms, fresh food, and a bit of hard work. If it sounds idealized, then that's because it is. But it's hard not to idealize a place where one neighbor presses apple cider while the other makes cheese for your evening tartines. We learned many things at the Boulangerie, most of all about a different way of living. And for that, we are grateful.
Practicalities: