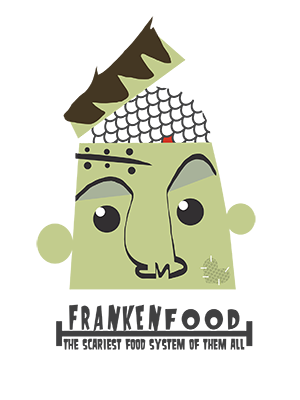 The Hawai'i Food Policy Council invites you to the first annual Frankenfood Party on October 25th! Sweet Home Waimanalo will be hosting this terrifying event from 6-11pm. This is a costume party so bring it because the best costume wins a prize!
Do you eat? Well then, welcome to the food movement! Our food systems are currently spookifying. For example, Hawaii imports 85-90 percent of its food and 40 percent of the food we buy ends up in the landfill or incinerated. In other words, we spend our food dollars abroad then send 40 percent of the food, along with the plastic and cardboard packaging, to our incinerators and landfills. Meanwhile, over 14 percent of Hawaii's population receives emergency food assistance. It's creepy but people are seeking opportunity in repairing this system.
The Hawaii Food Policy Council is leading the way. They are an independent grassroots organization dedicated to building a healthy food system in the Islands by empowering communities through education, analysis, and strategic networking. You can read all about them and see what projects they are currently working on here. Because of how scary the American food system has become, Food Policy Councils are sprouting up all over the nation to connect consumers' concerns with policy makers and other key players to improve the food system.
The Frankenfood Party will be a chance to meet food system innovators, explore ways to turn our fears of the food system into opportunities for change, and to party down. Treat yourself to dinner at Sweet Home Waimanalo before joining the party for drinks and company.