As fashion gets nostalgic, one of the more surprising candidates for a modern makeover is the Christmas Jumper. No longer the garishly twee itchmongers bearing freakishly-faced woodland creatures that you dreaded finding under the tree, this season the Christmas Jumper is a prized statement fashion piece. The fact that the killer luxury online retail and trend digi-bible site Net-A-Porter has an exclusive collection of designer Holiday sweaters totally seals the deal on this as a fully-fledged fashion trend.
I was having one of my pretty much daily snoops around their site the other day and couldn't believe how many different spins it's possible to put on traditional seasonal knits. Think more Natasha Poly than Noel Edmunds and take it quirky with Marcus Lupfer (favourite = all of them), go Frozen Planet cute with Stella or Moschino (how adorable are the penguins?), or get a Sarah Lund / The Killing vibe with chunky fair isle (J Crew, Aubin & Wills, APC). Jonathan Saunders, Isabel Marant and Proenza even manage to make the Christmas jumper edgy - now there's a sentence I never thought I'd say.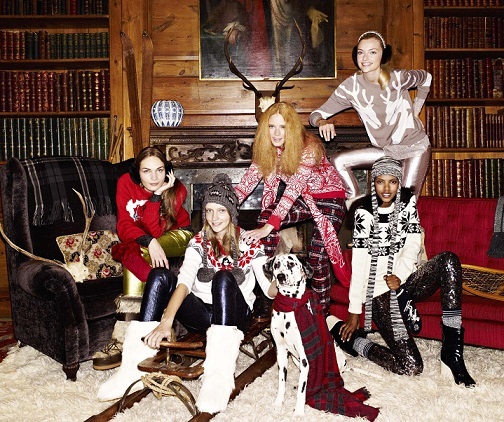 At the dizzily high end of the scale there's super luxury versions that are clearly not just for Christmas. Designs from the likes of Jil Sander and Preen which, thanks to their sumptuous fibres and intricate knits (FYI 'intarsia' is a fiddly, jigsaw-like knitting technique used to create multi coloured patterns), weigh in just over the £1,000 mark. Not in my price range - and I'd be too worried about moths getting at them anyway - but nice to have a nose at all the same.
Here are my picks for the snuggliest, most stylish, Christmas knits around, all available from Net-A-Porter.com now (NB. * Denotes Net-A-Porter exclusives).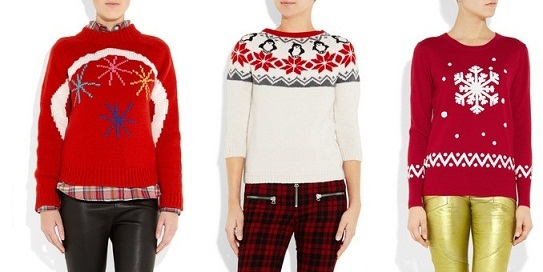 L-R: Jil Sander star intarsia cashmere £1,040, Moschino Penguin intarsia wool £810,* Marcus Lupfer snowflake sequined merino wool, £285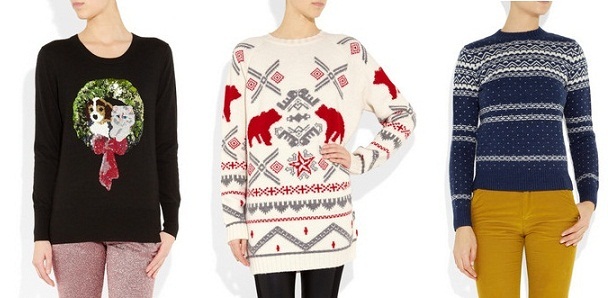 L-R: *Marcus Lupfer kitten, puppy & wreath sequined merino wool £295, *Stella McCartney Polar Bear intarsia wool & alpaca blend £670, APC intarsia wool £155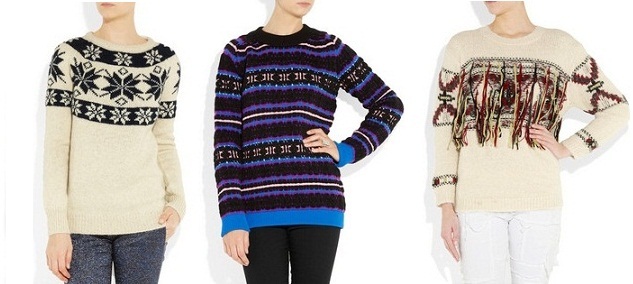 L-R: * Aubin & Wills Firgrove intarsia wool & alpaca blend £165 , Proenza Schouler chunky knit wool blend £785, Isabel Marant Yoan alpaca-blend intarsia sweater £385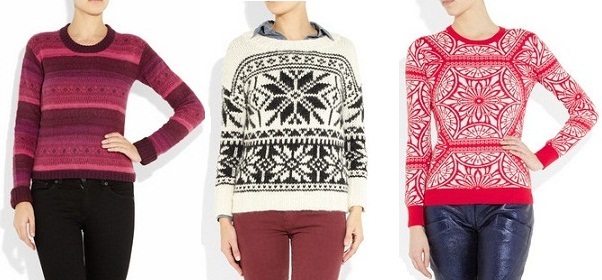 L-R: Burberry Brit Fair Isle wool & cashmere blend £295, J. Crew chunky knit fair isle £220,
*Jonathan Saunders Fair Isle cotton £315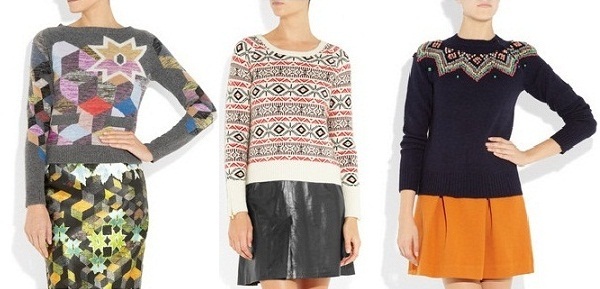 L-R: Preen cube intarsia cashmere £1,135, Sandro Surfing intarsia fine knit £200, Paul & Joe Sister Aspen pom pom embellished wool £190
Follow Sarah McGiven on Twitter: www.twitter.com/FightForYrWrite