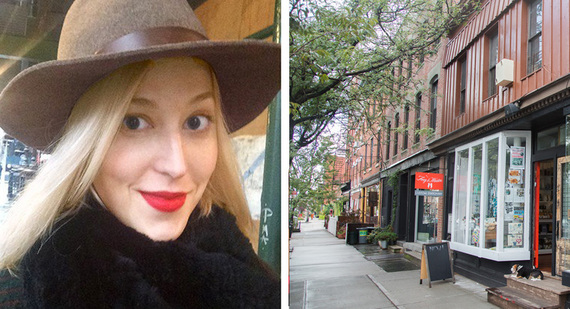 Verena Von Pfetten's love affair with Brooklyn started with a restaurant. The Lucky Executive Digital Editor moved to Manhattan for college at Columbia in 2001 and after graduation didn't consider leaving the borough in the center of it all. She was still living there happily in 2007 when her then-boss at the Huffington Post invited her out to Brooklyn for dinner. "She'd lived in Carroll Gardens since 2002 and is absolutely the reason I fell in love with the neighborhood," Pfetten says. They met at Frankies 457 on Smith Street, where she immediately fell "truly, madly, deeply head over heels in love with the Cavatelli," a signature dish of the restaurant (Get the Frankies cookbook Strolby!). The Italian spot played no small part in setting Pfetten on a path to eventually move nearby.
She finally did in 2012, finding an apartment on the Carroll Gardens/Red Hook border and settling in with her two French bulldogs. These days, Frankies is an integral part of most weeks, as you'll see below.
Head over to Strolby to see all of Verena's go-to Brooklyn haunts.