One of the biggest moments of the 2014 State of the Union was President Barack Obama's announcement of six new manufacturing hubs, or innovation institutes. Two are already in the works, including "America Makes," the additive manufacturing hub, in Youngstown, OH, and the recently announced wide bandgap semiconductor hub in Raleigh, NC. Together, these institutes, Obama said in his address to Congress, give us "the chance, right now, to beat other countries in the race for the next wave of high-tech manufacturing jobs."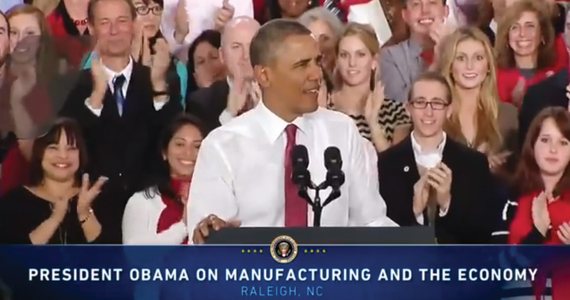 The president made these remarks against a growing wave of cynicism about a manufacturing renaissance that is very real -- but also, apparently, very misunderstood.
The gist of that cynicism goes something like this: While manufacturing has added 568,000 jobs since February 2010, that's a pittance compared to the manufacturing jobs that have been lost in recent years. What's more, global competition has depressed wages in manufacturing, making those jobs less valuable anyway. So, ultimately, manufacturing is not going to be the great savior for our economy.
There are a lot of holes in all this cynicism. Foremost, dismissing more than half a million new jobs doesn't seem sensible in this economy -- but here's the bigger story these folks are missing:
The renaissance in manufacturing is a renaissance in manufacturing technology. It includes: Additive manufacturing, also known as 3D printing. Next-gen semiconductors that could enable a new wave of electronics. Advanced, lightweight materials. High-tech sensors that enable intelligent automation systems, including increasingly sophisticated robots and drones. Multitasking machining centers, including highly advanced lasers, that can cut, weld and drill virtually any material in many axes. Nanotechnology. Not to mention the emerging software.
If we lose out in the race to master and develop this new wave of manufacturing technology, which could happen if we don't better educate our workforce, we will all be losers -- not just of even more manufacturing jobs (and 12 million some Americans still work in manufacturing) but also of the valuable work of making things and growing exports.
Can we really afford to bow out of the next industrial revolution?
Consider: In discrete parts manufacturing, which makes up a big part of all manufacturing, a machine shop gets, say, a chunk of steel that costs $5000 and turns it into something else that is worth a couple hundred thousand dollars to a customer.
Do we want that profit to go to an overseas supplier or to stay at home? Do we want our nation to lose the ability, skills and knowledge it takes to make 21st-century defense and medical devices, given that they are imperative in our nation's security, safety and prosperity? Even if it didn't add a single job, for the sake of argument, it would be a worthwhile venture. But in reality, this renaissance is adding new kinds of manufacturing work that is highly skilled and highly paid, even if it isn't adding up to '70s-style jobs numbers.
Obama is right to push for these hubs, little spokes of scientific activity that are developing critical technologies -- because we'll surely need them, as well as more people who understand them.
This article first appeared at www.MfgEngMedia.com.