I am not sure if the news reached you, but horror has hit Philadelphia. It is the kind of horror that can hit any community. And it provides food for thought for all regarding the balance between taking a chance on a new activity, and personal safety.
This horror involved a disabled Duck Tour vehicle, which was shut down and anchored approximately 150 feet from shore after the craft's captain saw and smelled smoke on board. Duck 34 then sank 40 feet in Philly's Delaware River after a barge hit it on Wednesday, July 7, at 2:30 p.m. Thirty-five tourists -- men, women and children -- and two crew members were rescued. Tragically, two students visiting Philadelphia from Hungary, part of a group invited to the area by the Chester County United Methodist Church, died following the crash. The dead are Szabolcs Prem, age 20, and Dora Schwendtner, age 16, both only children.
If you do not know what a Duck Tour is, neither did I until two summers ago, when, like grandparents everywhere, my husband and I began to plan for a much anticipated visit from four of our grandchildren (two at a time, one set from DC, the other Berlin (Germany, not NJ), wanting them to enjoy every possible moment. And everyone we consulted told us that the kids just had to Ride the Ducks.
"Ducks," as the World War II-era amphibious vehicles are known by the tourists who have flocked to them in several cities, are not really a boat or a truck, but instead a hybrid vehicle that was used to transport troops during this war, then known as DUKWs.
They have been an enormously popular and familiar vehicle on Philadelphia streets and our Delaware River since introduced in 2003. All hybrids have a canopy to protect tourists from the sun; and all who ride them are given a duck shaped yellow whistle to blow at passers by (who wave, groan, and also scream hello or the opposite) as they travel our historic streets, the prelude to the vehicle entering the water, where the whistles continue.
After the first visit from DC, our daughter heard the raves about this experience from her older daughter (whose younger sister fell asleep on my lap as soon as we entered the water). My daughter confided that it was a good thing we had not mentioned this Duck plan to her husband, who had ruled out Duck Tours. I could not imagine why.
You see, I had researched the two companies offering Ducks in Philadelphia, and selected the one in business longer that so many friends raved about. Before booking I had gone to the website of the Ride the Ducks company owner, an entertainment company based outside of Atlanta, whose Duck vehicles can be found not only in Philadelphia but also San Francisco, Atlanta, Missouri and Kentucky.
I read that all vehicles are built "from the ground up using the latest in marine design and safety." But I should have read more carefully: Readers were told that vehicles were "approved by the USCG Marine Safety Center for 'Partially Protected Water' routes." What was the meaning of this last phrase? Further, last week the vehicle that sank was not described as the "latest in design," but instead as a "refurbished" 1940s vehicle. Again, what in the world does that mean?
Here is what my son-in-law knew that we did not. A 1999 sinking involving a similar hybrid owned by a different tour company killed 13 people on Arkansas's Lake Hamilton. A subsequent National Transportation Safety Board investigation led to a long list of change recommendations for similar vehicles. These include adding flotation to keep the vessels from sinking if flooded and altering the canopy structure, which, without this alteration, made escape more difficult.
I have no idea what safety precautions Ride the Duck introduced. But I do know from interviews with terrified passengers of the struggle to place life preservers on their children and themselves, and to keep themselves and their children together and afloat in the dangerous, swirling waters.
The details of what caused the tragedy are currently being investigated by the NTSB. It could not be confirmed that the mate, who has taken the "Fifth," was piloting the Caribbean Sea when it rolled over Duck 34. A master and deckhand aboard the Duck said that they failed in attempts to reach the approaching tug pushing a 250 foot barge on marine radio Channel 13. These attempts were heard by other vessels. They also state that their air horn failed to work.
All of this brings to mind the "Swiss Cheese" model of human error proposed by James Reason in 1990. The precipitating event in this model is usually an active event -- called an unsafe act -- which is the direct cause of the accident, such as a judgment error by a poorly trained airplane pilot.
However, against this immediate unsafe act is usually a background of latent or dormant factors which can be present for months or years. Examples of this would be failure to follow protocols to periodically test equipment, poor patterns of communication among crew members or occasionally ignoring other safeguards or barriers put in place to prevent accidents. When these latent failures line up with the unsafe act, thereby lining up the holes in the barriers like the holes in Swiss cheese, the unsafe act will precipitate the accident and perhaps a catastrophe, such as the one involving the destruction of Duck 34.
Throughout this episode I have been unable to stop thinking about the four grandchildren in our care, who we took on a journey, never even thinking about the potential risks involved. At that time, we were lucky that the barriers put in place held up. In retrospect, however, complacency regarding a new activity should have been replaced by alert common sense: At the very least life jackets should have been insisted upon.
On July 7 the people on the Duck were not as lucky, and the loss for two families who, like us, just wanted their young ones to learn, enjoy and remember traveling to a historic city -- my home -- is irreparable.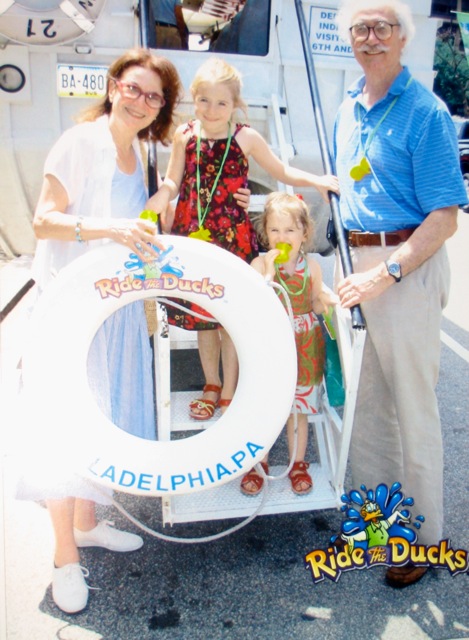 SUBSCRIBE TO & FOLLOW LIFESTYLE
HuffPost Lifestyle is a daily newsletter that will make you happier and healthier — one email at a time. Learn more