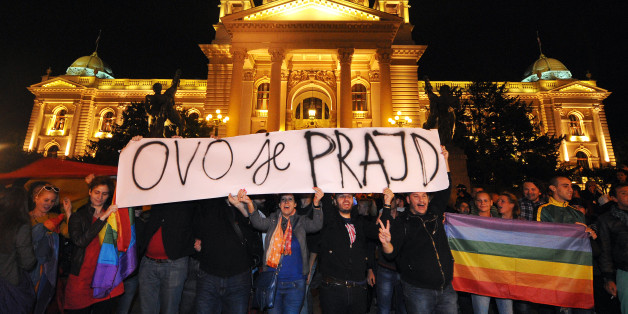 Unlike the festive parades that are regarded as traditional demonstrations of gay pride in the United States, Serbian Pride, held under cover of night on Sept. 27 in Belgrade, was the Serbian gay community's battle for a lost democracy. After dark, around 200 gay Serbians marched through the streets of central Belgrade in protest of the banning of this year's official pride parade. Night was the only time when local gays felt safe enough to express their revolt. Otherwise, they would have been "clay pigeons" and moving targets for hardline anti-gay mobs calling themselves "saviors of Serbia" and armed with knives, stones and Molotov cocktails.
For the third consecutive year the Serbian government, police and mainstream Serbian society itself displayed their unwillingness to challenge traditional homophobia. Homophobic leaders intensified the anti-gay atmosphere with inflammatory statements spreading fear, frustration and hostility. Serbian Prime Minister Ivica Dačić, who is also Minster of the Interior, added fuel to the fire by declaring that "homosexuality is an abnormal thing" and asking "the minority not to offend the feelings of the majority."
To head off EU calls on Serbia to allow the pride parade to go ahead, Dačić promised that 6,500 police officers would "secure the event." But a few hours before the scheduled time, the Office for the Coordination of Serbian Security Forces canceled the parade, citing "poor security conditions." Supposedly, Dačić's "brave guys in uniform" would be unable to confront an alleged "army" of hooligans armed with bottles filled with bees and wasps to be thrown at police and gay marchers.
In 2011 Dačić also banned the pride parade, citing imaginary hooligan snipers who were allegedly going to kill gays by shooting them from the tops of nearby buildings. Dačić uses smoke and mirrors to obfuscate the real reason for these cancellations, believing that the world will fall for his cheap tricks.
It seems that the Serbian police are much more worried for themselves than for citizens, perhaps haunted by memories of 2010, when about 204 people, 173 of them police, had to seek medical assistance following a riot at the pride march. Of 77 vehicles damaged during the parade, 42 of them were police vehicles.
This year the Serbian Police Union sent an open letter to Prime Minister Dačić defending their members and condemning him for his homophobic statements. They told him that the "first man" of the Serbian police "cannot claim such things":
Serbian police officers are required to secure the gay parade, but you, Mr. Dačić, two days before the parade, state that gays are not normal. ... Someone could interpret these words as a direct appeal from the "highest place" for a physical confrontation with the "abnormal"....
But even Dačić's Albanian political opponent supported him, confirming that homophobia is a serious Balkan illness.
After the 2013 pride parade was cancelled, the West got involved. Amnesty International condemned the cancellation as a "victory for hatred, violence and discrimination," and Štefan Füle of the European Commission did not hide his disappointment, tweeting, "No PrideParade in #Belgrade for 3rd year in a row.Unfortunate missed opportunity to show respect 4fundamental rights[.]" Birgitta Ohlsson, Sweden's Minister for European Union Affairs, said that she would seriously consider vetoing EU negotiations with Serbia as long as the Serbian leadership continues failing to resolve the human rights problems in their country.
Although the U.S embassy warned Americans in Belgrade that "demonstrations can become violent and unpredictable" and advised U.S. citizens "to remain cognizant of the Pride Parade route," the State Department expressed strong disappointment with "the decision of the Government of Serbia to ban the Belgrade Pride 2013 march."
"We condemn the anti-democratic threats of violence against participants -- violence and threats have no place in democratic discourse," the State Department said.
Human rights activist Tanya L. Domi, a professor of international and public affairs at Columbia University, tweeted, "These hooligans are basic criminals and not exclusively antigay so sounds like police and ministry lack skills." On Facebook she supported her friends in Belgrade who were taking part in the "night parade" and praised their courage.
But what could the democratic world really have expected from Dačić, a loyal supporter of Slobodan Milošević and a politician linked to fellow power players Aleksandar Vučić and Tomislav Nikolić, former far-rightists? What human rights would they protect?
True, they show some interest in negotiations with the EU, but when it comes to pride, their hypocritical compromises with EU standards are in deep water. The Serbian leadership still plays the basic 1990s card of defying the West, a staple of the Milošević era that is still recognizable in the acts of today's Serbian leaders. None of them was ready to affirm gay rights, even from a purely legal standpoint, instead stressing their own heterosexuality in homophobic terms.
Just two days before the scheduled pride march, Dačić asked publicly, "Should I become gay to be pro-European?"
In his homophobic stance he has a firm ally in Serbian Orthodox Patriarch Irinej, who said that the pride parade was "blacker than black." Yet the patriarch and other church leaders took months to dismiss Bosnian Bishop Kačavenda after it was revealed in a video clip that he had been organizing orgies in his luxury villa for years and sexually abusing minors. Patriarch Irinej has also never publicly asked another senior churchman, Bishop Pachomius, about the accusations of pedophilia that have been leveled against him. Rather, Pachomius has been honored with the award of church's White Angel medal. Dačić received the same honor in 2011 after he banned the pride parade. Will this year's ban bring him the new one?