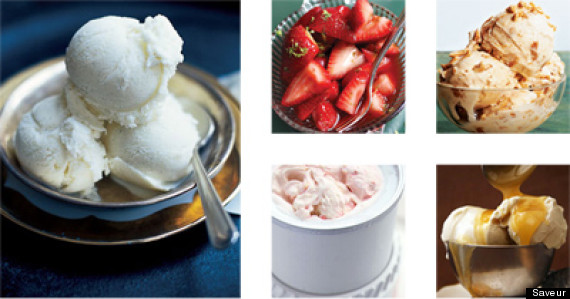 In our version of a classic all-out ice cream smorgasbord, endless combinations await: a scoop of dark chocolate topped with a drizzle of coffee liqueur; rich peanut butter swirl with a spoonful of gooey marshmallow sauce; fresh peach ice cream topped with a few strawberries; or a simple scoop of vanilla with hot fudge and candied nuts. It's an indulgent party that will delight adults and kids alike.

The Menu
More About This Menu
The coffee liqueur takes a month to complete, but the results are well worth it. The longer it sits, the more the sweetness will mellow. If you're short on time, you can drizzle storebought coffee liqueur or a shot of espresso over your ice cream.
This is our favorite version of hot fudge sauce, from Itgen's Ice Cream Parlour in Valley Stream, Long Island. MAKES 2 CUPS
INGREDIENTS
8 oz. chopped, unsweetened chocolate
1 cup sugar
1 cup light corn syrup
8 tbsp. unsalted butter
1 tbsp. vanilla extract
¼ tsp. kosher salt
1⅓ cups water
INSTRUCTIONS
In a 2-qt. saucepan, combine all ingredients. Place over medium-high heat and bring to a boil. Cook, stirring constantly, until sauce thickens and becomes smooth and shiny, about 10 minutes. Let cool slightly before serving, or transfer to a glass jar with a lid and store in the refrigerator for up to 1 week. Before serving, reheat sauce in a saucepan over low heat or in a bowl in the microwave for about 30 seconds, as it will thicken when refrigerated.
While the name is a little funny, this recipe for nuts in rich, maple and vanilla syrup is the perfect topping to any sundae. MAKES 1 CUP
INGREDIENTS
½ cup light corn syrup
½ cup maple syrup
1 tsp. vanilla extract
Pinch of kosher salt
1 cup roughly chopped, lightly toasted walnuts
INSTRUCTIONS
Bring light corn syrup, maple syrup, vanilla extract, and kosher salt to a boil in a 2-qt. saucepan. Stir in walnuts, and cook until walnuts are warmed through, about 3 minutes. Let cool and transfer to a glass jar with a lid. Store in the refrigerator for up to 1 month.
This Blogger's Books and Other Items from...
SUBSCRIBE AND FOLLOW
Get top stories and blog posts emailed to me each day. Newsletters may offer personalized content or advertisements.
Learn more