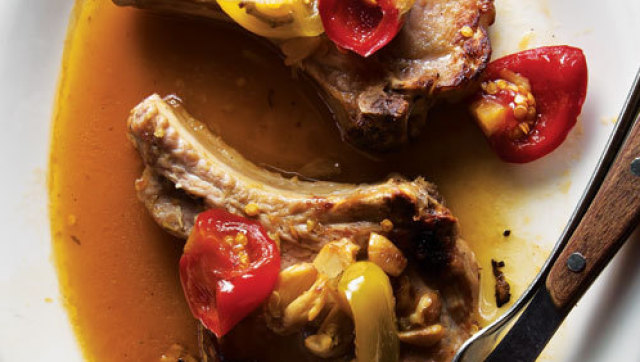 These juicy pork chops topped with halved cherry peppers have been a menu staple at Bamonte's restaurant in Williamsburg, Brooklyn, since the 1950s. This recipe first appeared in our Jan/Feb 2013 issue along with Greg Ferro's article Bamonte's.
INGREDIENTS
2 (1"-thick) bone-in pork chops
Kosher salt and freshly ground black pepper, to taste
3 tbsp. olive oil
5 cloves garlic, thinly sliced
12 pickled cherry peppers, halved
¼ cup dry white wine
¼ cup chicken stock
INSTRUCTIONS
Heat oven to 425°. Season chops with salt and pepper. Heat 2 tbsp. olive oil in a 12" skillet over medium-high heat. Fry chops, flipping once, until browned, 5 to 8 minutes. Transfer pan to oven; roast until pork is cooked through, 18-20 minutes. Transfer chops to a plate. Return pan to medium heat, add remaining oil, garlic, and peppers; cook until garlic is golden, 3-4 minutes. Raise heat to high, add wine and stock; cook until reduced by half, 3 to 4 minutes. Spoon sauce over chops.
While this chocolate pudding from cookbook author Alice Medrich is simple to make, it needs time to set-at least 1½ hours- so plan accordingly and either make the pudding before you start making dinner, or make it the night before. When testing the recipe in the Saveur test kitchen, we tried out a variety of grocery store chocolate brands, from Hershey's to Lindt. See our surprising results »
INGREDIENTS
⅓ cup sugar
⅓ cup Dutch-process cocoa powder
2 tbsp. cornstarch
⅛ tsp. salt
1¾ cup whole milk
¼ cup heavy cream
4 oz. bittersweet chocolate, finely chopped
1 tsp. vanilla
1 tbsp. dark rum
INSTRUCTIONS
Whisk sugar, cocoa, cornstarch, and salt in a 2-qt. saucepan. Slowly add milk and cream, whisking constantly; bring to a simmer over medium heat. Cook, while whisking, until thickened and beginning to bubble at edges, 12-15 minutes. Add chocolate, and stir until smooth, about 30 seconds. Remove from heat; stir in vanilla and rum. Divide between six 4-oz. ramekins, cover with plastic wrap, and chill until set, about 1½ hours.
MORE FROM SAVEUR.COM:
This Blogger's Books and Other Items from...
SUBSCRIBE AND FOLLOW
Get top stories and blog posts emailed to me each day. Newsletters may offer personalized content or advertisements.
Learn more