As my two year anniversary with my girlfriend drew near, my frustrations began to mount. I have always been a sucker for big time gifts, and I wanted to do something that would truly knock her socks off. Cleaning her apartment while she was at work and making her a candlelit lasagna dinner (and by "make" I mean my mom helped. And by "my mom helped" I mean she made it) to come home to was great for our first year, but I wanted something that she would remember for the rest of her life. Something that would make her lovingly coo, "I don't care if you were originally a Plan B -- you're my Plan B." Almost as if sensing that future great compliment, inspiration struck.
Though my girlfriend and I both live in Kalamazoo, Michigan, she originally hails from Springfield, Missouri (Nixa, Missouri, to be exact). She loves the Great Lakes and the statutes adorned for our hometown hero of Derek Jeter, but naturally she misses home. And nothing takes her back and eases her homesick feelings like her favorite band who also originates from Springfield: Someone Still Loves You Boris Yeltsin (SSLYBY). They're one of the hottest indie groups in the country according to Rolling Stone. Their work has been featured on the television show The O.C., in Macy's commercials, and they sport a cult following. My idea was to get my girlfriend tickets to their Detroit show and then surprise her by having the band dedicate a song to her, followed by a meet and greet for autographs after the show. Considering they have 200,000 online followers alone, asking for such a request was going to be simple, right?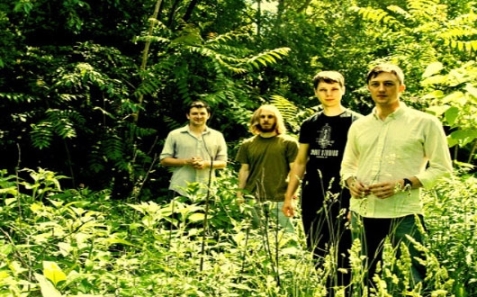 I sent the band my Hail Mary dream request with the full assumption I should immediately begin planning for something else. Less than twenty-four hours later, however, I not only received a response from the band but also had garnered their full support with much enthusiasm. One member of the band was on board with the idea so much that he emailed me his phone number and we began texting ideas as to which song my girlfriend would like to hear most. Though the success of the request was exhilarating, it was also painful. I had two whole months before the concert, an awfully long time to keep such an exciting secret from her. I cannot recall how many countless times we listened to SSLYBY's songs on her iPod as she told stories about what a great reputation they had and how much they were loved in Missouri. With every tale I squeezed my cell phone and gritted my teeth, resisting the urge to show her I had a member of the band's number on my call list!
After two months of agonizing silence regarding the secret, the day finally came and my girlfriend and I trekked the two-and-a-half hours to Detroit. The venue was a 1950s style diner with an upper floor warehouse arena near the heart of Detroit's downtown. We arrived nearly two hours early and passed the time by grabbing a seat in the diner and chatting. My girlfriend recognized the faces of the band and pointed out the members to me, and I watched as they took in their surroundings. The member I had communicated with was letting the diner's glorious history sink in -- examining countless black and white photographs of all the great musical acts Detroit has produced, while the mood was matched with continuous playing of Motown classics. The diner was full of people who were obviously waiting to see SSLYBY, something they no doubt understood, though their demeanor never changed. The band ate a small dinner together, blending in as if they were waiting to see a band themselves.
The concert itself began with two opening acts, and I watched as the members of SSLYBY stood nearby to witness the other bands perform. They didn't keep a buffer from the crowd to separate themselves -- they blended in as if they were merely fans that had come to see a show as well. They took pictures of the opening acts and complimented little nuances of their performances between sips of beer and laughter much like anyone else in attendance. Had my girlfriend not recognized the band from her days in Missouri they would have gone completely under the radar. I hadn't seen such humility from a band since witnessing the Foo Fighter's legendary front man, Dave Grohl, perform in Michigan.
Their set began and the venue came to life in a way that had been lacking for the previous performers, as if all in attendance had been in a deep slumber. The music was pure and crisp, and it was greeted by overwhelmingly supportive and energetic fans. They sang with SSLYBY, matching their lyrics at every beat, and the place was so alive that the floorboards of the historic, aging venue in Detroit literally began to shake underfoot. I watched as a father tapped his feet to the amazing sounds with an appreciative smile on his face, making it very evident he was actually glad to be at a concert with his teenage daughter who was enjoying the show as much as he was. It was music the way it should be. And then the moment came. The band member I communicated with took hold of the microphone and dedicated the next song to my girlfriend, a fellow Springfield native living in Kalamazoo, which caused her to shout out with glee.
As the song began, I grabbed my girlfriend's hand and looked into her Caribbean blue eyes, so perfectly silhouetted by the blue light casting shadows on the band as they played, and I told her the entire story. And as the tear rolled down her cheek she managed to choke out the best anniversary gift I could ever receive.
As Someone Still Loves You Boris Yeltsin rocked the soul of downtown Detroit, Eminem and Jay-Z co-headlined a concert down the road at Comerica Park, a concert where both artists agreed they would try to put aside their rivalry for one night. Though SSLYBY couldn't match the feuding rapping duo in tickets, if talent, humility and All-American kindness is the standard, I attended the venue that made Motown the most proud that night.
FOLLOW HUFFPOST