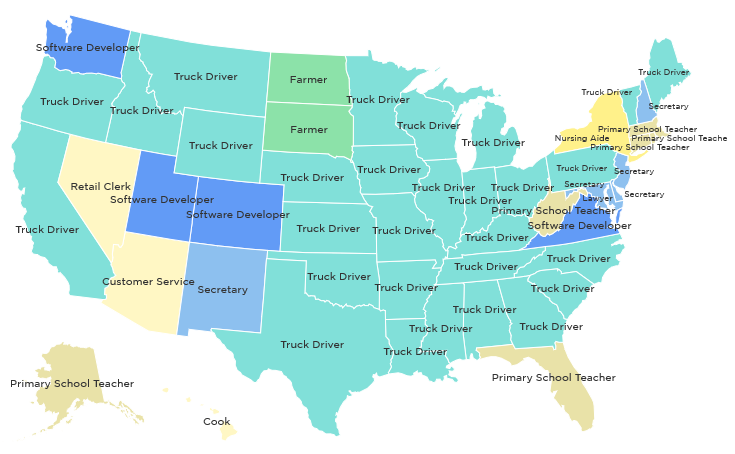 This is a map of the most common job in each US state in 2014. (Source: NPR)
The Short-Term Job Outlook of the American Trucker
"And as you might expect, we see more accidents per mile driven on city streets than on freeways; we were hit 8 times in many fewer miles of city driving." 

-- Chris Urmson, director of Google's self-driving car program
"AU 010." License plates are rarely an object of attention, but this one's special -- the funky number is the giveaway. That's why Daimler bigwig Wolfgang Bernhard and Nevada governor Brian Sandoval are sharing a stage, mugging for the phalanx of cameras, together holding the metal rectangle that will, in just a minute, be slapped onto the world's first officially recognized self-driving truck.
In 2012 in the U.S., 330,000 large trucks were involved in crashes that killed nearly 4,000 people, most of them in passenger cars. About 90 percent of those were caused by driver error.
The Long-Term Job Outlook of the American Trucker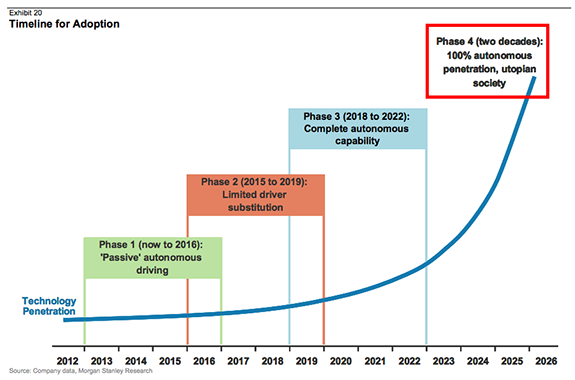 Navigant Research: "By 2035, sales of autonomous vehicles will reach 95.4 million annually, representing 75% of all light-duty vehicle sales."

IHS Automotive: "There should be nearly 54 million self-driving cars in use globally by 2035."

ABI Research: "Half of new vehicles shipping in North America to have driverless, robotic capabilities by 2032."

Nissan: "In 2020 we're talking more autonomous drive capability. It's going to be an evolutionary process and 2020 will be the first year to truly see some of these capabilities start to be introduced in the vehicle."
Take all of these estimates together, and we're looking at a window of massive disruption starting somewhere between 2020 and 2030.
At 25 to 40 percent cheaper, the cost to ride the driverless public transit vehicles will be significantly less expensive than traditional buses and trains... The vehicles are electric, rechargeable and could cost as low as $1 to $3 to run per day.
The project is code-named Titan and the vehicle design resembles a minivan, the Wall Street Journal reported... Apple already has technology that may lend itself to an electric car and expertise managing a vast supply chain. The company has long researched battery technology for use in its iPhones, iPads and Macs. The mapping system it debuted in 2012 can be used for navigation...
Uber said it will develop "key long-term technologies that advance Uber's mission of bringing safe, reliable transportation to everyone, everywhere," including driverless cars, vehicle safety and mapping services.
Travis Kalanick, the CEO and founder of Uber, said at a conference last year that he'd replace human Uber drivers with a fleet of self-driving cars in a second. "You're not just paying for the ca  -- you're paying for the other dude in the car," he said. "When there's no other dude in the car, the cost of taking an Uber anywhere becomes cheaper than owning a vehicle." That, he said, will "bring the cost below the cost of ownership for everybody, and then car ownership goes away."
The Eve of Massive Social and Economic Disruption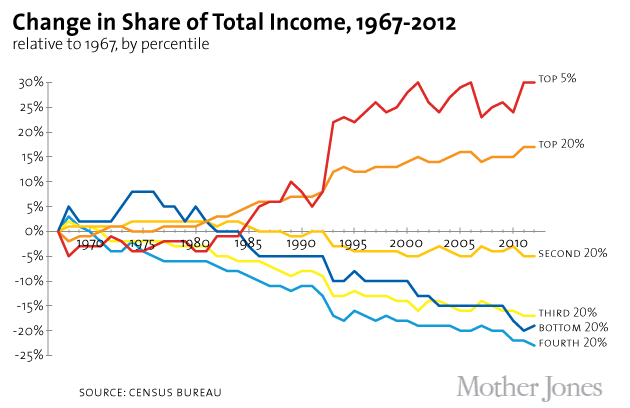 With the patience that carved the Grand Canyon over eons, nature reclaims Glenrio, where the clock stopped with the bypass of Route 66. The replacement of Route 66 with a four-lane superhighway that allowed motorists to zip past rather than wander through ultimately allowed Glenrio to decline.
The Road Left to Take