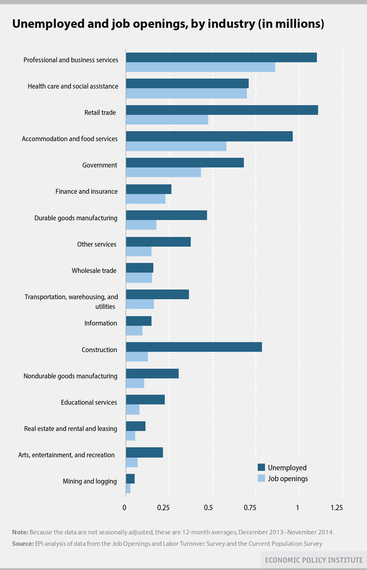 Source: EPI
Take food stamps. Conservatives have long argued that they breed dependence on government. In a 2014 paper, Olds examined the link between entrepreneurship and food stamps, and found that the expansion of the program in some states in the early 2000s increased the chance that newly eligible households would own an incorporated business by 16 percent. (Incorporated firms are a better proxy for job-creating startups than unincorporated ones.)

Interestingly, most of these new entrepreneurs didn't actually enroll in the food stamp program. It seems that expanding the availability of food stamps increased business formation by making it less risky for entrepreneurs to strike out on their own. Simply knowing that they could fall back on food stamps if their venture failed was enough to make them more likely to take risks.
One of the keys to Denmark's pro-business climate is the flexible labor market known as "Flexisecurity," where companies can easily hire and fire workers with out-of-work adults eligible for significant unemployment benefits. Unemployed workers are also eligible for training programs. It creates one of the most productive workforces in Europe. "The model encourages economic efficiency where employees end up in the job they are best suited for," says Weis. "It allows employers to quickly change and reallocate resources in the workplace." Denmark is one of the most entrepreneurial countries in the world.
When the researchers control for various factors like the unemployment rate, they find that happiness of people experiencing job destruction is higher in states with more generous unemployment benefits and lower in states with stingier benefits. This is likely because people are less worried about the job-destroying effects of technological change when there is a social safety net they can count on.
There is then the important issue of security, of protection against risks common to all, where government can often either reduce these risks or assist people to provide against them. Here, however, an important distinction has to be drawn between two conceptions of security: a limited security which can be achieved for all and which is, therefore, no privilege, and absolute security, which in a free society cannot be achieved for all. The first of these is security against severe physical privation, the assurance of a given minimum of sustenance for all; and the second is the assurance of a given standard of life.
---
---
SUBSCRIBE AND FOLLOW
Get top stories and blog posts emailed to me each day. Newsletters may offer personalized content or advertisements.
Learn more