Because I live in D.C. and am the Ultimate Washington Insider, I had the privilege of witnessing history today. It was a day that I never thought I'd see: A woman candidate for president, who received the most primary votes of any candidate in history, graciously conceding the nomination to, and pledging to support, the first person of color ever to head a major-party ticket.
Now what was it like in the National Building Museum today?
I attended the rally with a group of active Hillary supporters: Dedicated volunteers and well-wishers. As we stood on the balcony of the museum for three hours waiting for the speech to begin, we kept furtively asking one another what our plans were, quiet so as not to offend the different factions or cause any rifts.
Out of 10 people, two are swearing they will support John McCain (they are part of a splinter group called PUMA: Party Unity My Ass); one has plans to write Hillary's name in on the ballot; the rest plan to support, to varying degrees, Barack Obama (ranging from actively campaigning to just quietly voting for him in November).
So, that small sample would be good news for Obama in his quest to win over Hillary's 18 million voters.
Now for some sketching of the scene. The line to get in encircled the gigantic museum. But, as promised, the doors did open at 10 and I think everyone who wanted to get in did. We were ushered upstairs to the second floor, and we staked out a spot overlooking the press pool. We stood basically frozen in place, fending off newcomers who wanted a peek over the balcony. Well, some of them we let step in to take a picture or something if they promised to then get the hell back out of our space.
From our perch we established a special bond with CNN's Candy Crowley, to stave off our impatience. We waved at her and egged her on as she filed reports and BlackBerry'ed furiously. She was the most well-known on-air talent present on the press risers until Dana Milbank showed up. John King was over on his own stage on the side.
Slowly, famous people appeared on the floor. Terry McAuliffe did several laps, causing little bursts of applause, signing autographs. Then he kept doing it. I thought it was a little bit much, but my friends thought he had earned his ego moment. I don't. Losing elections doesn't earn you anything in my book.
Ted Danson and Mary Steenburgen showed up and sat in the small VIP section up by the main stage. Sen. Charles Schumer, Rep. Stephanie Tubbs Jones and that fundraiser guy whose name I can't remember joined them.
But my favorite guest was Ms. Gloria Steinem, who appeared in the larger, standing VIP area directly in front of the stage, wearing her trademark aviator sunglasses, which she then took off; carrying a book, looking very thin but very good in her skin-tight black chemise (oops, am I being sexist here?), talking to people, milling around, not sitting in the VIP seating. I thought that must be a statement on her part, like, Hey, I'm no VIP, I'm just here to see Hillary.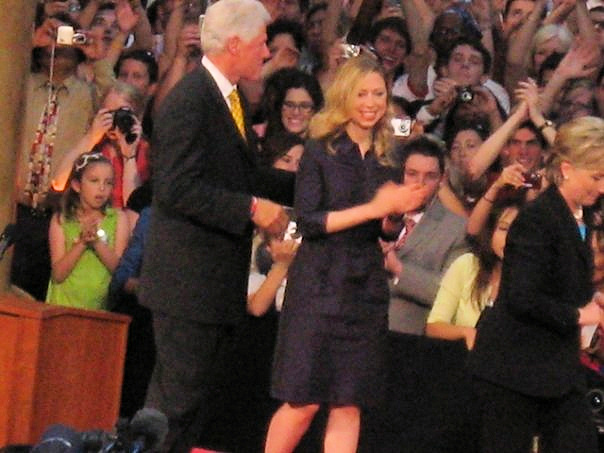 The sound was terrible, I had to cup my hand to my ear to understand the speech, and I was only about 200 feet away from the mic.
One of the Hillary supporters pointed out that there were people walking around wearing Obama T-shirts, and they were really not welcome here. I did find it odd that they were there with their T-shirts, but the longer Hillary talked, with her more than a dozen mentions of Obama, the more welcome they seemed.
After the speech, my friend Kai and I went down to the floor, from the balcony, to see how close we could get to the Clintons. Bill was so red. Hillary looked prettier the closer you got to her, but again, I don't want to be sexist.
So what do I mean by "emotional day"? I watched the speech on the Web this evening again, so that I could actually hear 100% of it, unlike in the hall today. The last six months have been very hard for Hillary supporters. The source of the continual bitterness has been half caused by the victim complex the Clintons have, which infects all their supporters' emotions, and half caused by the hateful, divisive stance of many Obama supporters, at least the online ones.
When you hate someone, everything they do, no matter how innocuous, makes you exclaim your hatred for them. And a lot of people hate Hillary Clinton in that way, so that if she so much as burps, she's a racist monster. If her makeup is off one day, she's a tarted-up Satan Whore. If she clears her throat, she's sending a subliminal message to assassinate Barack Obama. Tonight, a lot of the Clinton Derangement Syndrome (CDS) sufferers are changing their tune, because she proved them wrong with a gracious speech extolling her opponent and basically doing the best thing an opponent can do: Exhorting her supporters to switch to him.
The line of her speech that made me tear up was this, delivered with downturned eyes by Hillary: "It would break my heart if, in falling short of my goal, I in any way discouraged any of you from pursuing yours. When you stumble, keep faith. And, when you're knocked down, get right back up and never listen to anyone who says you can't or shouldn't go on."
Personally, after so much bitterness, I look forward to the Democratic unity Hillary inaugurated today. Thank you, Hillary.
SUBSCRIBE TO & FOLLOW TRUMP'S FIRST 100 DAYS
How will Donald Trump's first 100 days impact YOU? Subscribe, choose the community that you most identify with or want to learn more about and we'll send you the news that matters most once a week throughout Trump's first 100 days in office. Learn more