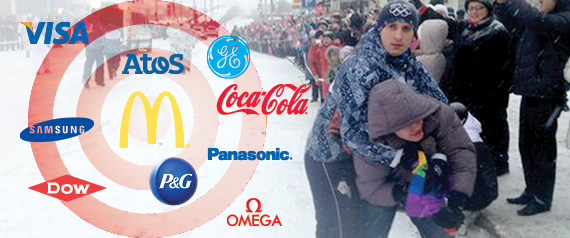 And the backlash was swift:
CHEERS TO PAVEL LEBEDEV! Bravest person involved in the #sochi2014 @Olympics! pic.twitter.com/8NTdILqBZk #CheersToSochi #LGBT #Russia

— Memeographs (@memeographs) January 21, 2014
Shame on @McDonalds sending #CheersToSochi while gay activists are attacked by Olympic officials. Outrageous! http://t.co/hYz2ZOLV4l

— Mike Signorile (@MSignorile) January 21, 2014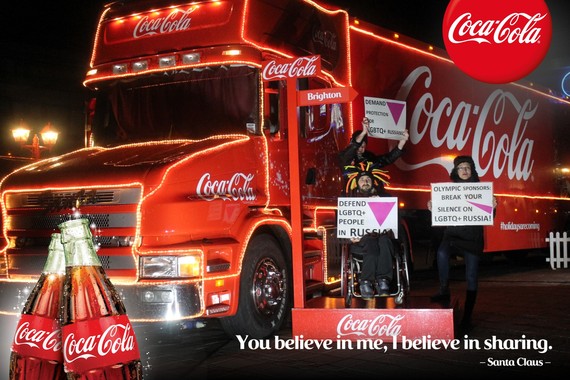 And Coca-Cola, which has already been subjected to many protests worldwide:
#Coke & @McDonalds Supporting one of the most homophobic & dangerous Olympics ever! #CheersToSochi pic.twitter.com/WRU3wmy2Va

— Omar Kuddus (@OmarKuddus) January 22, 2014
It's perhaps fitting if #CheersToSochi now evolves into an ironic sponsor protest tag. The LGBT community has long been quite gifted at sarcasm, irony and re-appropriation.
Lest you feel sympathy for these victims of big gay bullies, be reminded of this: In August 2013 HRW's Worden told Michelangelo Signorile that they could have stopped Russia's anti-gay law -- and didn't. She said, "The International Olympic Committee, the United States Olympic Committee, the so-called top corporate sponsors -- Coca-Cola, McDonald's, Procter & Gamble -- these companies all, as [HRW] did, tracked the progress of this law." The blatant violation of the Olympic Charter would have been reason enough for these corporations to lean on Putin to put the breaks on the bill, lest they pull their sponsorship. They never bothered to flex that muscle.
FOLLOW HUFFPOST