Mezzo soprano Sasha Cooke and baritone Kelly Markgraf will be the featured guest artists at San Francisco Symphony's New Year's Eve Masquerade Ball. Lead by conductor Michael Francis, the glamorous husband and wife team will raise the spirits with classic Operetta and Broadway bonbons by Franz Lehar, Albert Lortzing, Lerner and Loewe, Kurt Weill and Jerome Kern. Adding to the before and after festivities throughout Davies Hall will be the popular party band, Hit Waves and the Peter Mintun Orchestra. The always spectacular affair promises to be the warmest way to offset the City's recent wave of Arctic chills. As the Holiday song suggests, "Baby, it's cold outside!"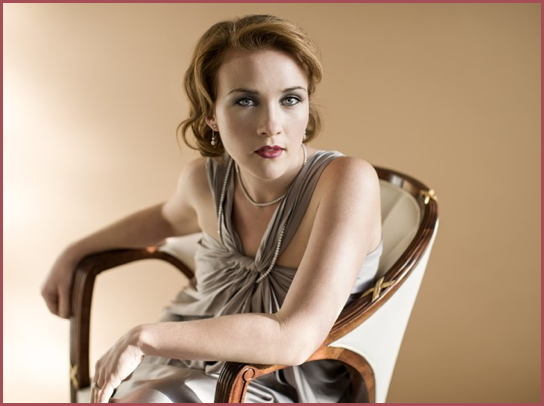 SASHA COOKE. Photo, Dario Acosta
This past June, Sasha Cooke stirred the embers at San Francisco Opera in the world premiere of Mark Adamo's The Gospel of Mary Magdalene. Opposite baritone Nathan Gunn as "Yeshua", Sasha was the perfect choice for the provocative role. Her extensive concert engagements and symphonic repertoire -- particularly the works of Mahler, Beethoven and Mozart, and the ease with which she glides between the extreme dynamics of John Adams, Samuel Barber, Leonard Bernstein and George Gershwin -- all of it has kept her front and center and under the solo spotlight since the outset of her career. With such long-term focus, audiences and critics alike sense they have come to know her on a personal level. Along with a fresh and radiant beauty -- in her role as the much maligned and overly guesstimated Mary Magdalene -- Sasha Cooke engaged our empathy and prompted a visceral response. There was no question that Yeshua had likewise noticed her voluptuous energy. And would, as did each of his twelve companions, assess her feminine intuitions along the way. Composer Mark Adamo knew from the beginning that Sasha was the right girl at the right time.
"Mark had a very clear concept of her," said Sasha. "So, it was easy to go with everything in the score. It was packed with details, nuances, colors and shades of her person. I would run into people in my neighborhood, colleagues, singers who -- when you mention Mary Magdalene -- have a very strong reaction or an immediate idea. That wasn't the case for me. I come from a world of knowing the art -- the many paintings depicting Mary Magdalene -- and what those images evoke. So, I was over the moon! And it's at San Francisco Opera. It was such a happy, happy experience in every way. The nicest conductor on the planet, the most wonderful and collegial director, a fabulous company. You could feel good vibes from everyone in every department all the time."
The production was preceded by a wave of ancillary lectures and presentations throughout the City. The topics covered recent scholarship on the existing fragments of this gnostic gospel and explored the various angles and legends that surround Mary Magdalene's place in early Church history. I asked Sasha if she had encountered any negative reactions to the composer's depiction of the wedding between Yeshua and Mary.
"I think most of the people I talked to about it knew me somewhat and weren't trying to offend me at all. The people were delicate in the way they approached the subject because they knew I was doing the part. I certainly do understand some hesitation. When I first learned I was doing the role, I turned to evangelical TV. I wanted to see the extreme side of religion, the side that really puts her in the closet. I didn't say this to Mark a lot, but I think his being a gay man has a lot to do with why he relates to Mary Magdalene. Because it's been a battle for him and it was a battle for her. Why is it so controversial? At a period of time when, frankly, it would be considered unnatural for a man not to be married -- why isn't it conceivable that Jesus had a mate?"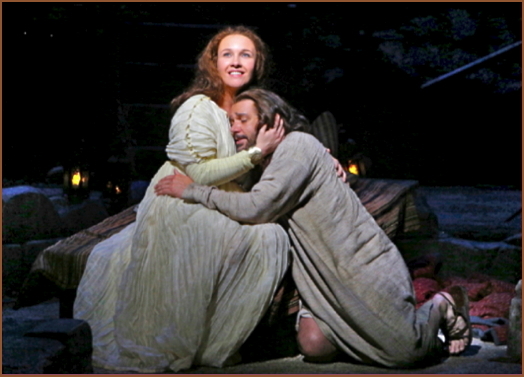 SASHA COOKE (Mary Magdalene) and NATHAN GUNN (Yeshua). Photo, SF Opera
Sasha will be returning to the City in February/March to do Mahler's Third Symphony with MTT and the San Francisco Symphony. Following the three performances, she and the orchestra will do a tour of five European cities -- London, Paris, Geneva, Luxembourg City and Vienna. "I can't wait!" she said. "Michael Tilson Thomas has been one of my true mentors. In a very gentle but strong way, he has encouraged me to come into my own, to be my best self and really soar. I probably love Mahler more than anything else. This is why I believe in gratitude and preparation. I was in love with Mahler long before I was able to sing it or knew that I would have so much of his music in my career."
Looking ahead at her January calendar, Sasha will be singing Mahler's Second Symphony with Deutsche Symphonie-Orchester Berlin on Jan. 15 and 16. On Jan. 28 she will be at Pickman Concert Hall in Cambridge, Massachusetts to perform Liebermann's Four Seasons, a selection of Mendelssohn lieder, and Mozart's "Parto, ma tu ben mio" from La Clemenza di Tito. About an hour before we spoke, Sasha was having a voice lesson.
"Every singer has different issues to work on," she said. "I'm at that age where you have to solidify what you're doing because you can't get by on talent or tricks anymore. If I am coming into the repertoire I want to sing, then I have to make sure I know how to sustain. I'm working particularly on being fully in my body while I am singing. Today I worked on The Messiah. I recently did my first Verdi Requiem. It felt so great to do something so vocally thrilling -- to feel that I had the power to do it and that I was really using my body as I sang. With some repertoire, you can get away with using half of your voice or be off of your body or doing a color that has an effect as opposed to being truly engaged with operatic singing. As my voice has evolved, I've found it very interesting that it depends on where you are -- performing-wise, life-wise, physically, vocally, everything."
"How much does physical exercise enter into this discussion?"
"It only makes everything better. You're not using an exterior instrument -- your body is your instrument. You wouldn't enter on stage without first warming-up your voice. So, you need to get your body warmed-up and your breathing going and get the tension out so you can feel liberated on stage. I'm a big believer in the benefits of being fit. Outside of the singing, the life is already very trying. Pulling heavy luggage up several flights of stairs or getting it on trains to go to Germany when you haven't slept. The healthier you are, the easier it will be and you'll be able to do more. I've been running a lot lately and I'm a big believer in yoga. I've also been doing kick-boxing, pilates, P90X and Insanity. I've been trying it all. The challenge keeps me interested. But so often, when you're on the road, you have to work with whatever you have. Some hotels have gyms, some don't -- so you're running. And if you're in a cold climate, you have to exercise in your room."
Staying on the subject of cold climates, I discouraged Sasha from doing the boat trip to Alcatraz during this particular stay and suggested instead the glittering delights at the de Young Museum - The Art of Bulgari and David Hockney: A Bigger Exhibition. "The Symphony houses me nearby and I love to go to the Hayes Valley area. I often go to Yoga Tree. My husband knows that Blue Bottle Coffee is one of my favorite stops."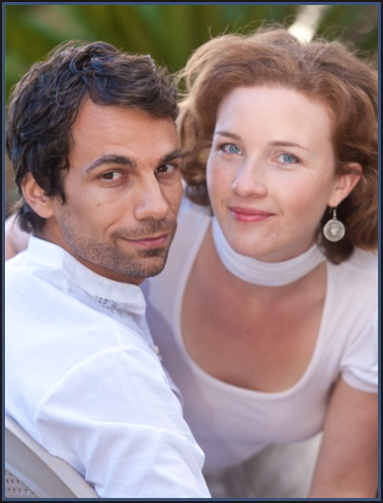 KELLY MARKGRAF and SASHA COOKE. Photo, Rikki Cooke, Moloka'i, Hawai'i
"When do we get to see you and Kelly in an opera together? Is there a dream work for the two of you?"
"Don Carlo is a long-term dream. We've done Carmen together on stage in concert. Kelly is a natural Escamillo and Carmen is one of my dream roles. We should do Cosi fan tutte together. We enjoy doing the duet from Act II [Il core vi dono - "I give you my heart"]. The Marriage of Figaro would be fun because he's done the Count many times and I would love to do Cherubino."
In the meantime, look forward to seeing them together New Year's Eve in the charming duets, "Ihr wisst, dass er euch liebt?" from Albert Lortrzing's Der Waffenschmied ("The Armorer") also "Make Believe" from Jerome Kern's Show Boat. And if you applaud long and hard enough, there may be the possibility of something by Irving Berlin -- some gem about a girl sharpshooter and a bit of one-upsmanship.
Click here to stay in touch.