Occasionally, a pair of charming, smart, and even okay-looking people simply can't find people to have dinner with. Really! Ben and I are really okay-looking people when we try. And yet, come the eleventh hour of our Saturday evening BYOB outing, we found ourselves alone. One buxom lady had an evening meeting she couldn't miss. A soft-spoken gentleman had work. Others had their reasons too, the validity of which did little to soothe our broken pride. Plus, the weather was showing hints of winter. By eight, all we needed was a warm place to melodramatically wallow in self-pity with a six pack of Bell's Brown Ale. The perfect place: Andersonville's homey Japanese restaurant Sunshine Café.
The interior of Sunshine Café at 5449 Clark Street is lined with warm wood panels and a couple yellow posters declaring "You are my sunshine." Ben likens the appearance to his grandmother's basement -- comforting for two dowdy-feeling diners like us. It's simple but cozy, much like the food. Sunshine Café serves traditional Japanese home cooking. You won't find elaborate tempura-based sushi rolls here. Instead, expect large portions of warm udon noodle soup or rice dishes accompanied by mugs of hot green tea. Expect to be filled with a meal that tastes home-cooked rather than gourmet, if home food were cooked by an elderly Japanese woman with curly black hair.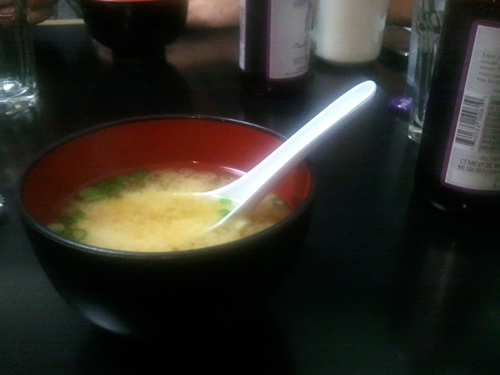 Sunshine's miso soup, which comes with meals, is salty and smooth.
Ben opted for his usual dish, the sukiyaki, which is made up of vegetables, thin slices of beef, tofu, and glassy noodles all tossed in a wide black pan. It's basically a chunky soup to eat with rice. There's not much to the flavor; the veggies swim in a thin broth that is just a little sweet. (Think that distinct sweetness of pho.) Each element--the meat, the cabbage--is flavored by the soupy mix. But with the accompanying bowl of rice, it makes for a hearty cold weather meal.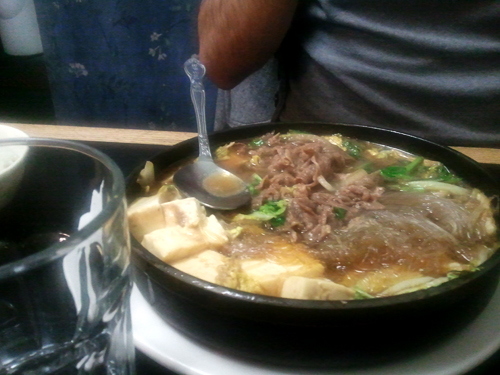 I went for oyako don, or essentially chicken, eggs, and spinach piled on top of rice. The sauce, like Ben's, was a little sweet. The chicken didn't quite meet my meat tenderness standards. It was just a little grainy and dry. Overall, not bad -- the sauce partly made up for the meat, and the generous portions fit my "warm, comforting" standard for the night. Paired with an ever-so-warming bottle of beer, a friendly staff, and our impromptu acapella rendition of Adele's "Someone Like You," we were feeling better.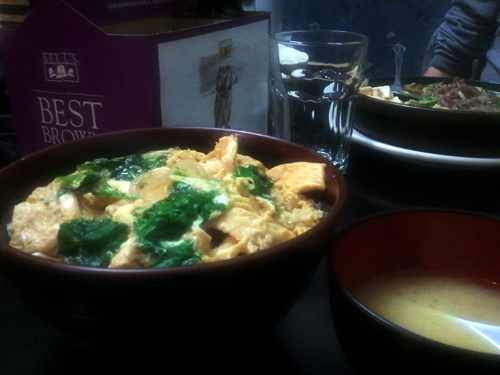 Moments before the restaurant's 9 p.m. closing time, every table in the dining room was filled -- including one occupied by what we were sure was a Japanese family, a testament to Sunshine's authenticity. Clearly we weren't the only ones seeking the comfort of Sunshine's simple, homey dishes Saturday night.
Food: 3/5





Atmosphere: 3.5/5





Friendliness to Partiers: 3.5/5





SUBSCRIBE TO & FOLLOW THE MORNING EMAIL
The Morning Email helps you start your workday with everything you need to know: breaking news, entertainment and a dash of fun. Learn more