In his State of the Union address a little over two months ago, President Obama asked us to consider three questions in all of the decisions we make: First, how do we make America a magnet for jobs? Second, how do we equip our people with the skills they need to succeed in those jobs? And third, how do we ensure that an honest day's work leads to a decent living?
I view skills development as one of the leading edges of economic development. Employers make decisions about where they are going to locate their facilities, and entrepreneurs decide whether they can build new business or grow existing business, based on many factors. One of the most important factors is whether a particular community's education and training institutions can guarantee a reliable pipeline of skilled workers. I've seen it across the country -- from Cleveland to California, investing in the skills of American workers is fostering the creation of middle-class jobs and ensuring that workers can succeed in them.
The president believes, as I do, that community colleges are important contributors to local and regional economic growth all across America. For this reason, the administration has made unprecedented investments in the community college system −- investments that have helped these effective and often uncelebrated institutions strengthen partnerships with area employers, and leverage cutting-edge technologies to deliver more efficient and effective training programs.
Through a grant program called Trade Adjustment Assistance Community College and Career Training Program (TAACCCT), we are building a skills infrastructure that will help to put people back to work. Late last week, I announced a new round of TACCCT funding worth $474 million. That comes on the heels of $1 billion invested over the last two years.
TAACCCT means more reliable pipelines of skilled workers for businesses looking to locate or expand operations. It means confidence for entrepreneurs starting new businesses, knowing that they'll have the workers they need to compete and grow over the long run. And it means a second chance for workers hit hard by international trade and the Great Recession, who will have ready access to the skills and credentials employers demand.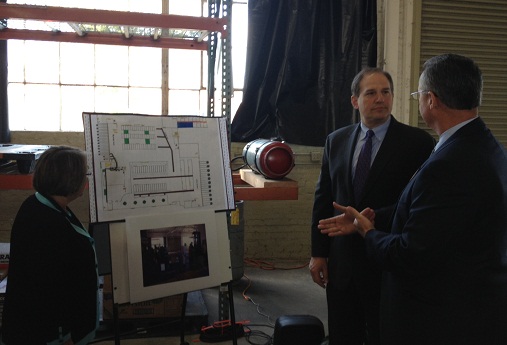 Acting Labor Secretary Seth Harris and Education Under Secretary Martha Kanter at FLOW training center April 19, 2013
I've witnessed this initiative's success first-hand in communities across the country. Last week, I visited one of these communities -- Richmond, Calif. -- where I met George Brown and Elizabeth Hymans.
Earlier this year, George felt stuck in a string of part-time jobs. He was looking for an opportunity to upgrade his skills, jump-start a new career and earn more money to support his family. In February, he enrolled in the nine-week Forklift Logistics Operations & Warehouse training program (known as FLOW) run by Contra Costa College. The program was made possible by just a small portion of a $15 million TAACCCT grant that the Labor Department awarded to a consortium of East Bay colleges last September. George graduated a few weeks ago and already has a new job.
That's because Elizabeth, the factory manager of European Sleep Works, was working closely with her local American Job Center to conduct a search for qualified forklift operators for the company's Berkeley, Calif., facility. An employer liaison at the center alerted her to the FLOW training taking place at nearby Contra Costa College. Elizabeth told me that "Finding George was a godsend -- and necessary to keep the business growing."
We want to improve the TAACCCT program to create more success stories like those of George and Elizabeth. The third round of TAACCCT funding will focus on programs with extensive, deep and meaningful employer participation, especially those in which employer partners provide training on the job site. We're looking for programs that use cutting-edge technology and innovative models to tailor training to the unique backgrounds and needs of a diverse student body while considering the needs of the local labor market. We're looking for programs willing to implement evidence-based models even as they innovate further. And we're looking for proposals willing to track performance, measure outcomes and share those results.
The truest measure of our economic success as a nation is a robust, thriving middle class. An economy that grows not from the top down, but from the middle out -- that's America at its strongest. The president and I know that skills development for America's workers is essential to getting us there. More than ever, what Americans earn, and whether they can find a job, depends on what they learn.
TAACCCT is making a difference. It works. Just ask George Brown and Elizabeth Hymans.
SUBSCRIBE TO & FOLLOW THE MORNING EMAIL
Start your workday the right way with the news that matters most. Learn more