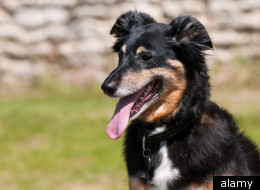 If you hike with a dog in L.A., you are probably wondering where else you can take your pooch besides Runyon Canyon Park. There are a few general rules for locating dog-approved trails around L.A. If it's national, like Angeles National Forest or Santa Monica Mountains National Recreation Area, you can bet that dogs are welcome. If it's a California state park, like Malibu Creek State Park or Topanga State Park, dogs probably aren't invited on trails. City and county parks like Griffith Park usually allow dogs. Despite some restrictions, there are lots of great parks around Los Angeles that welcome canine companions. Here are five great hiking trails to explore. Get more information on dog-friendly hikes here.
The cast of Modern Family took a stroll down this ridge in season two and the trail is even better in real life. Westridge-Canyonback Wilderness Park has some of the most liberal dog rules around L.A., allowing dogs to be off leash under their owner's immediate control. The three-mile roundtrip hike on Canyonback Ridge is a favorite for pet owners and has big views over L.A. Find the trailhead two miles west of the 405 on Mulholland Drive.

If you have the type of dog that can ride in a purse, you will enjoy easy trails around Eaton Canyon Natural Area in Pasadena. If your dog is more like Lassie, leave the flatland for Eaton Canyon Falls into the San Gabriel Mountains, an invigorating three-mile round trip trek. The water dish at the base of the falls is big enough for man and beast to wade in.

What if there was a park right next to Runyon Canyon with the same views but none of the crowds? What if that park was donated to the Santa Monica Mountains Conservancy by Jeopardy host Alex Trebek? Wouldn't you check it out? Phrase your answer in the form of a question at Trebek Open Space.

Take your furry friend to Seascape Trail on the Palos Verdes Peninsula for an easy hike on the wave-battered bluffs north of the Point Vicente Lighthouse. The wide trail is a relaxing place to walk your dog. The sea breezes and ocean views are refreshing too.

Canyonback Ridge has a doppleganger named Westridge, the other finger-like ridge in Westrige-Canyonback Wilderness Park. A 3.5-mile long trail beginning from the top of Westridge Road in Brentwood wraps hikers in green canyons en route to San Vicente Mountain Park. Enjoy the same liberal dog policies as neighboring Canyonback Ridge.
Follow Seth Smigelski on Twitter: www.twitter.com/hikespeak