This one-minute excerpt comes from a special colloquium celebrating the 25th anniversary of the SETI Institute.
Watch a video of Dr. Adrian Brown giving a one-minute summary of his work.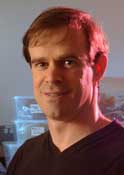 Adrian Brown joined the Carl Sagan Center as a Principal Investigator in 2008. He researches the polar regions of Mars using the Compact Reconnaissance Imaging Spectrometer onboard the Mars Reconnaissance Orbiter spacecraft. Dr. Brown also organizes the weekly SETI Seminar Series, which takes place at noon every Wednesday at the SETI Institute.
SUBSCRIBE AND FOLLOW
Get top stories and blog posts emailed to me each day. Newsletters may offer personalized content or advertisements.
Learn more