The SETI Institute Celebrates Science!
By Gail Jacobs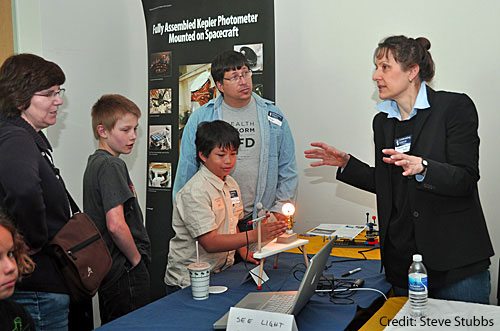 The SETI Institute, in Mountain View, California, had the pleasure of opening its doors to the public on May 22, 2010, for its annual Celebrating Science event. And what a celebration it was! Families and young-at-heart science enthusiasts converged upon the Institute for this interactive "science fair." Celebrating Science offers the SETI Institute an opportunity to introduce the public to its amazing research that includes planetary science, astrobiology, and delving into the age-old fascination with the origin, nature, and prevalence of life in the universe.
In addition to science research and exploration, promoting science education is a core component of the Institute. This event is designed to present the wonders of science in a fun and easily digestible manner that engages youth while igniting the imagination and inspiring young people to pursue a career in science, math, or engineering.
Celebrating Science draws several hundred visitors, with many people returning year after year. Attendees had the opportunity to speak one-on-one with scientists from a variety of disciplines. With more than a dozen scientists and activities available, guests were able to learn about the Allen Telescope Array from Dr. Jill Tarter, hear the latest information on NASA's Kepler Mission, the Institute's recently introduced setiQuest program, and even Galileo, the moons of Jupiter and Saturn, earthquakes, and Mars' surface! Visitors were invited to provide their input into the Institute's "Earth Speaks" project, which aims to foster a worldwide dialog about what we should say to extraterrestrial intelligence, as well as whether or not the people of Earth should be sending intentional messages.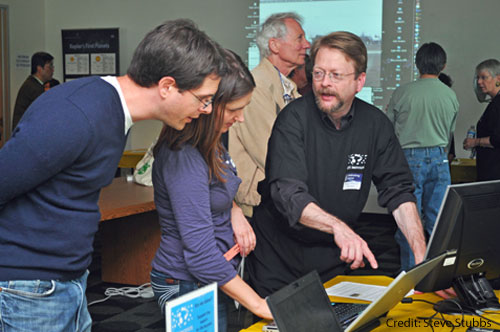 Meteor shower expert, Dr. Peter Jenniskens, was also on hand to talk about his newsworthy findings, and guests were invited to "Stump the Scientist," with Dr. Seth Shostak ready to take on the challenge. For many visitors, the privilege of meeting Dr. Frank Drake, the father of SETI, was a high point. Several visitors commented they would never wash their Frank Drake autographed Drake Equation t-shirt. Tom Pierson, Chief Executive Officer, notes, "It is fun to see so many TeamSETI members and families enjoying the opportunity to interact with our scientists. And as always, it was a special treat for me to meet new members and guests!"
TeamSETI members James and Yolanda Deason had a great time at the event. James commented on his Facebook page, "My wife and I went to the SETI Institute's Science Fair in Mtn. View last Saturday and saw Seth Shostak, Jill Tarter, Frank Drake and the whole gang. Some of the scientists gave fascinating presentations, they had a planetarium (set up just for the occasion) and Seth, Jill and Frank talked with anyone and everyone who approached them. Seth autographed his book and took a picture with us. Later he gave a great speech outside in the court yard. I met Frank Drake and was in such awe of the gentleman. What a nice man he is! SETIcon is happening in August and promises to be a fantastic event. Keep up the great work, SETI, and one of these days..."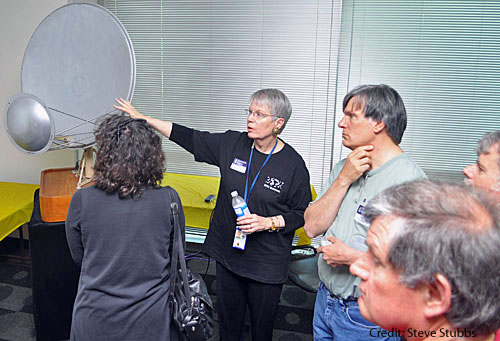 Many of the repeat visitors attend each year because their kids really look forward to it! This family-friendly event offers a variety of activities for children as well. Visitors got the opportunity to see a planetarium show, provided by the Chabot Space & Science and Center. The SETI Institute's Education department led a children's activity in which kids created their very own Kepler Star Wheel, which would help them decipher what they would see in the planetarium as well as under the vast starry skies outdoors.
What the youth will most likely remember for years to come, however, were the hands-on Agilent After School science kits. The sense of adolescent energy was palpable upon entering the large room filled with children dissecting owl pellets, building weather stations or catapults, or creating their own model of the earth spinning on its axis. The area was a hive of activity and abundant enthusiasm as the young guests tackled these science experiments, created to couple a sense of excitement with scientific experimentation. It was a joy to behold these young faces focused on scientific methods, asking questions, and displaying well-deserved pride upon successful completion of their projects! Each future scientist was thoroughly delighted to take home a remembrance of his or her time celebrating science at the Institute.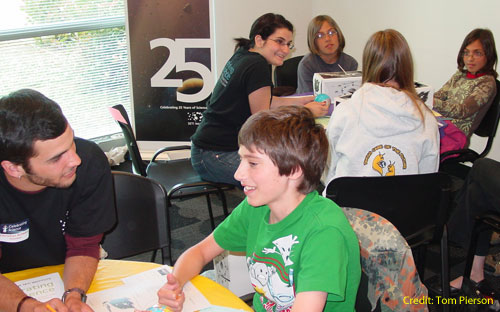 Several astronomy students from the University of California Santa Cruz knew exactly what to do to make science fun and led science activities with youthful exuberance. Elena Amador, a former summer intern for the Institute, has not only volunteered her time to lead science activities for the past few years, but her enthusiasm has also generated excitement among her fellow astronomy students, who have also volunteered with her. "I have been a student volunteer at the Institute's Celebrating Science for the past three years, " says Elena. "I keep coming back for several reasons: first it is such a joy to talk to kids about science; they are so eager to learn and quick to follow. My hope is that I can get them interested in science early on so they will continue to ask questions and think like a scientist throughout their lives. Secondly, as a student of planetary sciences myself, I can't pass up the opportunity to hear all the latest and exciting research that the scientists at the SETI Institute are working on. They always inspire me to continue studying what I am passionate about."
In a message to event organizers, one TeamSETI member wrote, "We just want to thank you for organizing this and the scientists for being there. The high points for my 11-year-old son were that he got to talk one-on-one with Frank Drake and Seth Shostak. He had a wonderful time (and he's not easily impressed)."
Couldn't attend? Check out more photos from the SETI Institute's Celebrating Science event!
SUBSCRIBE TO & FOLLOW THE MORNING EMAIL
Start your workday the right way with the news that matters most. Learn more