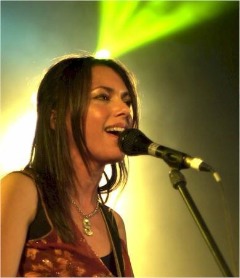 Twenty years ago the Bangles' preeminent Valentine's Day ballad "Eternal Flame" was released. It was global hit, reaching #1 in the U.S., the U.K., Australia, and most of Europe. For a moment in 1989, everyone embraced the song with their Bics held high.
The Bangles are still going strong. Their harmonies are as paisley-pretty as ever (check out their 2008 Shout! Factory DVD "Return To Bangleonia: The Bangles Live In Concert" for evidence), and Susanna Hoffs continues to defy her age. She proves that 50 is indeed the new 30. No one looks better with a Rickenbacker slung over their shoulder. Just back from an Australian tour and putting the finishing touches on a second volume of cover songs with power pop guru Matthew Sweet, Susanna took time to answer 10 questions for me before she spent Valentine's Day with her husband, director Jay Roach.

Watch "Eternal Flame"

This week marks the 20th anniversary of "Eternal Flame." Are you surprised at its popularity all these years later?
I am happy, amazed, and totally flattered that "Eternal Flame" continues to be popular. My favorite songs from childhood have been like constant and reliable friends to me, so it is gratifying as a singer and songwriter that people still connect with "Eternal Flame" in an emotional way. It's fun knowing that the song is on a lot of top wedding song and karaoke lists!
How easy was it to write?
I was collaborating with Billy Steinberg and Tom Kelly. Billy and I were together one morning writing lyrics, and the title sprung out of a very long story I was recounting about the Bangles' tour of Graceland. I was describing the band standing in the rain in the Meditation Garden, singing "Heartbreak Hotel" (a la Spinal Tap) in front of Elvis's eternal flame. Once we had the title and some lyrics, we worked with Tom on the music, and the song took shape organically into a kind of very pure lullaby.
What was the recording session like?
We wanted the track to have a very minimalist, music box feel. We built it around a little tick-tock rhythm, carefully orchestrating the harmonies, strings, and other elements. There is a long and complicated story I could tell about how I sang the lead vocal in a state of semi-undress, but I will save that for another time.

What's the most romantic evening you've ever had?
Too private to tell!
What's your favorite romantic song other than "Eternal Flame?"
There are so many amazing romantic songs, a few that just popped into my mind are "I Feel Fine'" by the Beatles, "Sit Down I Think I Love You'" by the Buffalo Springfield, "Wouldn't It Be Nice'" by the Beach Boys, and "Go All the Way" by the Raspberries.
What's your secret to defying age? Most rock chicks have not aged nearly as well as you.
Listening to and playing music constantly. Mental stimulation. Exercise and moisturizer!
You have a new covers album with Matthew Sweet coming later this year. Give us a sneak peak at track list.
We still want to keep it a secret but I can tell you we recorded "I've Seen All Good People: Your Move" by Yes, and got Steve Howe to play guitar on it!
What's the secret to singing beautiful harmony?
Blending.
What's next for the Bangles this year?
We are making a new record and touring.
What's your favorite Jay Roach film?
I love them all!
SUBSCRIBE TO & FOLLOW ENTERTAINMENT
HuffPost Entertainment is your one-stop shop for celebrity news, hilarious late-night bits, industry and awards coverage and more — sent right to your inbox six days a week. Learn more