THE BLOG
Uniform Project Pilot Series: Jessica Engle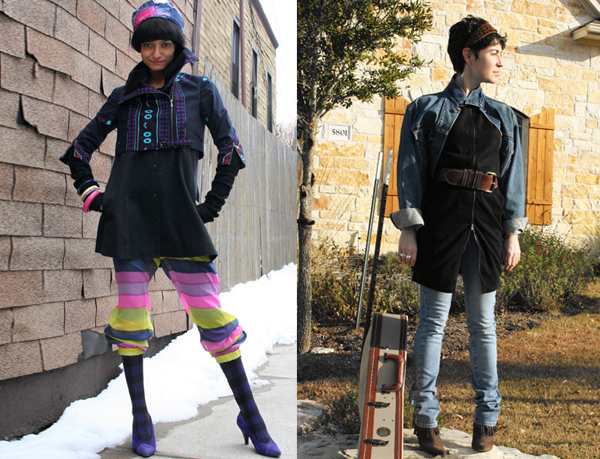 The Uniform Project had an incredibly successful 2010, thanks in part to the eBay Green Team's interview series, showing the world that sustainable style is some of the most eclectic, unique, and inspirational fashion out there -- and helping raise money for a variety of causes.
On the heels of last year's pilot interviews with Aki Goto and Angie Johnson , we're excited to introduce you to our pilots for the coming year and continue sharing photos and experiences around the One Month challenge -- the daily styling exercise, involving, you guessed it, only one dress.
For the first pilot of 2011, we found inspiration within our own ranks: U.P. blogger and social media guru, Jessica Engle. Check out my interview with Jess below and visit Green Team Talks to catch up on previous pilot interviews.

Sheena Matheiken: You've been involved with the Uniform Project from its early days. Share how you came to be a part of the U.P team?

Jessica Engle: I moved to the city, New York after grad school with the intent to become a player in the advertising world. What bad timing... But, not that bad, as it turns out, because while I was on the job hunt I volunteered to help at U.P. I followed the project anyway and when I learned they were a couple blocks up the street in Brooklyn I thought it was definitely meant to be. I ended up enjoying the work so much that I stuck around, 18 months later here I am!
Sheena: What made you take on the One Dress challenge yourself?

Jessica: It's a good thing. I got involved with the project because I genuinely think that 'helping people' although it sounds cliche, is so important. Having grown up in the third world, I've seen the impact that education and lack thereof has on society and seen how badly some people want it. So really, although it's definitely put me on the busy side, it's way more for the kids than anything else for me personally.
Sheena: Let's talk about your charity, how your fundraiser's going so far and why you chose this cause.
Jessica: I grew up overseas as the child of a diplomat. I spent most of my formative years in Africa and the first country was Ethiopia. The experience was overwhelming in many good ways and a couple not so good. But it is meaningful to me to be able to contribute to kids growing up in Ethiopia, the same age as I was, but under much different circumstances.

Sheena: You are intimately familiar with the U.P. audience. Until now they were only familiar with your voice. How has being a Pilot and being physically visible impacted you?

Jessica: So, my main passion in life is social media. This was developed through the U.P community, who are a great group of enthusiasts to chat to daily. I guess being physically visible removed the veil so to speak. I was a bit nervous... but it's kind of made me more open and allowed me to get to know them better. I'm a super honest person, so if I'm having a bad day or encounter a wardrobe crisis you'll know and they've been so responsive, supportive, and helpful the whole way through.

Sheena: Let's talk about your Little Black Dress. You were really keen on creating a dress that was accessible to the corporate girls. Why?
Jessica: Because I'm a corporate girl at the moment, working in an advertising agency and I really enjoy dressing the part, to some extent. It's a look that can handle more wild accessories, which I prescribe to.
Sheena: You designed your LBD with your friend and designer of Edelwiess, Sarah. How you feel about the design of the dress now that you're half way into the challenge?

Jessica: Love it even more. Still figuring out new way to work that number. Classic to the max. I will definitely wear it for the rest of my time.
Sheena: How has the One Dress challenge changed the way you get dressed everyday?
Jessica: It hasn't changed the way that I dress style wise, just the process. Now I have to photograph myself as another step of getting ready. Which is tougher than you think to fit into a daily routine! I'd say I do my hair more often these days.

Sheena: You received some great vintage accessory donations from eBay this month. What was your favorite piece and why?

Jessica: Definitely the snow leopard sparkle sweater from Day 16. Not only does it travel well, but it's got style for days, ie. I could wear it to lounge, a movie, a date, a show, a picnic in the park.
Sheena: What kinds of things do you look for on eBay that you can't find anywhere else?

Jessica: The way I shop on eBay is usually more item driven. So, for example, I knew I wanted a pair of LL Bean Duck Hunter Boots, typed them in, clicked around a little, and found the perfect specimen.

Sheena: Do you have a favorite eBay vintage store?
Jessica: No, I like to keep my options open. The think and click method is more the way I navigate eBay.

Sheena: What do you love and hate most about fashion?
Jessica: I don't do rules and prescribed trends. I dislike the notion that people actually don't wear things because they are afraid of societal judgement. I love all things aesthetically pleasing and controversial, fashion.

Sheena: What inspires your style (designers, styles, people, eras, music, books anything)?
Jessica: My past, present and future. I pull references from whatever's on my mind. The Muppets, Jane Fonda, and Africa to name a few.
Sheena: Lastly, what are you taking from your One Month Challenge with the Uniform Project?
Jessica: Mostly comments. I got a chance to make some great... well I'd call them friends and that's kind of what the digital world is about for me. Finding people, information, and thoughts that you'd miss in real life.