Seaside, Florida. Cookie-cutter and picket fence are only two clichés to describe this small town on the Florida Panhandle coast. The perfect architecture and wedding cake style seem in total harmony with the baby blue skies and adorable beach dunes of white sand. The community was designed and planned following the architectural ideas of New Urbanism.
When I first saw the village, back in 1989, I thought I was on a movie set, the perfection, symmetry and color scheme appeared to have been painted by a master of simplicity. Little did I know that the town was in fact one day to be the set of a major motion picture. I can understand how set designers found this the perfect place for a movie. It was a dream town. Just like the life of Jim Carey in the film.
If anyone has seen the Peter Weir movie The Truman Show, they'll know what I am talking about, as the film was shot here in 1996, and showcased the tiny hamlet quite well. The place seems like out of the imagination of a mad genius, a lover of cotton candy and décor magazines. The charter school of the village (sixth-10th grades), with plans to add more grades in 2014 and 2015, was funded by the filming fees of the movie.
The grand design behind the beauty of the village was masterminded in 1981 by Robert Davis on 80 acres he inherited from his grandfather, who always has a vision of building an idyllic community by the shore, but never realized it. The idea was to keep it simple, walkable and connected for the entire community to keep old-fashion activities such as walking and talking to neighbors as their way of life.
The mostly wood-framed cottages along the coastline inspired Davis, his wife Daryl and their architectural partners Andres Duany and Elizabeth Plater-Zyberk, to create the original houses in a style mixing Victorian, Neoclassical (classic Greek and Roman designs), Modern, Postmodern and Deconstructivism (controlled-chaos style) into a revival of family-friendly landscaped habitat.
Built with golf carts in mind, the streets and alleys are kept small to channel a pedestrian-friendly atmosphere. Cars are unfortunately allowed, but each house has its own parking driveway and the city offers free public parking for all others. The entire city is a grid of bike paths; miles of green bike pathways link several villages along 30A. One of the preferred sports for many here are yoga and Pilates, with several studios offering breathtaking views of the ocean for practitioners working out.
For just about 30-mile, the side road (Route 30A) is sprinkled by fantasy beach places such as Watercolor, Rosemary Beach, Seagrove, Watersound and Seacrest (who lives in towns with such names? fairies?) The idyllic short road trip follows the coastline and unveils no ugliness whatsoever. No chain food restaurants, no recognizable motels, no tacky shops, nothing to break the smooth line of dream spots. Seaside completes the scenery with a pastel vision of dream cottages.
Houses in Seaside are expensive to very expensive. No apartments' buildings are to be found. The delicate palette of colors of the cottages vary from pale petal pink to soft lavender, rusty yellows, mossy green, a few lime touches, some sprinkles of blues and beiges, several hues of white (that's right, white comes in various shades), sometimes a front door surprises in bright purple or hot pink.
Most of the time, tourists are the core of the inhabitants. Even people working the shoppes sometimes live outside, in more affordable cities, removed from Route 30A. Only one small supermarket (I guess it's not a super then) sits on the main plaza, the Modica Market, carrying basic merchandise and somewhat exotic foods and drinks. Several art galleries, a few restaurants, some high end clothing stores are also lining the rounded town square (no pun intended.)
You will not however find any Gap, or Victoria's Secret here, not one chain store in sight. A few gift stores and a couple of designer home furnishing complete the shopping experience. The amusing food trucks are a big success and allow for a little more affordable fare than the restaurants on the beach. Seaside has a theatre and Institute providing plays and music shows. The center of the little city is a grassy ellipse with a covered stage for spectacles under the stars.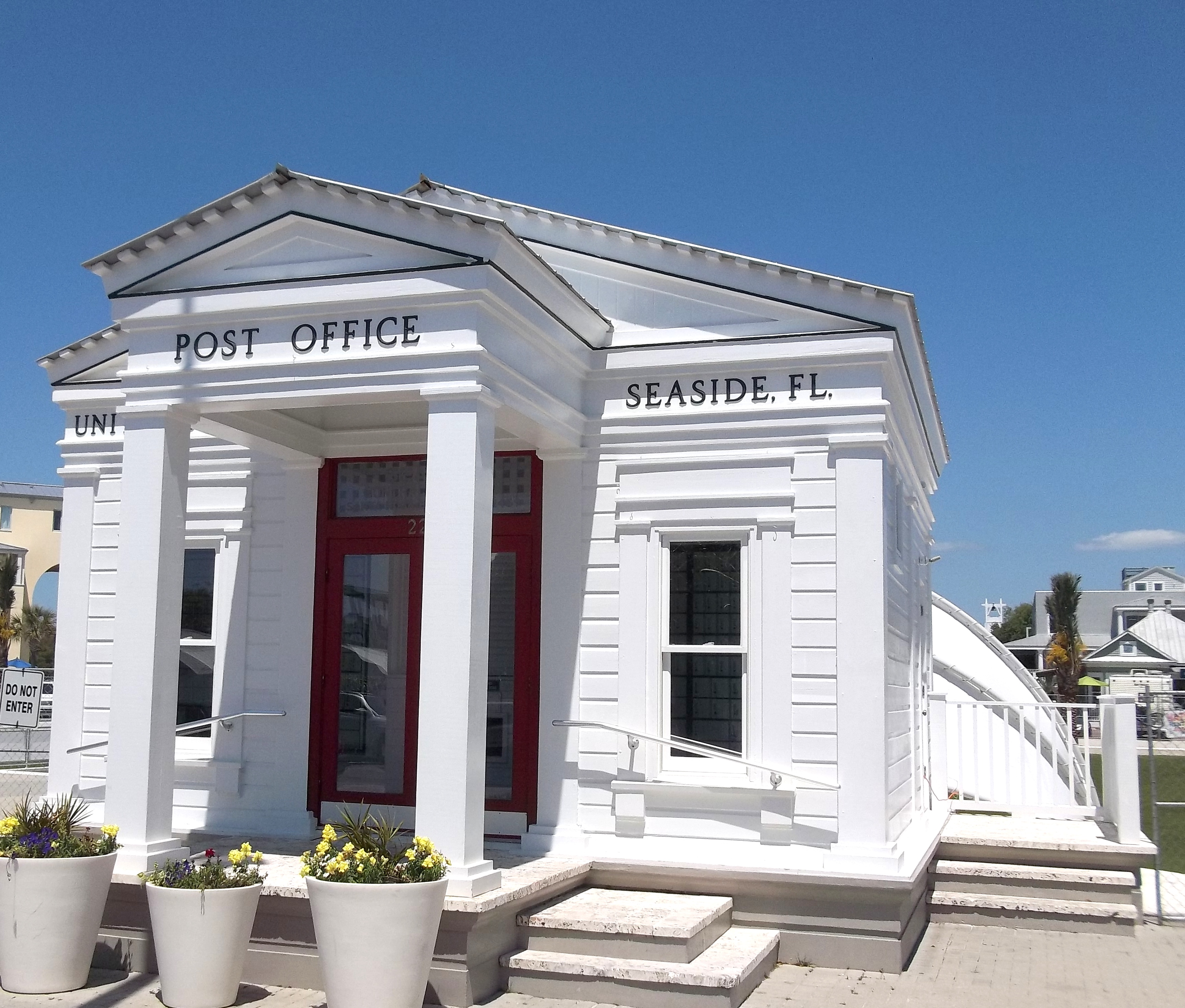 The tiny functional post office is often the backdrop of picture taking, with its classic Roman atrium front the height of a one story building. Mainly you come here for the views: ogling well-dressed shoppers, elegant beach-goers and well-behaved dogs of all kinds, some with rhinestones collars. The zoning code is duly enforced to make sure the look of Seaside keeps with the high standards requested by the founders.
The setting was very well-chosen, on a portion of coastline with undulating sand dunes and perfectly clear waters. I have yet to be in Seaside with bad weather, just as if they even controlled the weather! Bright blue skies and sun all day are usually the norm, but come on, it must rain sometimes! Even dolphins like it here, as they often leisurely swim by in the warm waters of the Gulf of Mexico.
Like Truman Burbank/Jim Carey says to his neighbors each and everyday: "Good morning, and in case I don't see ya -- good afternoon, good evening, and good night!"

See pictures of Seaside here.
SUBSCRIBE AND FOLLOW
Get top stories and blog posts emailed to me each day. Newsletters may offer personalized content or advertisements.
Learn more