A HuffPost Exclusive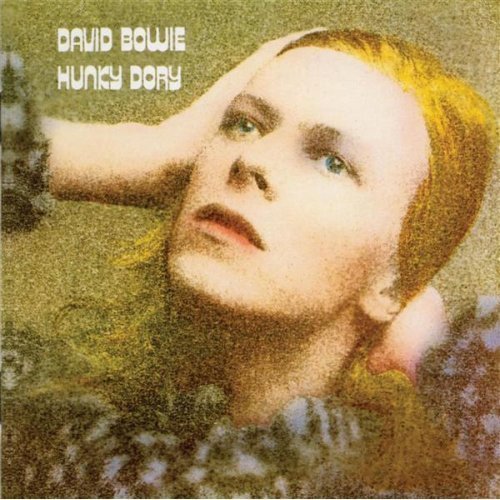 My interest in fonts began when I was 11, and I continue to blame David Bowie.
I am on a bus in London, and I have just blown many weeks of pocket money on the Hunky Dory album, the one with "Life on Mars?" and "Changes". I think my older brother is on the seat alongside, and during the half-hour ride from Leicester Square to our home in the northern suburbs we gawp at the album sleeve, a tinted, textured photograph of the singer clutching his hair with a possessed gazed.
Now we'd call it precious, but at the time it seemed meaningful. As did the type at the top left corner featuring his name and the title, a font with a fat spacey feel that promised unusualness inside.
Our expectations were realised as soon as the needle hit the grooves -- a fulfilling example of type telling it like it is.
It's a godawful small affair, typography, especially these days with those tiny images you get when you buy an album track on iTunes. What used to be a proper square canvas is now almost a postage stamp, and although we can blow up the images onscreen, the joy of speculating about what an intricately designed and carefully chosen set of letters may reveal about the innards have long gone.
So here, as Hunky Dory celebrates its 40th anniversary, is my utterly subjective Top Seven Fonts on Old Albums chart, selected more for their care with type as the sounds within, although in most cases those aren't bad either.
Just My Type by Simon Garfield is published by Gotham.
Tell us about your favorite album typography in the comments!
What the font on an album cover may tell you about what lies inside (but occasionally doesn't)
Much fuss when this extraordinary image appeared last year, and I can't remember another occasion when a purely typographic sleeve caused either so much commotion nor had such a positive effect on sales. It left no room for misinterpretation: "This is an album by The Black Keys. The name of this album is Brothers." The text was one of the boldest and most associative available: Cooper Black, an American type from the 20s that hit the musical big time on the front of the Beach Boys' "Pet Sounds" album. Its designer, Oswald Bruce Cooper, a former Chicago advertising man, feared that it would only achieve "a tiresome effect from the too frequent repetition of the same quirk and curve." In fact he achieved something spectacular - a serif face that looked like a sans serif. Cooper Black is the sort of font the oils in a lava lamp would form if smashed to the floor, and I've always loved it since it spelt out the name "Garfield" on the comic strips.

Recently, I asked Sir Paul McCartney about how the Beatles got that very long T in its logo, and he thought it may have originated from some of his naive doodlings in a school book. The consistency of the logo was not matched by a consistency of type on the band's record sleeves, which range from what may best be called 'hand-drawn underwater LSD trip' ("Yellow Submarine") to solid Helvetica embossing (the "White Album.") But the standout is the bespoke melting typography on "Rubber Soul," perfectly evoking the mind-bending graphics of the underground press. Robert Crumb would have been proud of this work, but the credit goes instead to Charles Front, who received £26.25 (about $40) for his efforts, and saw the original artwork go under the hammer in London for £9,600 ($15,000) in 2008.

Pulp singer Jarvis Cocker studied at Central St Martins art school, and his knowledge of type is reflected in the hands-on approach to the band's records. The use of lettering on the last studio album was exemplary - an utterly incongruous but wholly compelling combination of flowery Victorian Fat Face wood blocks and Dymo label maker. The popularity of wood type has received a great boost in recent years, while the original Dymo sticky hand-punch label printers go for nice prices on eBay. One could argue, of course, that the apparently willful incongruity of the sleeve is reflected perfectly in the music.

Once everyone's favorite record, but now a rather guilty pleasure, Coldplay's debut featured a big illuminated spinning globe and fairly subtle text. But the font was instantly recognizable and heavy with literary roots. Albertus was created in the early 1930s by Berthold Wolpe, a German refugee who found his spiritual home in London publishing, and designed more than 1,500 book jackets for seminal work by TS Eliot, William Golding and Robert Lowell. Coldplay, an educated clan, used Albertus on subsequent records too, an increasingly rare example of consistent corporate branding even as the music changes from album to album. Bloc Party, with its foolproof use of Gill Sans, plays the same game, but bands such as the Arctic Monkeys change their type with every release.

Okay, not really an album at all, but a magnificent re-imagining of famous records as classic books. Arcade Fire's "The Suburbs" is in Albertus, while Pink Floyd's "The Dark Side of The Moon" is classic Penguin with its Gill Sans understatement. This collection, ever expanding, is the work of the art director Christophe Gowans, and you can see the collection here. Both witty and powerful, they all display the subtle ability of great typography to mess with our minds. You'll look at the distressed lettering and train-track damsel on "Blood on the Tracks", or the "Catch-22" jacket for the Level 42 album "World Machine", and you'll wonder what came first, the record or the book. You can buy postcards of The Record Books from Rockpot.

As befits their collegiate appeal, these guys seem to have been using their pull-down font menu a lot. But what they really like is Futura: it's big on their sleeves, and then also appears on the song "Holiday" on the "Contra" album ("She'd never seen the word Bombs blown up to 96pt Futura.") There's not much of an obvious link between their bright Afro-pop and the modern German typeface designed by Paul Renner in the 1920s, although the band may desire Futura's longevity.

You see the font, you think of poor old Amy. The multi-striped barcode lettering that replaced the sharp and angular type of her first album Frank was nothing but suggestive. But of what? A poster announcing a new Gershwin show? A 1930s ocean liner? It certainly worked, a perfect match for her smoky, troubled, complex voice. If ever a singer cried out for Parisian Art Deco it was Winehouse, and the album designer nailed it.