It's those little surprises that make it all worthwhile, and I'm speaking of both parties and real life. For me, those welcome moments summed up my experience navigating New York Fashion Week's party scene this season. One brilliant surprise was Gary Clark Jr. During his bluesy set opening for hip-hop icons The Roots at the John Varvatos store during Fashion's Night Out last Thursday, the young Austin, TX-based musician's electrifying riffs mesmerized a room packed with industry guests and celebrities like Heidi Klum, Rose McGowan, Sean Avery, Miss Jay, Mike D. of the Beastie Boys and various Gossip Girl cast members.
As any troubadour will tell you, fashion parties aren't always the easiest crowds to captivate. Even though the Varvatos store occupies the space that was once CBGB's; even with an enthusiastic intro by Varvatos himself, even with a crowd well-lubricated with Belvedere vodka cocktails. But Clark Jr. pulled it off. He's just so chill. As for The Roots, they were amazing, too -- as we all knew they would be -- jamming out hits, as a Zeppelin cover and turning the room into a sweaty dance party.
With Manhattan's streets swarming with revelers and invite-only concerts rocking shops around town, the key to mastering Fashion's Night Out was to pick a couple of events and stick to them. (This less-is-more approach served me well throughout FW and kept my self-loathing at manageable levels.) I heard Ronnie Spector was performing at Bergdorf Goodman, Drake at Versace, but headed to the nearby Mondrian SoHo hotel to catch synth-pop sensation Neon Indian at the SPIN magazine after party.
Music was everywhere this season. The night before, Swedish songstress Lykke Li held court at the Fendi O' music series party at Boom Boom Room atop the Standard Hotel, and former LCD Soundsystem frontman James Murphy DJd. This event also marked Boom Boom Room's relaunch, and official debut of holiday fundraiser Belvedere RED Special Edition supporting the fight against HIV/AIDS in Africa. Meanwhile at PH-D atop the Dream Downtown, BlackBook magazine celebrated fifteen years. I must confess I stayed home, satiated from the previous evening's private Courtney Love concert at Hiro Ballroom.
Presented by DeLeón tequila, this Tuesday edition of the always-memorable Nur Khan Sessions was also the tenth anniversary of ONE management, In fact, ONE's president Scott Lipps manned the drums for Ms. Love. "He's good or he wouldn't be here," she told the audience. (And he was.)
Toasting to "temperance" with a half-glass of red and wearing a white blouse and chic black Calvin Klein vest from the '90s (her first piece of swag ever, she confided) Courtney was in radiant form. She and her band led the fashion crowd, warmed up by DeLeón cocktails, through a couple of Stones covers and Hole's biggest hits, including "Skinny Little Bitch," "Violet" and "Miss World." Illustrious guests included Russell Simmons, Andy Hilfiger, Ali Hilfiger and Adrien Grenier, with afterparty at Khan's new Electric Room beneath the Dream Downtown hotel.
Meanwhile, elite and eclectic collided last Friday night at Phillips de Pury & Company uptown for the opening of curating duo Vladimir Restoin Roitfeld & Andy Valmorbida's latest pop-up contemporary art event. Some 2000 people, including Lauren Hutton, Owen Wilson, Stavros Niarchos Jr. and Nicky Hilton turned up to party down at this retrospective of artist Richard Hambleton, presented in collaboration with Giorgio Armani. As a peer of Basquiat and Warhol, Hambleton remains a prolific artist and this touring show featured work new and old.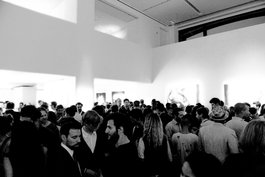 Credit: Billy Farrell Agency

Jet-setters bonded with street artists over champagne, then floated over to the afterparty at Indochine. The artist made an appearance, and also in attendance was Restoin Roitfeld's mother, former French Vogue editor Carine Roitfeld. (She reportedly brought down the house the following evening at at a Karaoke party thrown in her honor by Barney's. Another good surprise!) Loyal to the soirée's artsy motif, my next stop was online contemporary art marketplace Artspace.com's shindig in the Mondrian SoHo's penthouse and terrace with a view. Artist Nick Cave and stylist Ikram Goldman were in the house to celebrate Cave's new collection of limited-edition prints for Artspace.
Saturday night, chaos was in the air so my stick-to-your-party rule was in full effect. This meant Boom Boom Room for Purple magazine's Fashion Week affair. The rooftop space was jam-packed with familiar faces and the likes of Terry Richardson, Lydia Hearst, Liv Tyler, Lindsay Lohan, Johnny Knoxville, Jason Sudeikis -- even Courtney Love made an appearance. The scene at the door was madness yet the door staff gracious and the action inside well worthwhile; a little bit of magic eighteen floors above the city. Belvedere was flowing and guests were smiling -- which, this being New York, might have been the biggest surprise of all.

SUBSCRIBE TO & FOLLOW LIFESTYLE
HuffPost Lifestyle is a daily newsletter that will make you happier and healthier — one email at a time. Learn more