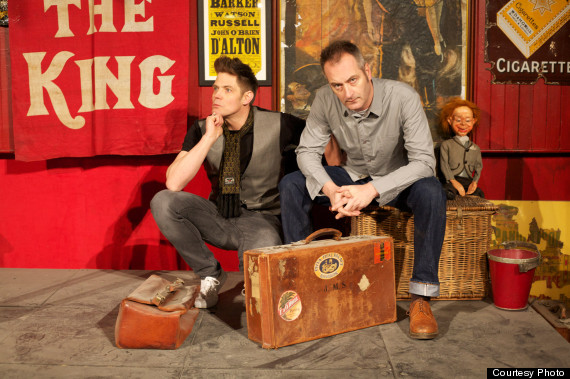 For over 20 years, the Glaswegian duo known as Slam have been one of the most important anchors in the worldwide underground techno scene. Steadfast in their focus, consistent in their output, and completely dedicated to their craft, as Slam, Stuart McMillan and Orde Meikle have not only defined Scotland's techno culture, but also become key players throughout the rest of the globe.
While other flavors of electronic music have come and gone, Slam's adherence to techno and its guiding principles, has un-wavered. They have crafted a big discography of classic anthems and beloved DJ tools alike, refining and developing a sound that is dark, hypnotic and stripped-down, the sound of late nights in loud, dark rooms. The focus of their work is their own label - Soma Quality Recordings - which has released hundreds of tracks since its inception in 1991, and has the distinction of releasing Daft Punk's first EP in 1995.
This Friday, Slam touch down in the Big Apple to play at Marquee New York. We're honored to host these longtime luminaries of the underground, and their sound is the perfect fit for our Friday nights at Marquee. Following our interview with fellow Scot Gary Beck last month, we spoke with these innovators about their careers, their new release on Drumcode Records, and how they first came in contact with the the infamous French robo-duo many years ago.
Hey guys, how are you? Where are you at right now?
We've just finished a big Soma meeting with the guys we run the label with (Glenn and Dave). There was lots of great new music to listen to and we were all deciding what we could release. We let the others hear some of the new Slam album too and decided on a single release. We're heading back to the studio now.
It's been a busy summer for you guys. What have been some of the highlights so far?
Our own Slam Tent at Scotland's T in the Park festival's 20th anniversary - we played between Laurent Garnier and Richie Hawtin at the end of the Saturday session, which also featured Maya Jane Coles, Claude VonStroke, Silicone Soul, H-Foundation and a 3 DJ/ 6-deck set from Derrick Carter, Sneak & Mark Farina. The next day we played at the Balaton Sound festival in Budapest, which was also completely off the hook. A great weekend by anyone's standards!
This is a big week for you with a new release out on Drumcode and three dates in the US. Tell us about the new record on Drumcode, and what the EP is all about.
The title track and A-side "Movement" is dedicated to Detroit's Movement festival, which we played earlier this year. It was our first time playing in Detroit for a long time and we had a great set. The crowd was amazing and the entire festival was special. All killer, no filler.
You named the new release "Movement". What's the inspiration behind the title?
The track began life as part of our live set. We wrote it and then played it live at the Movement festival in Detroit and it literally tore the roof off the place. The crowd were amazing throughout, and this track got one of the biggest responses. When we got home we recorded it and used it as the lead track on our new Drumcode EP, and the title was staring us in the face: "Movement". We were moved by the crowd reaction and they were moved by the energy of the track.
What's it like playing in the US for you guys, as opposed to playing your sets in Europe?
The places we have played, the people are just as knowledgeable of the kind of techno and house we play as their European counterparts. This year we have found the American crowds very receptive and responsive to our sets. It's really kicking off.
I've heard a few people compare Glasgow (your hometown) to Detroit in a few ways. Do you think that's a fair comparison?
Maybe it's because Glasgow has this edgy post-industrial feel to it, although we are lucky that the city has found life after industrial decline with a thriving nightlife and arts scene and three universities. We are pretty tight with the Underground Resistance crew (Detroit) who are playing at our Glasgow Riverside festival soon so we will get the lowdown - but we were saddened to read that Detroit has gone bankrupt recently.
Glasgow has certainly had a strong connection with techno and you guys are definitely the driving force behind that. How did you first come into contact with this kind of music and how did your partnership develop?
Well we were already DJing together before we began Slam back in '88, and we had both been excited when imports from Detroit arrived in the record shop- early Cybotron, Model 500, Rhythim is Rhythim. We jumped on it and it was one of our big influences when we started to make our own music around 1990. We always got turned on by the same kind of music but had our own different backgrounds and approaches to both playing it and making it and that keeps us together.
How important is Glasgow's club scene for you as a "home base"? How often do you play in Glasgow yourselves?
We play twice a month in Glasgow. We have a big night called Pressure (at the Arches) where we have two or three rooms and up to 2,000 people, and then once a month we play our favourite smaller venue, the Sub Club, which is like a spiritual home.
As far as we know, there's never been any deviation from Slam for either of you (i.e no solo projects), which is quite impressive considering how long you have been making music together. How do you guys function creatively as a duo? What's your production process like?
In that way it's like a marriage. We both have something to give. We are the two headed monster of legends. We both come up with hooks, and often one will take the lead on one track, and the other on something different. We both work separately at times, but because our tastes converge we get together and finish something that pleases both of our creative sides. It's definitely Slam at our best when we both are in the studio together.
Is it ever a challenge to keep making new music that's fresh and inspiring, considering how vast your discography already is?
We try not to look back on what we have done and we always think we have something to prove - something new to achieve - especially when you look at the talent around and the number of people having a go at being record producers!
Soma has been an important part of the underground for over 20 years now. Tell us about running the label, and how involved you are with the music that's released?
The music that's released is what we focus on. As DJs, it's a big big part of what we do - listening to new music and sifting through to find the wheat from the chaff. And that is a big asset to Soma - Glenn and Dave and the team who work there are the engine and often the planners, and because we function as a team, it works. We don't play everything that comes out on Soma, but we admire it and approve it even if it's not something that we could use in our sets. A big part of Soma is albums and home listening electronic music as well as dance music too. Everyone has to chill out away from the clubs. This side of things is often left to Glenn and Dave but we are big on warm-up music as we often like to play long sets at Fabric in London and our nights in Glasgow when we get a chance to delve deep - something we cannot do on tour.
Soma was the first label to release music by Daft Punk. How did you first start working with them, and what were those early days like?
We met Thomas [Bangalter] and Guy-Manuel [de Homem-Christo] in 1993 in Paris. We had played at an event at EuroDisney and spent the few days after in Paris. A mutual friend introduced us because they were big fans of our recently released single "Positive Education", and they let us hear four tracks which became the first Daft Punk single "The New Wave" EP, which included the monster "Alive". We signed their first three singles and participated in their step up to Virgin for their debut album. We helped them arrange a tour, and in fact, one of their first live shows ever was at our party in Glasgow for 500 people in 1995. They always had a relaxed confidence and a determination to do things their own way and we completely supported that. We are always connected and consider ourselves good mates although our paths do not cross much.
Slam play together using two mixers and two laptops. Tell us about your live setup and how your sets are constructed?
We are both using Traktor and Xone 92 mixers with all the inputs being used, so in essence we have the capability, which is equivalent to using eight turntables. Of course because we make music we have our own loops and tracks to throw in but it's never a rigid set-up because lately we are experimenting with a DJM-900 mixer and two CDJ-2000s as well. It's good to try different ways to make it happen. DJing is about what you put out to the floor- and how it comes across - so there is no right or wrong technical set-up. It's what you can create 'live' - so it's fun for the DJs and good for the crowd.
What can we expect from your set at Marquee New York this Friday?
We are going to play very deep and suck the crowd into our sound - hypnotise them all and then completely smash it!
What are you looking forward to most about being back in New York?
It's one of the best cities in the world, no doubt about it. To be invited there to play our music is a dream come true - every time - and we never take it for granted.
Do you have a top 10 or recent chart for us?
1. Slam - Movement (Drumcode)
2. Mike Dunn - Can I Turn It Up (Vox Mix) (Caus-N-ff-ct Records)
3. Rødhåd - Patient Zero (Dystopian)
4. Truncate - Ratio (Luis Flores Remix) (Truncate)
5. Slam - The Realm (Drumcode)
6. Exploit Neuromantic (Original Mix) Mutex Recordings
7. Jeff Rushin & Nicole Rosie Red Velvet (Audio Injection remix) (ON Records)
8. Slam Irrational Numbers (Drumcode)
9. Ed Davenport & Inland Solstice (Original Mix) (Counterchange Recordings)
10. Robotman - Never (dbx mix) Definitive.
------
Slam debuts at Marquee New York on Friday, August 16th
For more on Slam - https://www.facebook.com/SLAM.soma
To listen to Slam radio - https://soundcloud.com/soma/sets/slam-radio/
For more on Marquee NY - http://www.marqueeny.com
For more on Sleepy & Boo - http://www.basicnyc.com

Follow Sleepy & Boo on Twitter: http://www.twitter.com/sleepyboo