If you read this blog back in October, you may remember my open letter to President and Mrs. Obama where I offered to help our First Family truly green the White House. You may also recall my follow-up post where, due to the amazing response, I invited everyone to share their own ideas for cleaning up the big house. With these efforts I've been excited to see a lot of the response coming from young people--especially teenagers who can, and will, impact change in their homes today and for decades to come. So now I am absolutely thrilled to announce the launch of GreentheWhiteHouse.com, which partners this month with DoSomething.org, the nation's leading organization helping teens to convert their ideas and energy into positive action.
GreentheWhiteHouse.com is a national collaborative movement for the people, by the people, and moderated by the nation's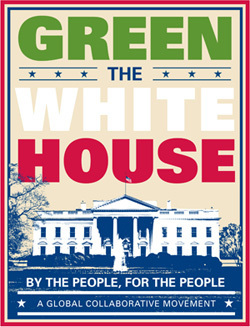 leading green experts. It invites citizens of any age to upload all of their ideas about what they are doing at home to go green and what they think the White House should do as well. The site also allows you to take a virtual tour of the White House, check out my green tips for the Obamas, blog, and debate the latest hot topics. All of the ideas uploaded onto the site will be taken into consideration, and the best of them will be presented to the White House.
Fortunately, the First Family has already committed to some eco- and health-friendly home improvements since taking office. We know they're planting a victory garden and have changed their cleaning products, for example. That's a fantastic start. But we also know that Obama's got more than enough on his presidential plate, and that now more than ever we have the opportunity to participate in making the White House--now truly our collective house and the example to which we can all aspire--our own. After all, if ever there was a president who believes in including us, it's Barack.
GreeningtheWhiteHouse.com intends to prove that progress is possible, one home at a time. It is my hope that it will empower you, and all of us, to do just that. So please drop by the site and post how you're going green and invite your friends and neighbors to do the same. Added bonus: many green home practices outlined on the site cost less than their toxic alternatives, and who doesn't need a little extra spending money these days?
SUBSCRIBE TO & FOLLOW THE MORNING EMAIL
The Morning Email helps you start your workday with everything you need to know: breaking news, entertainment and a dash of fun. Learn more