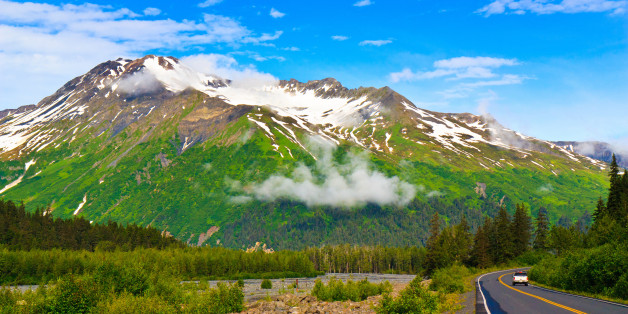 Summers were made for cranking up the tunes and hitting the open road, ready for anything to happen. Get behind the wheel and let one of these 10 feel-good road trips inspire you to live in the moment. Read on to find legendary stretches of highway where you can careen around gutsy mountain passes, drop your jaw at dramatic coastlines, and, of course, get your kicks.
Seward Highway
Location: Anchorage to Seward, Alaska
Length: 127 miles
For many of us, just being anywhere in Alaska is enough to satisfy a bucket list check-off, but traveling the Seward Highway is an absolute drive of a lifetime. This route takes you across the country's Last Frontier, a humbling experience you'll never forget. Just outside of Anchorage, the highway edges the Turnagain Arm so closely that you can occasionally see beluga whales and some of the world's largest bore-tide waves. Pass through Girdwood, a local ski town where melted snow on the slopes leaves behind excellent mountain biking trails in summer. The narrow road snakes between majestic peaks and lily-pad-covered alpine lakes, where you'll spot sheep and eagles, before reaching Seward and Kenai Fjords National Park.
Don't Miss: The Alaska Wildlife Conservation Center near Girdwood is home to bears, moose, and other large animals you can see up close. As you enter Seward, drive the Old Exit Glacier Road to the end for a brisk 20-minute walk up to the face of a glacier.
North Shore Scenic Drive
Location: Duluth to Grand Portage, Minnesota
Length: 154 miles
Winding through thousands of acres of pine, aspen, and birch trees at the edge of Lake Superior, North Shore Scenic Drive will make you fall in love with the Midwest all over again. Sheer cliffs drop down into the lake on one side of the road. Gurgling rivers and streams tumble into waterfalls on the other side. Small shoreline towns tuck between the seven state parks along the route. Stop at Iona's Beach to skip stones with the kids, and challenge them to a breath-holding contest as you pass through Silver Creek Cliff Tunnel. Numerous pullouts for photo ops have been built into this route—a testament to all the stunning beauty here.
Don't Miss: Eat pie fresh from the oven at the Rustic Inn Cafe in Two Harbors. See 200-foot cliffs at Palisade Head in Tettegouche State Park. The waterfalls at Gooseberry Falls State Park and the cliff-side lighthouse at Split Rock Lighthouse State Park are favorites.
Historic Columbia River Highway
Location: Troutdale to The Dalles, Oregon
Length: 70 miles
Less than an hour's drive from Portland, the Historic Columbia River Highway tracks the distance between Oregon's marvelous extremes. At the wet, mossy western end, the road follows the lush canopy of tall evergreens and the banks of the Sandy River, where Lewis and Clark camped in 1805. Then it climbs past orchards and blueberry fields in little towns that offer views of snowcapped Mt. Hood. You'll pass several roadside waterfalls before reaching the grandest of them all: the 620-foot Multnomah Falls, accessed by a trail from the historic Multnomah Falls Lodge. Near the Mosier Twin Tunnels, the verdant greens give way to the dry eastern Columbia River plateau and its oak savannahs.
Don't Miss: Check out the view from Crown Point at Vista House and from the bridge at Multnomah Falls. The Rowena Overlook offers a great view of the hairpin curves on the cliff's side. In the town of Hood River, you'll find ice cream, handcrafted beer, and kiteboarding.
Great River Road
Location: Lake Itasca, Minnesota, to Venice, Louisiana
Length: 2,069 miles
Plan for six to 10 days to traverse the inspiring Great River Road, which traces the mighty Mississippi River from its origin at Lake Itasca in Minnesota to the mouth at the Gulf of Mexico in Louisiana. You'll roll along a riverside dotted with wildlife refuges and interpretive wayside signs highlighting interesting historical aspects. Pass below bluffs and through forests and sleepy river towns in Minnesota. Meander quiet country roads, past Wisconsin's dairy farms to the St. Louis Arch on the river's west bank. Then see riverboats and the boyhood home of author Mark Twain in Hannibal, Missouri. Hear blues music in the Mississippi Delta, and visit Louisiana's antebellum plantations that line the river.
Don't Miss: You can learn more about the river at the massive lock and dam just north of St. Louis in Alton. The National Great Rivers Museum is nearby. Check out aquariums, and explore a river cave at the National Mississippi River Museum and Aquarium in Dubuque, Iowa.
Big Sur Coast Highway
Location: San Luis Obispo County to Carmel, California
Length: 72 miles
Choosing a favorite stretch of California's Pacific Coast Highway is like being asked to choose your favorite child. We love them all, even when they take unexpected turns and have foggy days. Twisting nearly 1,000 feet above the roaring Pacific at the edge of the mountains, the Big Sur Coast Highway section is a bit of a drama queen. She slices unapologetically through remote wilderness and rugged terrain to offer breath-stealing views unlike any other place along the California coast. Among this epic backdrop of canyons and towering redwoods are cute little towns with great spots to peruse galleries (Carmel-by-the-Sea), sip wine (Paso Robles), and shop farmers' markets (San Luis Obispo).
Don't Miss: Hearst Castle and the arched Bixby Bridge are two of the route's most photographed icons. Catch the sunset at Pfeiffer State Beach or at the well-known Nepenthe, with its outdoor patio suspended 800 feet above the Big Sur surf.
Historic Route 66
Location: Chicago, Illinois, to Topock, Arizona
Length: 1,409 miles
Built in the late 1920s as the first paved highway linking Chicago and Los Angeles, Route 66 was affectionately dubbed the "Mother Road." For decades, free spirits and adventurers migrating west have been inspired by the possibilities ahead on this storied road. While some sections are now decommissioned, other portions have been preserved and designated the Historic Route 66 National Scenic Byway. Here, neon signs still hum and flicker at vintage roadside motels. General stores and mom-and-pop shops dot desolate ribbons of road between old cowboy towns. And murals on the sides of buildings along the highway depict historical scenes and advertisements.
Don't Miss: Get your kicks reading the menu at the Roadkill Cafe in Seligman, Arizona, whose mantra is, "You Kill It … We Grill It." Stay at the 1940s Munger Moss Motel, a vintage auto court with themed rooms in Lebanon, Missouri. Hackberry General Store in Hackberry, Arizona, displays a kitschy collection of memorabilia.
Hana Highway
Location: Kahului to Hana, Maui, Hawaii
Length: 52 miles
Originally built for sugar-plantation workers commuting to Hana, this epic highway on Maui's lush and isolated northeastern coast could be the slowest and most beautiful 52 miles you ever drive. With some 650 curves (several of them hairpin turns) and 59 bridges (many with just one lane), you're forced to ease up on the gas. The gorgeous views around every twist are a delightful distraction of seascapes, roadside waterfalls, plunge pools, and colorful rainforest flowers. Once you do finally reach the quiet, modest town of Hana, you realize this route really is about the journey and not the destination.
Don't Miss: The black-sand beach at Wai'anapanapa State Park is unforgettable. Venture into the Hana Lava Tube to be surrounded with formations that look like dripped chocolate. Just past the end of the Hana Highway is the 'Ohe'o Gulch, or "Seven Sacred Pools," a series of stair-stepped waterfalls and pools.
Skyline Drive
Location: Front Royal to Waynesboro, Virginia
Length: 105 miles
The speed limit is only 35 miles per hour here along the spine of the Blue Ridge Mountains, and with good reason. On this route through the sky in Shenandoah National Park, you'll likely need to pause for a deer or the occasional wild turkey crossing the road. Every stretch of Skyline Drive sees motorists slowing for curves, campground turnoffs, picnic areas, and 75 overlooks with stunning views. Layer upon layer of ridges spreads out in the distance, each one a different shade of green during the day and a smoky blue-gray hue at dusk. You can hike more than 500 miles of trails in the park, including 101 miles of the Appalachian Trail.
Don't Miss: Scramble over boulders in a challenging hike to the summit of Old Rag Mountain, or follow a short trail to Dark Hollow Falls, the closest waterfall to Skyline Drive. In summer, the Birds of Prey ranger program runs at the Big Meadows Amphitheater.
Acadia All-American Road
Location: Trenton to Bar Harbor, Maine, plus the Acadia National Park loop
Length: 40 miles
This coastal Maine route takes you to the one-time summer haven of the Rockefellers and Carnegies. The Acadia All-American Road crosses the bridge from Trenton to Mt. Desert Island, home to Acadia National Park, where philanthropist John D. Rockefeller Jr.'s early 1900s carriage road system is still intact. En route, you'll pass fishing villages and venture into spruce forests, ascend craggy peaks, hug the rugged coastline, and circumnavigate the tallest mountain on the Atlantic coast. Stop at the park's Hulls Cove Visitor Center and pick up an audio tour of the Park Loop Road on CD.
Don't Miss: At Thunder Hole, you can hear the clap of high-tide waves. Bike the historic carriage roads and stop for afternoon tea and popovers, a 19th-century tradition, at the Jordan Pond House. Just outside the park are several restaurants serving fresh lobster.
Trail Ridge/Beaver Meadow Road
Location: Estes Park to Grand Lake, Colorado
Length: 48 miles
If you've never had a white-knuckle driving experience, the Rocky Mountains' Trail Ridge/Beaver Meadow Road, the highest continuously paved road in the country, is your perfect opportunity. It's not uncommon for drivers to get sweaty palms or avoid looking over the edge of the steep mountainside. Many of the harrowing curves have no guardrails to save you. This route climbs above the tree line and along the Continental Divide through Rocky Mountain National Park, opening to views with peaks in every direction, some nearly at eye level. It feels like you're on top of the world. The elevation is so high (12,000 feet) that heavy snowfall closes the road all but five months of the year, and it's open only late May through late October.
Don't Miss: Climb the Summit Trail at the Alpine Visitor Center. Watch for herds of grazing elk near Horseshoe Park. Above the tree line are some of the same life forms and climactic conditions found at the Arctic Circle.
—By Jamie Moore
Read the original story: 10 Inspiring Summer Drives to Add to Your Bucket List by Jamie Moore, who is a regular contributor to SmarterTravel.
You Might Also Like: