Imagine walking 650 miles. It takes about 8 days and 19 hours according to Google maps (beta).
Now, imagine that you are a 17-year-old African-American male. By the way, the year is 1935. You begin this "650 miles" walk from Georgia to Washington, D.C. to attend Howard University. You have only $10 dollars pinned to your underwear and the dreams of your family to keep you company.
This reads like the makings of a great adventure. Hitchhiking is a dangerous endeavor on any day; for an African-American teenager in 1935, walking from the South to the North, could have proven fatal. Given America's complicated racial history, this young man's journey was nothing less than extra-ordinary.
It was this kind of determination, vision and extra "ordinariness" which marked the life and legacy of Ossie Davis.
A multifaceted gem, how you remember Ossie depends on which facet of his legacy touched you. Some remember him for his loving relationship with his wife and award winning actress, Ruby Dee and for their dedication to community and their family -- a difficult balance in Hollywood. Many remember him for his roles on stage and screen including Spike Lee's films, Do the Right Thing and Jungle Fever. Others remember him as writer, producer and director including his play Purlie Victorious and his direction of the film Cotton Comes to Harlem.
Ossie is revered as a great humanitarian through his commitment to civil rights and activism against social injustices. Ossie's voice is remembered when listening to the eulogy of Malcolm X or recalling the United Negro College Fund (UNCF) motto, "A mind is a terrible thing to waste." Still others remember Ossie's humor, his humility and his patriotism.
Seven years ago this month, if you had been at Riverside Church, you would have remembered Ossie Davis as a "head of state," whose funeral lasted over three hours. A celebration fit for a cultural dignitary, tributes poured well into the afternoon, concluding with President Clinton who remarked that Ossie would have made a great president of the United States.
It was Ossie's passion for education touched my life. His 650 mile walk inspired me for the few years I served as the executive director of the Campaign for the Ossie Davis Endowment.
In death, there is always new life. On the day of his funeral, grief mingled among those who sought to honor Ossie. After organizing themselves, they requested permission from Ms. Dee and the Davis Family to memorialize Ossie's love for education by creating the Ossie Davis Endowment.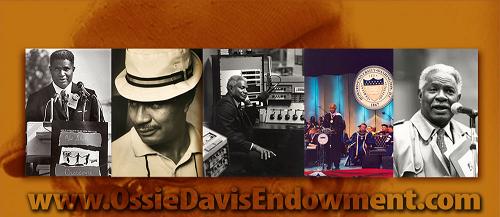 Ossie Davis Scholars are chosen, annually, based on their commitment to service and willingness to use artistic activism to proactively address the concerns of humanity. To date, two Ossie Davis scholars are attending college with the aid of the Ossie Davis Endowment.
A friend jokingly calls me "the granddaughter to the elders," because I have had the uncommon honor of working with notable elders in the development of their dreams. I was working with Odetta, when Ossie passed. Odetta had been friends-in- arms with Dee and Davis, throughout their respective careers. When I was contacted by one of the organizers to help raise the endowment, it was at Odetta's suggestion, that I gladly answered the call.
Remembering that Ossie walked almost 650 miles to attend college was a driving image for me. I will never know what fears he faced and conquered as he walked toward his destiny. But because of his determination, I decided that ego was expensive and it would cost me more than I was willing to pay. So I walked, talked, called, called again, emailed, mailed, mailed again, and met with anyone who was open and interested. "No" just meant "Not now..." or "Not yet..." I would wait them out, because I was also walking towards a destiny.
I remember walking up to Ed Lewis, founder of Essence. Spotting him as he finished a banking transaction; I remember saying to myself, "OK, don't freak him out, like a stalker." I approached him and reminded him that we met before at a function. I proceeded to share the "good news" of the endowment. He was more than generous in his encouragement and strategic suggestions.
I remember introducing the endowment at a private equity conference for investors. Our strategy was based on the hypothesis that although investors were seeking venture capital projects, they might also be interested in making a donation and receiving a tax write off. We opened the presentation asking "What do Alan Alda, Sidney Poitier, Earl Graves, Sr., Burt Reynolds, and Donald Trump have in common?" You could hear a hush fall over the chattering crowd, as they listened for the answer, "The Ossie Davis Endowment." It was pretty cool.
We said that, "It took a village to raise the endowment". Celebrities supported in various ways. Involvement read like a cultural roll call. We launched the endowment in New York, Atlanta and Chicago with a celebrity play reading series of one of Ossie's plays, led by Ruby Dee and directed by Hilda Willis. The events also included Harry Belafonte, Lou Gossett, Alan Alda, Odetta, Sonia Sanchez, Avery Brooks, Woodie King, Jasmine Guy, Lynn Whitfield, Keith David, Danny Glover, Glynn Turman, Rueben Santiago Hudson, Daniel Beaty, Alimi Ballard and a host of other celebrities who reignited Ossie's words and passion for education.
Legacy begins with vision and is sustained with commitment and persistence. I was honored to participate in sustaining Ossie's legacy. Ossie's walk continues in the footsteps of the scholars that bear his name.
SUBSCRIBE TO & FOLLOW TRUMP'S FIRST 100 DAYS
How will Donald Trump's first 100 days impact YOU? Subscribe, choose the community that you most identify with or want to learn more about and we'll send you the news that matters most once a week throughout Trump's first 100 days in office. Learn more