For almost two decades, Kenton Nelson has charmed art lovers with optimistic and subtly provocative oil paintings from his native Pasadena. Capturing and sharing details from ordinary Southern California life in a distinct "advertising age"-inspired style has propelled his life from one graphic artist among many to that of a world-renowned artist. Having just shipped his latest work off to an exhibit in Salzburg, Austria, Kenton shared some passionate and practical views on art and life while eating sandwiches together in his studio.

His latest and favorite work is an impressive seven by eleven foot painting that showcases a pair of ordinary brown shoes, situated in a room and depicted from the perspective of an ant. A message you can only enjoy by observing the painting from an angle is imbedded, the text: "Shoes I am not worthy to polish." As with many of his pieces, the painting invites the celebration of the ordinary. God is in the details and the utilitarian canvas is pieced together with a middle seam, hinting at how shoes are constructed.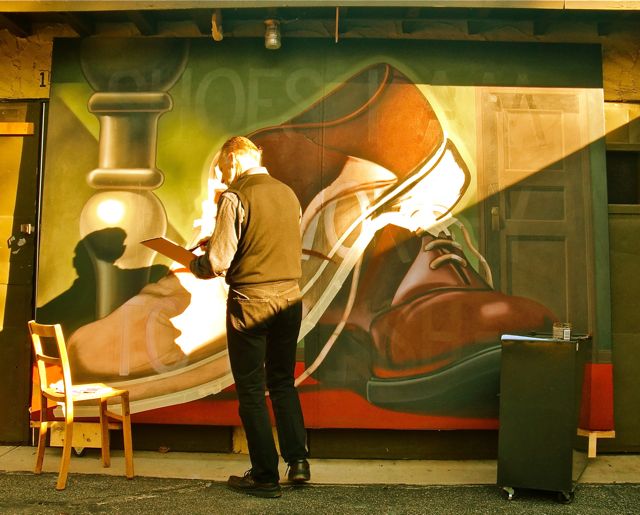 Kenton's love of life and art shines though when he talks about his work:
"Since I started painting, I have always admired how people live with art. As this last piece is so large in scale, I painted it with the idea of it being a billboard in someone's home...being near to large scale advertising images is thrilling for me and I like the idea of living with one."
He passionately seeks to engage people and has made a stop-action movie, mimicking the style of his painting. When asked about his early inspirations in the world of art, he said:
"I was originally inspired to paint by short story writers because of their ability to engage and inspire me with such immediacy. Before teaching myself how to paint, I wrote down similar objectives to accomplish with my artwork in my journal. For me, just having someone experience a painting for thirty seconds means I have accomplished that demand for inspection and, unlike the contemporary art I grew up with, my paintings are not just art for art's sake, but created, considering an audience. People see something in the art that they relate to and they respond because of what their life brings to the painting. When an artist finally hears what people are responding to, it has little to do with the artist's original intent. I won't take commissions because it is most important that I realize the artwork I set out to accomplish, unobstructed.

I think I was most inspired by the American regionalists, the American scene painters, and the WPA artists (Works Progress Administration for public work projects, in the 30s). Because they took a traditional European medium and reinterpreted it, not unlike what the Americans did with Jazz, when it became our singular voice. This authenticity is important to my voice in my lifetime."

An optimist by nature, I can appreciate Kenton's approach to life and art. His response to negative art is to create a beautiful piece of art, and to uplift people in subtle yet thought provoking ways. As Kenton said in closing, "The next painting is always the best one and you can always improve...God willing."
SUBSCRIBE TO & FOLLOW CULTURE SHIFT
Every Friday, HuffPost's Culture Shift newsletter helps you figure out which books you should read, art you should check out, movies you should watch and music should listen to. Learn more