In case you missed the chance to tweet me about the fashion you loved from Wednesday night's performances, here's the full rundown!
DeAndre Brackensick
He was a bit timid about his outfit this week because he was stepping out of his comfort zone. But I'm so happy he took my advice and wore this look for this week's show. I think it really showed off his star power.
(Left) For his performance of the soulful "Sometimes I Cry," I styled DeAndre in a shirt by Simon Spurr with vest and jacket by Ann Demeulemeester. The look was finished with Kenneth Cole shoes.
(Right) DeAndre wore, for the trio performance, a shirt by Five Crown, jacket by Guess, and Joe's Jeans. His shoes were by Creative Recreation and hat by Contraband.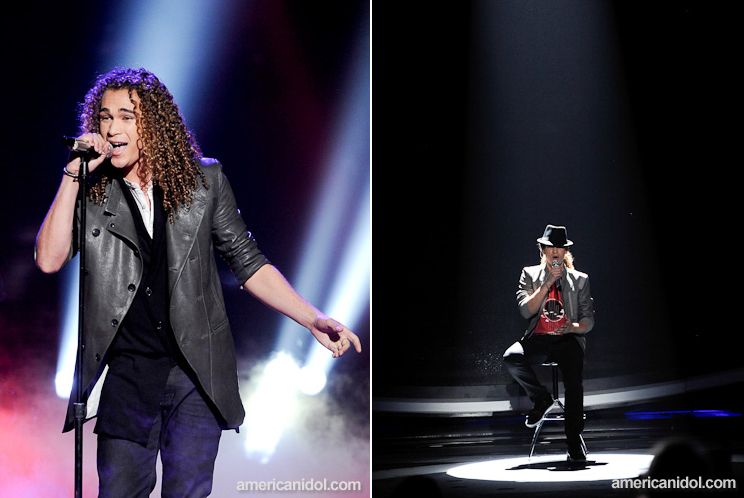 Hollie Cavanagh
It was a one-stop shop to Kitson on Melrose with Hollie this week. We had so much fun running in and finding the perfect dress right away. She loved the necklace I picked for her from Live! On Sunset and her fabulous shoes from YSL. The look came together so seamlessly; I love when that happens!
(Left) For a powerful rendition of "Jesus, Take the Wheel," I styled Hollie in a shimmering sequince Twenty Cluny dress with shoes by Yves Saint Laurent. Her jewelry included a statement necklace from LIVE! On Sunset, bracelet by Basil Soda, earrings by Lauren G Adams, and a ring by Michelle Monroe.
(Right) For her trio performance, Hollie wore pants and a bustier by Bebe.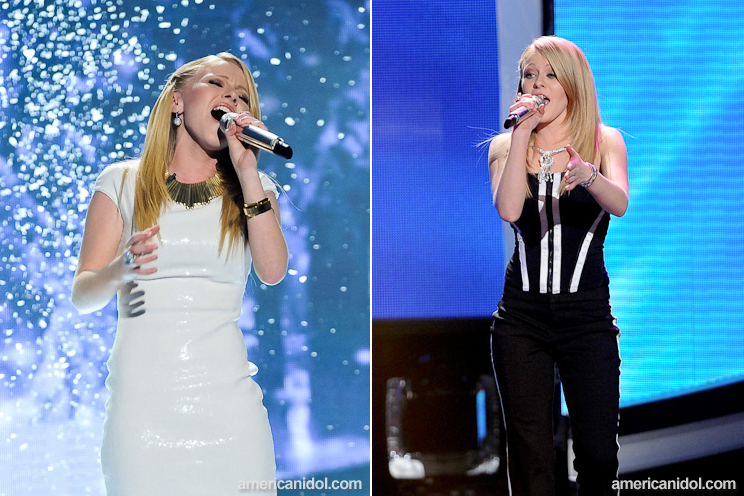 Colton Dixon
I took Colton to Greg Lauren's design studio here in LA and he had a blast trying on all of his ridiculously beautiful jackets. Watch my video and see Colton try on some on! All of Greg Lauren's designs fit Colton like they were made for him, and this Idol truly has a slim fit!
(Left) To sing the rock ballad "Everything," Colton wore a Kill City shirt, Greg Lauren jacket, and H&M jeans. His look was completed with shoes by Hudson Shoes.
(Right) I styled Colton in a Skingraft vest and Cohesive & Co. jacket for his group performance.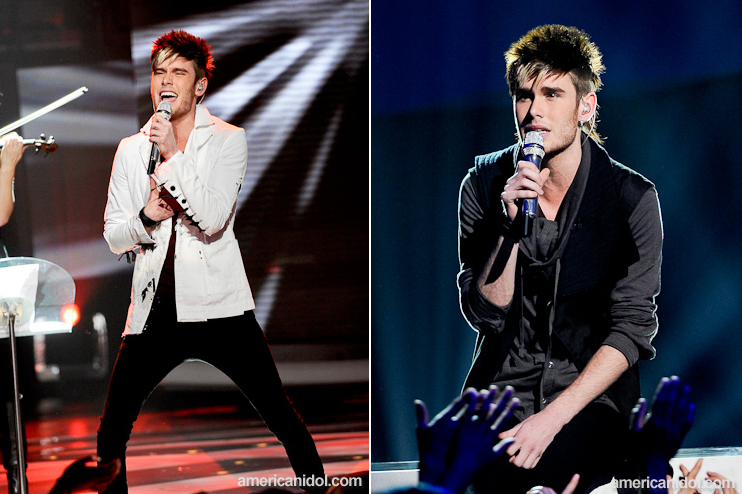 Heejun Han
We didn't have a lot of time to shop this week with the two looks, so Heejun had no idea what I had in store for him. I got this great look from Neiman Marcus and Guess. I loved the flower design on his jacket... To me it was a clever twist of a flower in the breast pocket and made Heejun look like a modern day gentleman.
(Left) I styled Heejun in a John Varvatos button-up top, sweater, and jacket for his performance of the instrument-heavy "A Song for You." His pants were by Guess, and he wore Creative Recreation shoes.
(Right) For his trio, Heejun wore a Gap shirt, button-up top by Moods of Norway, and a Robin's Jean jacket. His shoes were by Creative Recreation, and his hat was by Contraband.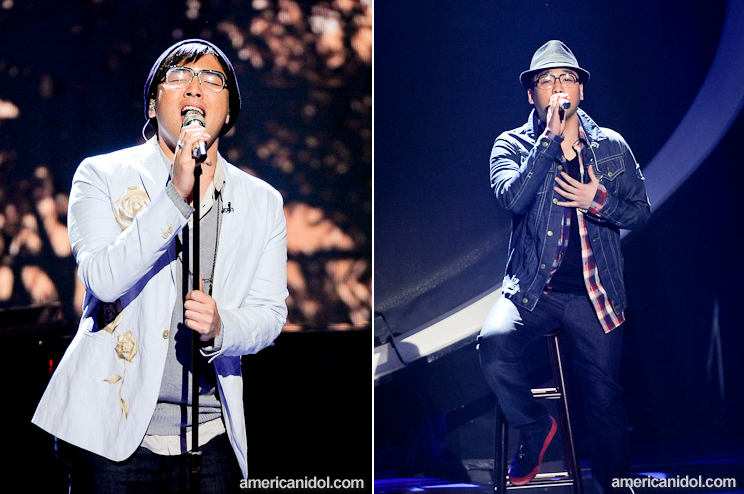 Skylar Laine
On the day of the show I showed Skylar the Authentic Icon top with the jacket and she fell in love. I really like the patriotic colors of the design and the style was very "Skylar" with the blousy bottom top. I wanted to mix a little bit of sequince, studs, fringe, and bullets for her this week.
(Left) For Skylar's rousing performance of the country song "Gunpowder & Lead," I styled her in an Express tank and a top by Authentic Icon (available in Kohl's stores next month), topped with a Double D Ranch jacket. Her jeans were by Robin's Jean and her shoes by Nicholas Kirkwood. Skylar's jewelry included earrings by Private PRB collection, a personal necklace, and ring by RichRocks.
(Right) For her group performance, Skylar wore a top by Blue Pearl, Zara jacket, and Bebe pants. Her hat was by Contraband.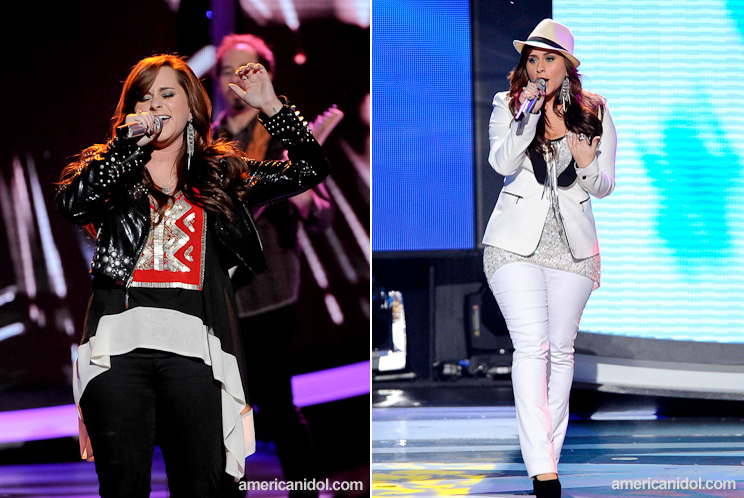 Joshua Ledet
When I saw this Comme des Garcons jacket, I knew I HAD to get it for Joshua. He was a bit surprised because he was expecting me to bring him a tuxedo suit; but with this big Mariah song I wanted the jacket to be as loud as his voice. but bring in the clean subtle lines with the black under layers. Not to mention, I want to keep Joshua looking young and fresh and this look sure did the trick.
(Left) To sing the emotional "Without You," Joshua wore a Zara shirt topped with a patterned Comme des Garçons jacket. His pants were by Zara and his shoes were by Franceschetti. His bracelet was by EnergyMuse.
(Right) During his trio performance, Joshua wore a jacket by Zachary Prell and Levi's jeans with shoes from Aldo. To finish the look I styled him in an H&M tie and Lite Felt hat.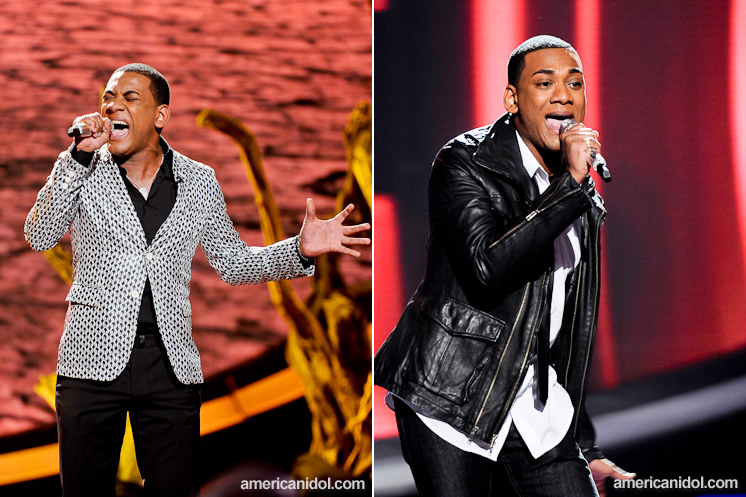 Phillip Phillips
I really believe in timing and let me tell you, it wasn't difficult getting Phillip in a jacket this week. BUT boy, was it hard to find the perfect one. Phillip is a minimalist and this jacket he wore in his size had to be tracked down through Macy's, Inc.; I found the jacket in Montana. Shipped by the morning of the show, I got him in for a last minute fitting, altered the jacket, and it was on him on stage by show time!
(Left) To sing "Still Rainin'," Phillip rocked in Boss Orange by Hugo Boss shirt and a button-up top by Gap. I got him in a jacket, and one by Ralph Lauren! His jeans were again from Gap, and he wore shoes by To Boot New York by Adam Derrick. His bracelet was by M. Cohen.
(Right) I styled Phillip in a James Perse shirt again this week for his group performance, along with shoes by Alfani from Macy's.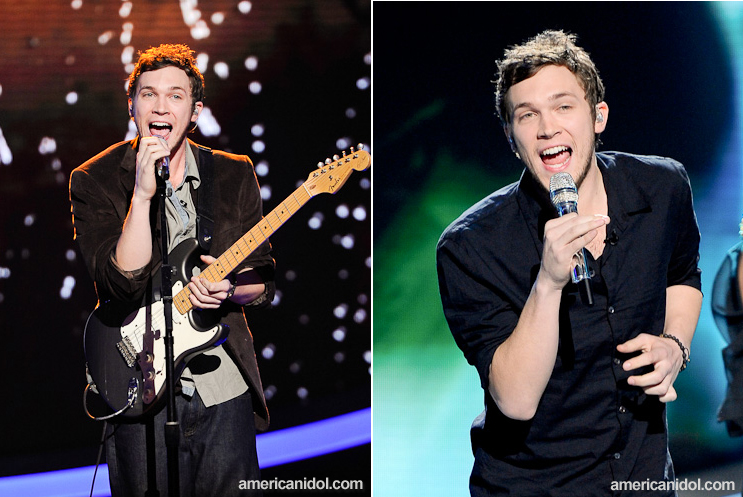 Jessica Sanchez
Yes, I'm a stylist, BUT I'm a designer as well; my favorite design trait is draping. I had so much fun creating Jessica's train in that beautiful ombre organza. I found this dress for Jessica two weeks ago, and we were saving it for the perfect moment... which was on this week's show. It was so perfect for the song; as soon as Jessica walked into my room for fittings, we both reached for the same dress and we knew it was meant to be!
(Left) To sing "Sweet Dreams," Jessica wore an Espaço Fashion dress w/ custom train matched with Christian Louboutin shoes. I styled this songstress with plenty of jewelry, including a RichRocks earrings and necklace, a bracelet by Prive Jewellery, a square bracelet by Lauren G Adams, and a bar ring and silver ring by Glitterrings.
(Right) For her trio performance, Jessica wore a tank and top by Bebe and pants by CH Fashion.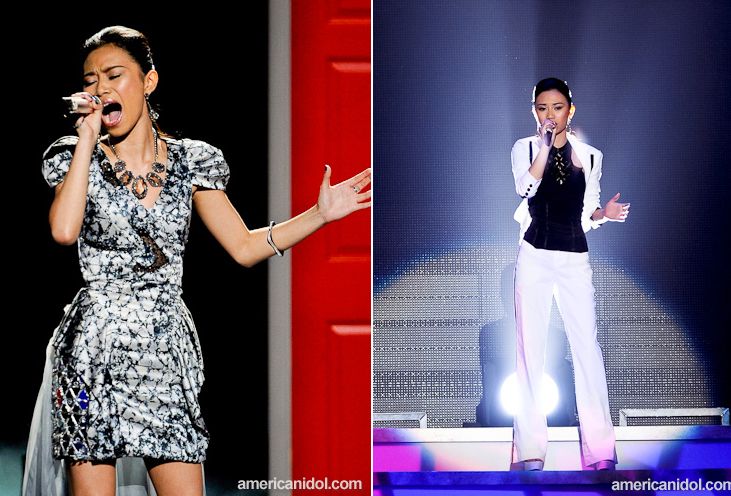 Elise Testone
Elise loves bellbottoms. When I first met her, she showed me photos of herself before she auditioned for Idol; boy were there some funky styles. Elise's style is quite eclectic, and what works for her are usually styles with a bit of a twist. I made the hem of her shirt at a slant to show off and balance the fringe belt, applied gold Swarovski crystals on every line of her pants, added fringe to the hem of her pants, and added 8" of crushed velvet to the bell of her pants for super flare!
(Left) Last but not least, I styled Elise in a top by Kareena's Trends and Rsn Boheme pants to rock out to "Whole Lotta Love." She wore a Zara belt, shoes by Steve Madden, and plenty of jewelry. She wore a long necklace by Saint Vintage and a short necklace by Lenora Dame. She wore one gold and one black bracelet and one red and one blue ring, all by Gypsy Global Boutique.
(Right) For her trio performance, Elise wore a Bebe vest.