While Valentine's Day has come and gone, we at Spoon appreciate a good dessert anytime of the year. These red velvet cheesecake brownies are a hybrid of three of your favorite sweets: red velvet cake, cheesecake and brownies. Whether you're craving something with chocolate or something with cream cheese frosting, these brownies will be right up your alley. Above all, they're extremely easy to make and will be a unique addition to your baking repertoire.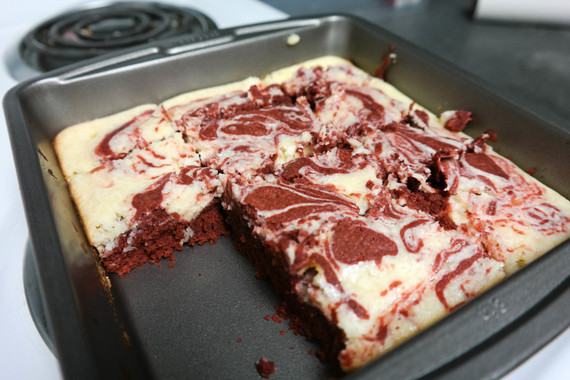 Prep Time: 10 minutes
Cook Time: 45 minutes
Total Time: 55 minutes
Ingredients:
For the Brownies
1 cup sugar
1 teaspoon vanilla extract
¼ cup cocoa powder
½ cup (1 stick) butter, melted
1 pinch salt
1 teaspoon red gel food coloring or 1 tablespoon liquid food coloring
2 eggs
¾ cup flour
For the Cheesecake Layer
8-oz. cream cheese, softened
¼ cup sugar
1 egg
½ teaspoon vanilla extract
SUBSCRIBE AND FOLLOW
Get top stories and blog posts emailed to me each day. Newsletters may offer personalized content or advertisements.
Learn more