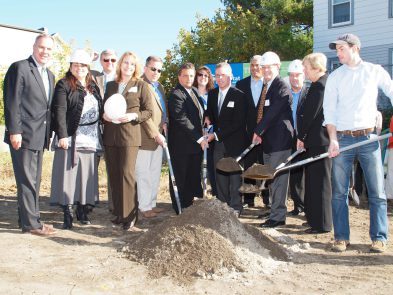 How do big businesses get built? In other words what causes someone like Bill Gates to go from piecing together computers in his garage to building a colossal empire making him one of the richest men in the world? It's a question that keeps me up at night. It is the number one question that is the driving force behind everything I do in business. What I have learned thus far has come from a mix of my own personal experiences in building my own empires and by tapping into the opportunity to get inside the minds of those that have built bigger and better businesses than I.
After all, it's never a WHAT between where you are right this second and where you hope to be in one, five, and fifty years from now. No, it's never a what. In fact, the only way to get to your final destination is to align yourself with amazing people. It is the WHOs on your journey that make all the difference in the world. That is why when offered the rare opportunity to pick the brain of an amazing visionary and leader of a world renowned company worth over a third of a billion dollars, you seize it. That's just what I did when offered the once in a lifetime opportunity to interview Michael Szabados, Chief Operating Officer of NetScout.
I'm ecstatic to share the inside scoop, "Success 101" if you will, from the eyes of one of the head captains of an amazing organization that continues to grow worldwide, capturing maximum market share in several verticals along the way. Join me today on my journey to greatness as together, we get inside the mind of business great Michael Szabados.
The Greatest Risk - The greatest risk, as Michael sees it, is missed opportunity. He says that every business "dances on the brink of mediocrity" and so building an amazing business requires pushing the envelope. Michael realizes the importance of taking appropriate risks collectively as a company because often it is the biggest risks that create the greatest gains for the business. NetScout has a history of making smart but risky moves in its business of providing integrated computer network performance management products. Examples include the purchase of Network General in 2007 which added new products to its already vast array of enterprise and service network solutions.
More recently, NetScout acquired Psytechnics, Fox Replay, and Simena Networks and with each acquisition comes additional competition as NetScout moves into new verticals such as security, which means not just new competition, but competition that has had a head start within that vertical. Taking these bold but smart risks, and taking on new competition, is second nature to NetScout and so "pushing the envelope" as Michael puts it has created an awesome opportunity for growth and profitability.
They have received numerous accolades including ranking on the 2012 Forbes Best Small Companies in America list, ongoing ranking on the Boston Globe 100 list, and ranking on the Fortune Magazine 100 Fastest Growing Companies list. This doesn't even include their numerous Stevie Awards which in business is akin to winning an Academy Award. NetScout and its leaders take risks, but as Micahel points out, they are smart and calculated risks and so it has resulted in massive momentum in their business.
Discipline is Oxygen - Michael lives by this mantra in his own life and so he brings it to the office with him every day. He admits that this is something he learned from his father growing up. His father was a CFO of a large hospital in Michael's home country of Hungary. His father was disciplined and had a systematic approach to life and Michael has inherited this in his own daily regimen.
He is at the office by 9am every day and sticks to a regimented schedule of meetings. After work, it's the gym, dinner, and home to his laptop to work on responding to emails and inquiries from earlier in the day. Even his meetings are disciplined. He prepares in advance for each meeting and when conducting his meetings everyone must write up the actions that must be taken and who owns them.
Michael says that companies that run Helter Skelter rarely advance and so the systematic and disciplined meetings keep Michael and his company from dancing on that line of mediocrity. Discipline creates accountability on a personal and company level.
The Best Employees - Interestingly, when I asked what makes for a great employee, Michael's answer was, "an employee that collaborates." As Michael sees it, the best employees are the ones that share with, talk to, and help one another. This presents a challenge in a business where the work force is divided up amongst many countries and where many employees work virtually.
To overcome this obstacle the best they can, they encourage video conferencing over phone conferences. He admits that anytime a company has remote employees, collaboration is somewhat damaged, however his hope is that using tools like video bridges the collaboration gap. The other factor that makes for a great employee, admits Michael, is crispness. He said that anyone who can articulate what they want in five words or less has got a unique talent that will take them places in any company.
Seeing that Michael has worn many hats in his sixteen year career at NetScout, from Vice President of Marketing, to Vice President of Product Development, to Chief Operating officer, I'm guessing he's one of those guys that can articulate what he wants in just a few words.
Give for the Sake of Giving - One thing that piqued my interest about Michael and about NetScout is their philanthropic endeavors. Specifically, they have aligned their organization with Habitat for Humanity. Not only do they make major league contributions to Habitat across the country but they also engrain their employees to the mission of Habitat. Many of their people have spent time on Habitat build sites. The reason it interests me is because NetScout is a technology company. I own real estate businesses so an alignment with Habitat for Humanity makes perfect sense, but it seems like an odd partnership for a tech firm.
Why Habitat for Humanity? Michael's answer was simple yet profound: "We give for the sake of giving. If we were to align with a non-profit organization that promoted technology, it begs the question of why we are giving. Our alignment with Habitat for Humanity is not for PR, it's not for marketing, it's not for anything but the fact that we believe in the mission, we believe in the work they are doing, and it makes our employees feel good to be a part of it."
Awesome businesses are built by collaboration by amazing people and great leaders. With a visionary like Szabados overseeing operations, a CEO and visionary with a reputation for creating and achieving Big Hairy Audacious Goals, like Anil Singhal has done, and a team of employees that buys into the company vision so much so they embrace the risk necessary for capturing market share on every vertical they compete in, there's one thing for sure: NetScout doesn't even come close to dancing on the brink of mediocrity. Excellence is their minimum standard, their mantra, and the heart of everything they do and there's nothing mediocre about that.